Recycling International free issue 3 2023
Subscribe
Page 83 from: Recycling International free issue 3 2023
TRENDS & UPDATES 83recyclinginternational.com | May/June | 2023 STADLER: for a clean world! Intelligent solutions from a global market leader in BALLISTIC SEPARATORS STADLER has designed in collaboration with customers its ro...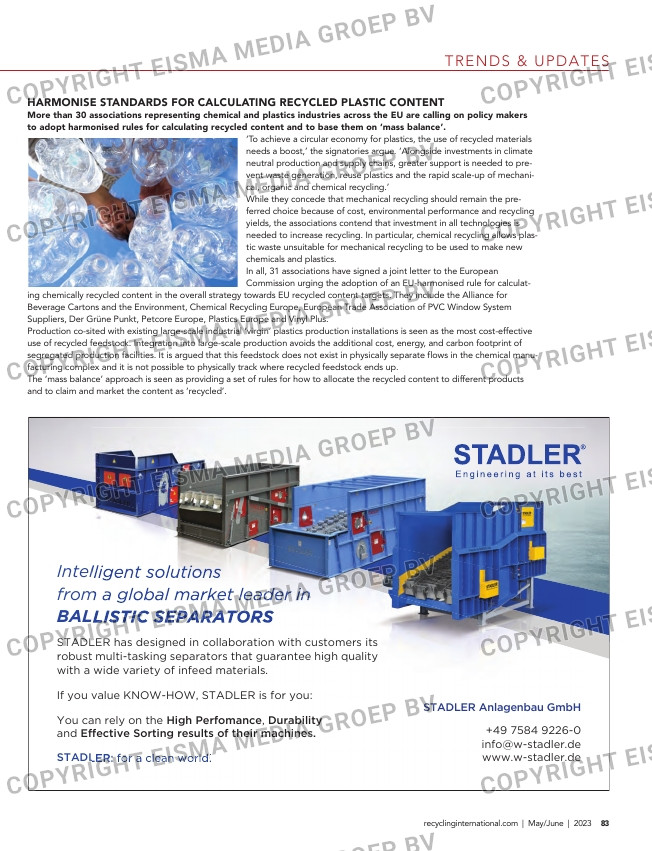 TRENDS & UPDATES
83recyclinginternational.com | May/June | 2023
STADLER: for a clean world!
Intelligent solutions
from a global market leader in
BALLISTIC SEPARATORS

STADLER has designed in collaboration with customers its
robust multi-tasking separators that guarantee high quality
with a wide variety of infeed materials.
If you value KNOW-HOW, STADLER is for you:
You can rely on the High Perfomance, Durability
and Effective Sorting results of their machines.
STADLER Anlagenbau GmbH
+49 7584 9226-0
[email protected]
www.w-stadler.de
ENVA COMPLETES FACILITY
UPGRADE
UK player Enva has completed a £1.5 million
(EUR 1.7 million) upgrade at its dry mixed recy-
cling line in Colwick in Nottinghamshire. The
investment coincides with Nottingham City
Council extending its contact with the recycler
by another year.
The expansion has increased the plant's overall
capacity by 10% and its material recovery rate by
an additional 5%. Key elements of the upgrade
include new optical sorters, a glass breaker and an
additional eddy current separator for the
increased recovery of non-ferrous scrap.
The modernisation and additional sorting capabili-
ty are expected to result in an even higher materi-
al quality, yielding higher prices. Residual waste
will be converted into sustainable fuels such as
SRF to offset the use of traditional fossil fuels.
'The upgrade of our Nottingham facility will maxi-
mise recycling rates and material quality helping
to support the development of a more circular
economy,' says Enva's director of operations
Wayne Cornell. 'It will also ensure we have the
flexibility needed to accommodate changing
waste profiles as a result of extended producer
responsibility and deposit return schemes.'
Cornell underlines the business is committed to
continued investment to maintain the highest pos-
sible levels of service for its customers.
Enva's extended contract Nottingham City Council
builds on a partnership that started in 2006. It
means the waste manager will continue to process
approximately 20 000 tonnes of commingled recy-
clables from residents across the city.
HARMONISE STANDARDS FOR CALCULATING RECYCLED PLASTIC CONTENT
More than 30 associations representing chemical and plastics industries across the EU are calling on policy makers
to adopt harmonised rules for calculating recycled content and to base them on 'mass balance'.
'To achieve a circular economy for plastics, the use of recycled materials
needs a boost,' the signatories argue. 'Alongside investments in climate
neutral production and supply chains, greater support is needed to pre-
vent waste generation, reuse plastics and the rapid scale-up of mechani-
cal, organic and chemical recycling.'
While they concede that mechanical recycling should remain the pre-
ferred choice because of cost, environmental performance and recycling
yields, the associations contend that investment in all technologies is
needed to increase recycling. In particular, chemical recycling allows plas-
tic waste unsuitable for mechanical recycling to be used to make new
chemicals and plastics.
In all, 31 associations have signed a joint letter to the European
Commission urging the adoption of an EU-harmonised rule for calculat-
ing chemically recycled content in the overall strategy towards EU recycled content targets. They include the Alliance for
Beverage Cartons and the Environment, Chemical Recycling Europe, European Trade Association of PVC Window System
Suppliers, Der Grüne Punkt, Petcore Europe, Plastics Europe and Vinyl Plus.
Production co-sited with existing large-scale industrial 'virgin' plastics production installations is seen as the most cost-effective
use of recycled feedstock. Integration into large-scale production avoids the additional cost, energy, and carbon footprint of
segregated production facilities. It is argued that this feedstock does not exist in physically separate flows in the chemical manu-
facturing complex and it is not possible to physically track where recycled feedstock ends up.
The 'mass balance' approach is seen as providing a set of rules for how to allocate the recycled content to different products
and to claim and market the content as 'recycled'.
82-83-84-85_trendsupdatesii.indd 83 04-05-2023 08:31