Recycling International free issue 3 2023
Subscribe
Page 70 from: Recycling International free issue 3 2023
70 and it's a shame,' says Patawari. 'Instead, brands and producers should put their money where their mouth is and really take responsibility by increasing the use of recycled plastics in their products and processes. This wou...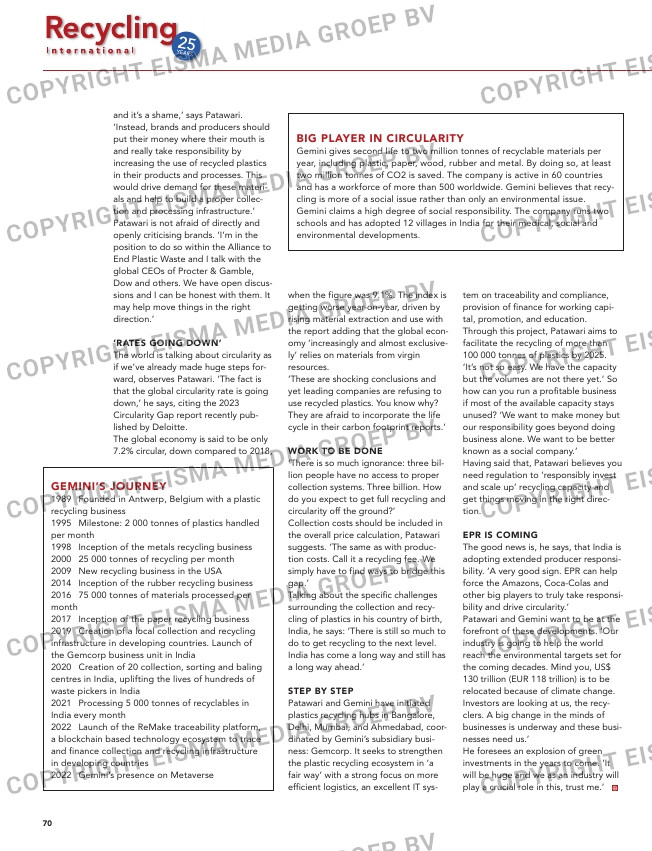 70
and it's a shame,' says Patawari.
'Instead, brands and producers should
put their money where their mouth is
and really take responsibility by
increasing the use of recycled plastics
in their products and processes. This
would drive demand for these materi-
als and help to build a proper collec-
tion and processing infrastructure.'
Patawari is not afraid of directly and
openly criticising brands. 'I'm in the
position to do so within the Alliance to
End Plastic Waste and I talk with the
global CEOs of Procter & Gamble,
Dow and others. We have open discus-
sions and I can be honest with them. It
may help move things in the right
direction.'
'RATES GOING DOWN'
The world is talking about circularity as
if we've already made huge steps for-
ward, observes Patawari. 'The fact is
that the global circularity rate is going
down,' he says, citing the 2023
Circularity Gap report recently pub-
lished by Deloitte.
The global economy is said to be only
7.2% circular, down compared to 2018,
when the figure was 9.1%. The index is
getting worse year-on-year, driven by
rising material extraction and use with
the report adding that the global econ-
omy 'increasingly and almost exclusive-
ly' relies on materials from virgin
resources.
'These are shocking conclusions and
yet leading companies are refusing to
use recycled plastics. You know why?
They are afraid to incorporate the life
cycle in their carbon footprint reports.'
WORK TO BE DONE
'There is so much ignorance: three bil-
lion people have no access to proper
collection systems. Three billion. How
do you expect to get full recycling and
circularity off the ground?'
Collection costs should be included in
the overall price calculation, Patawari
suggests. 'The same as with produc-
tion costs. Call it a recycling fee. We
simply have to find ways to bridge this
gap.'
Talking about the specific challenges
surrounding the collection and recy-
cling of plastics in his country of birth,
India, he says: 'There is still so much to
do to get recycling to the next level.
India has come a long way and still has
a long way ahead.'
STEP BY STEP
Patawari and Gemini have initiated
plastics recycling hubs in Bangalore,
Delhi, Mumbai, and Ahmedabad, coor-
dinated by Gemini's subsidiary busi-
ness: Gemcorp. It seeks to strengthen
the plastic recycling ecosystem in 'a
fair way' with a strong focus on more
efficient logistics, an excellent IT sys-
tem on traceability and compliance,
provision of finance for working capi-
tal, promotion, and education.
Through this project, Patawari aims to
facilitate the recycling of more than
100 000 tonnes of plastics by 2025.
'It's not so easy. We have the capacity
but the volumes are not there yet.' So
how can you run a profitable business
if most of the available capacity stays
unused? 'We want to make money but
our responsibility goes beyond doing
business alone. We want to be better
known as a social company.'
Having said that, Patawari believes you
need regulation to 'responsibly invest
and scale up' recycling capacity and
get things moving in the right direc-
tion.
EPR IS COMING
The good news is, he says, that India is
adopting extended producer responsi-
bility. 'A very good sign. EPR can help
force the Amazons, Coca-Colas and
other big players to truly take responsi-
bility and drive circularity.'
Patawari and Gemini want to be at the
forefront of these developments. 'Our
industry is going to help the world
reach the environmental targets set for
the coming decades. Mind you, US$
130 trillion (EUR 118 trillion) is to be
relocated because of climate change.
Investors are looking at us, the recy-
clers. A big change in the minds of
businesses is underway and these busi-
nesses need us.'
He foresees an explosion of green
investments in the years to come. 'It
will be huge and we as an industry will
play a crucial role in this, trust me.'
BIG PLAYER IN CIRCULARITY
Gemini gives second life to two million tonnes of recyclable materials per
year, including plastic, paper, wood, rubber and metal. By doing so, at least
two million tonnes of CO2 is saved. The company is active in 60 countries
and has a workforce of more than 500 worldwide. Gemini believes that recy-
cling is more of a social issue rather than only an environmental issue.
Gemini claims a high degree of social responsibility. The company runs two
schools and has adopted 12 villages in India for their medical, social and
environmental developments.
GEMINI'S JOURNEY
1989 Founded in Antwerp, Belgium with a plastic
recycling business
1995 Milestone: 2 000 tonnes of plastics handled
per month
1998 Inception of the metals recycling business
2000 25 000 tonnes of recycling per month
2009 New recycling business in the USA
2014 Inception of the rubber recycling business
2016 75 000 tonnes of materials processed per
month
2017 Inception of the paper recycling business
2019 Creation of a local collection and recycling
infrastructure in developing countries. Launch of
the Gemcorp business unit in India
2020 Creation of 20 collection, sorting and baling
centres in India, uplifting the lives of hundreds of
waste pickers in India
2021 Processing 5 000 tonnes of recyclables in
India every month
2022 Launch of the ReMake traceability platform,
a blockchain based technology ecosystem to trace
and finance collection and recycling infrastructure
in developing countries
2022 Gemini's presence on Metaverse
68-69-70-71_surendraborad.indd 70 04-05-2023 08:30