Recycling International free issue 3 2023
Subscribe
Page 55 from: Recycling International free issue 3 2023
TECHNOLOGY EXPERT Highest aluminium purity powers the circular economy Steinert's dry density separation technology based on x-ray transmission (XRT) is being successfully used for heavy and light metal separation in metal rec...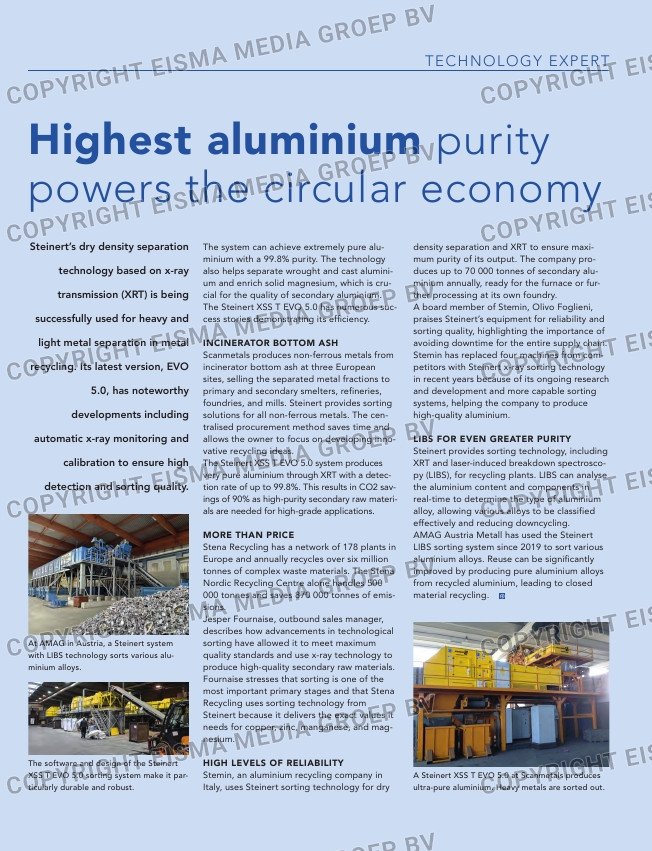 TECHNOLOGY EXPERT
Highest aluminium purity
powers the circular economy
Steinert's dry density separation
technology based on x-ray
transmission (XRT) is being
successfully used for heavy and
light metal separation in metal
recycling. Its latest version, EVO
5.0, has noteworthy
developments including
automatic x-ray monitoring and
calibration to ensure high
detection and sorting quality.
The system can achieve extremely pure alu-
minium with a 99.8% purity. The technology
also helps separate wrought and cast alumini-
um and enrich solid magnesium, which is cru-
cial for the quality of secondary aluminium.
The Steinert XSS T EVO 5.0 has numerous suc-
cess stories demonstrating its efficiency.
INCINERATOR BOTTOM ASH
Scanmetals produces non-ferrous metals from
incinerator bottom ash at three European
sites, selling the separated metal fractions to
primary and secondary smelters, refineries,
foundries, and mills. Steinert provides sorting
solutions for all non-ferrous metals. The cen-
tralised procurement method saves time and
allows the owner to focus on developing inno-
vative recycling ideas.
The Steinert XSS T EVO 5.0 system produces
very pure aluminium through XRT with a detec-
tion rate of up to 99.8%. This results in CO2 sav-
ings of 90% as high-purity secondary raw materi-
als are needed for high-grade applications.
MORE THAN PRICE
Stena Recycling has a network of 178 plants in
Europe and annually recycles over six million
tonnes of complex waste materials. The Stena
Nordic Recycling Centre alone handles 500
000 tonnes and saves 870 000 tonnes of emis-
sions.
Jesper Fournaise, outbound sales manager,
describes how advancements in technological
sorting have allowed it to meet maximum
quality standards and use x-ray technology to
produce high-quality secondary raw materials.
Fournaise stresses that sorting is one of the
most important primary stages and that Stena
Recycling uses sorting technology from
Steinert because it delivers the exact values it
needs for copper, zinc, manganese, and mag-
nesium.
HIGH LEVELS OF RELIABILITY
Stemin, an aluminium recycling company in
Italy, uses Steinert sorting technology for dry
density separation and XRT to ensure maxi-
mum purity of its output. The company pro-
duces up to 70 000 tonnes of secondary alu-
minium annually, ready for the furnace or fur-
ther processing at its own foundry.
A board member of Stemin, Olivo Foglieni,
praises Steinert's equipment for reliability and
sorting quality, highlighting the importance of
avoiding downtime for the entire supply chain.
Stemin has replaced four machines from com-
petitors with Steinert x-ray sorting technology
in recent years because of its ongoing research
and development and more capable sorting
systems, helping the company to produce
high-quality aluminium.
LIBS FOR EVEN GREATER PURITY
Steinert provides sorting technology, including
XRT and laser-induced breakdown spectrosco-
py (LIBS), for recycling plants. LIBS can analyse
the aluminium content and components in
real-time to determine the type of aluminium
alloy, allowing various alloys to be classified
effectively and reducing downcycling.
AMAG Austria Metall has used the Steinert
LIBS sorting system since 2019 to sort various
aluminium alloys. Reuse can be significantly
improved by producing pure aluminium alloys
from recycled aluminium, leading to closed
material recycling.
The software and design of the Steinert
XSS T EVO 5.0 sorting system make it par-
ticularly durable and robust.
At AMAG in Austria, a Steinert system
with LIBS technology sorts various alu-
minium alloys.
A Steinert XSS T EVO 5.0 at Scanmetals produces
ultra-pure aluminium. Heavy metals are sorted out.
55_steinert.indd 55 03-05-2023 16:59