Recycling International free issue 3 2023
Subscribe
Page 49 from: Recycling International free issue 3 2023
GUEST COLUMN 49recyclinginternational.com | May/June | 2023 Fotobijschrift KADERKOP ?? We're continuously innovating I am pleased to wish Recycling International congratulations on 25 years in publication – which happens ...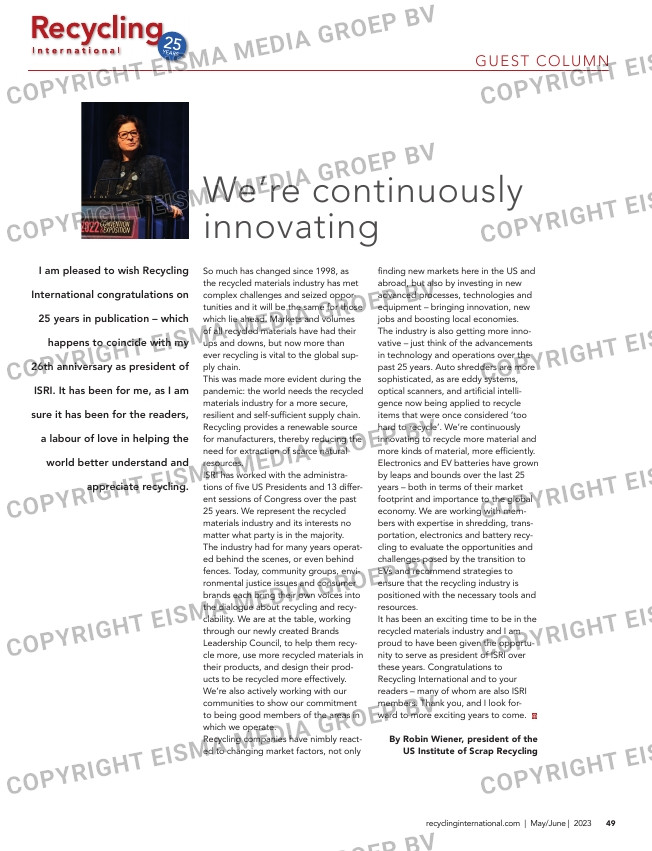 GUEST COLUMN
49recyclinginternational.com | May/June | 2023
Fotobijschrift
KADERKOP
??
We're continuously
innovating
I am pleased to wish Recycling
International congratulations on
25 years in publication – which
happens to coincide with my
26th anniversary as president of
ISRI. It has been for me, as I am
sure it has been for the readers,
a labour of love in helping the
world better understand and
appreciate recycling.
So much has changed since 1998, as
the recycled materials industry has met
complex challenges and seized oppor-
tunities and it will be the same for those
which lie ahead. Markets and volumes
of all recycled materials have had their
ups and downs, but now more than
ever recycling is vital to the global sup-
ply chain.
This was made more evident during the
pandemic: the world needs the recycled
materials industry for a more secure,
resilient and self-sufficient supply chain.
Recycling provides a renewable source
for manufacturers, thereby reducing the
need for extraction of scarce natural
resources.
ISRI has worked with the administra-
tions of five US Presidents and 13 differ-
ent sessions of Congress over the past
25 years. We represent the recycled
materials industry and its interests no
matter what party is in the majority.
The industry had for many years operat-
ed behind the scenes, or even behind
fences. Today, community groups, envi-
ronmental justice issues and consumer
brands each bring their own voices into
the dialogue about recycling and recy-
clability. We are at the table, working
through our newly created Brands
Leadership Council, to help them recy-
cle more, use more recycled materials in
their products, and design their prod-
ucts to be recycled more effectively.
We're also actively working with our
communities to show our commitment
to being good members of the areas in
which we operate.
Recycling companies have nimbly react-
ed to changing market factors, not only
finding new markets here in the US and
abroad, but also by investing in new
advanced processes, technologies and
equipment – bringing innovation, new
jobs and boosting local economies.
The industry is also getting more inno-
vative – just think of the advancements
in technology and operations over the
past 25 years. Auto shredders are more
sophisticated, as are eddy systems,
optical scanners, and artificial intelli-
gence now being applied to recycle
items that were once considered 'too
hard to recycle'. We're continuously
innovating to recycle more material and
more kinds of material, more efficiently.
Electronics and EV batteries have grown
by leaps and bounds over the last 25
years – both in terms of their market
footprint and importance to the global
economy. We are working with mem-
bers with expertise in shredding, trans-
portation, electronics and battery recy-
cling to evaluate the opportunities and
challenges posed by the transition to
EVs and recommend strategies to
ensure that the recycling industry is
positioned with the necessary tools and
resources.
It has been an exciting time to be in the
recycled materials industry and I am
proud to have been given the opportu-
nity to serve as president of ISRI over
these years. Congratulations to
Recycling International and to your
readers – many of whom are also ISRI
members. Thank you, and I look for-
ward to more exciting years to come.
By Robin Wiener, president of the
US Institute of Scrap Recycling
49_column;robinwiener.indd 49 03-05-2023 16:58