Recycling International free issue 3 2023
Subscribe
Page 40 from: Recycling International free issue 3 2023
40 When and how will recycling tech leapfrog ahead? In a world pushing for more recycling, having the right technology in place is vital. The good news is that solutions providers are known to be ambitious while the scale at which rec...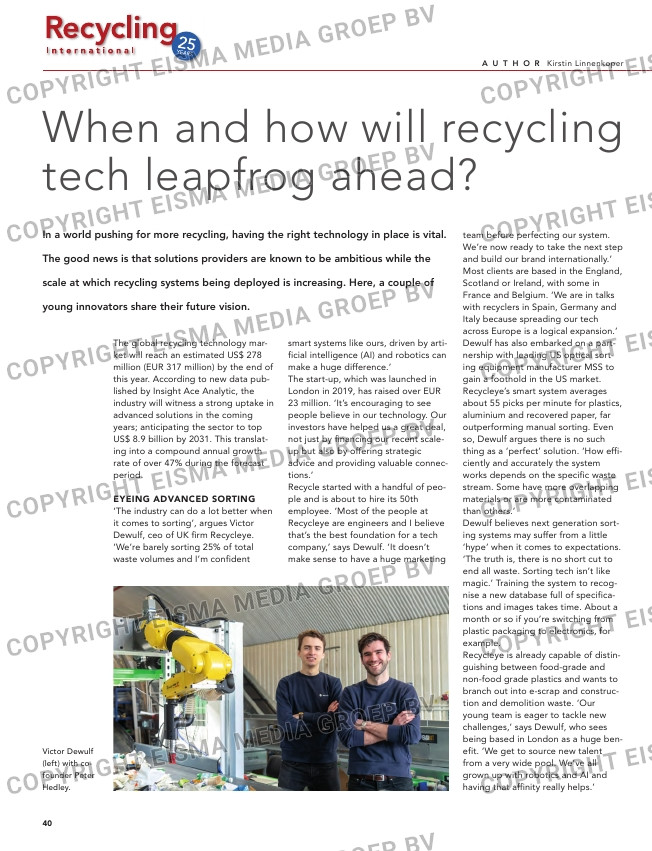 40
When and how will recycling
tech leapfrog ahead?
In a world pushing for more recycling, having the right technology in place is vital.
The good news is that solutions providers are known to be ambitious while the
scale at which recycling systems being deployed is increasing. Here, a couple of
young innovators share their future vision.
REVOLUTION IN LATIN AMERICA
The waste management sector in Latin
America has been growing and devel-
oping steadily over the last few years,
according to Jhoanna Rosales, found-
er of e-scrap recycler Vertmonde in
Ecuador. 'Many countries are imple-
menting new technologies but tech-
nological implementation has always
faced a big barrier: scale.'
'Most technologies are made for big
companies and different socio-eco-
nomic realities than ours. That's why
recyclers in our part of the world have
adapted technologies, or developed
their own technology based on inter-
national experience,' Rosales explains.
There is still much manual disassem-
bling in the region and, where
machines are being used, they are
generally relatively new and not state-
of-the-art. 'There are exceptions in
bigger countries, such as GM&C in
Brazil and ProAmbi in Mexico. Players
like these have sophisticated solutions
to enable the classification of plastics,
for example. Columbia is also doing
well. These just so happen to be the
three biggest markets, which naturally
speeds up the uptake in technology.'
Rosales notes that most recyclers in
Latin America would want to have a
shredding line at least, followed by
ferrous and non-ferrous separation
then magnetic and eddy current. 'This
would be an ideal baseline but in sev-
eral countries the available scrap vol-
ume is not yet big enough.'
Many countries in the region do not
yet have dedicated e-scrap legislation,
The global recycling technology mar-
ket will reach an estimated US$ 278
million (EUR 317 million) by the end of
this year. According to new data pub-
lished by Insight Ace Analytic, the
industry will witness a strong uptake in
advanced solutions in the coming
years; anticipating the sector to top
US$ 8.9 billion by 2031. This translat-
ing into a compound annual growth
rate of over 47% during the forecast
period.
EYEING ADVANCED SORTING
'The industry can do a lot better when
it comes to sorting', argues Victor
Dewulf, ceo of UK firm Recycleye.
'We're barely sorting 25% of total
waste volumes and I'm confident
smart systems like ours, driven by arti-
ficial intelligence (AI) and robotics can
make a huge difference.'
The start-up, which was launched in
London in 2019, has raised over EUR
23 million. 'It's encouraging to see
people believe in our technology. Our
investors have helped us a great deal,
not just by financing our recent scale-
up but also by offering strategic
advice and providing valuable connec-
tions.'
Recycle started with a handful of peo-
ple and is about to hire its 50th
employee. 'Most of the people at
Recycleye are engineers and I believe
that's the best foundation for a tech
company,' says Dewulf. 'It doesn't
make sense to have a huge marketing
team before perfecting our system.
We're now ready to take the next step
and build our brand internationally.'
Most clients are based in the England,
Scotland or Ireland, with some in
France and Belgium. 'We are in talks
with recyclers in Spain, Germany and
Italy because spreading our tech
across Europe is a logical expansion.'
Dewulf has also embarked on a part-
nership with leading US optical sort-
ing equipment manufacturer MSS to
gain a foothold in the US market.
Recycleye's smart system averages
about 55 picks per minute for plastics,
aluminium and recovered paper, far
outperforming manual sorting. Even
so, Dewulf argues there is no such
thing as a 'perfect' solution. 'How effi-
ciently and accurately the system
works depends on the specific waste
stream. Some have more overlapping
materials or are more contaminated
than others.'
Dewulf believes next generation sort-
ing systems may suffer from a little
'hype' when it comes to expectations.
'The truth is, there is no short cut to
end all waste. Sorting tech isn't like
magic.' Training the system to recog-
nise a new database full of specifica-
tions and images takes time. About a
month or so if you're switching from
plastic packaging to electronics, for
example.
Recycleye is already capable of distin-
guishing between food-grade and
non-food grade plastics and wants to
branch out into e-scrap and construc-
tion and demolition waste. 'Our
young team is eager to tackle new
challenges,' says Dewulf, who sees
being based in London as a huge ben-
efit. 'We get to source new talent
from a very wide pool. We've all
grown up with robotics and AI and
having that affinity really helps.'
A U T H O R Kirstin Linnenkoper
Victor Dewulf
(left) with co-
founder Peter
Hedley.
Jhoanna Rosales.
40-41-42-43-44_smartheads_futuretech-2.indd 40 03-05-2023 16:57