Recycling International free issue 3 2023
Subscribe
Page 33 from: Recycling International free issue 3 2023
LOOKING BACK 33recyclinginternational.com | May/June | 2023 Veerweg 9 5145 NS Waalwijk The Netherlands T: +31 416 673 854
[email protected]
We buy Magnesium Scrap Worldwide Adv Allied Magnesium.indd 2 14-10-15 13:02 A gra...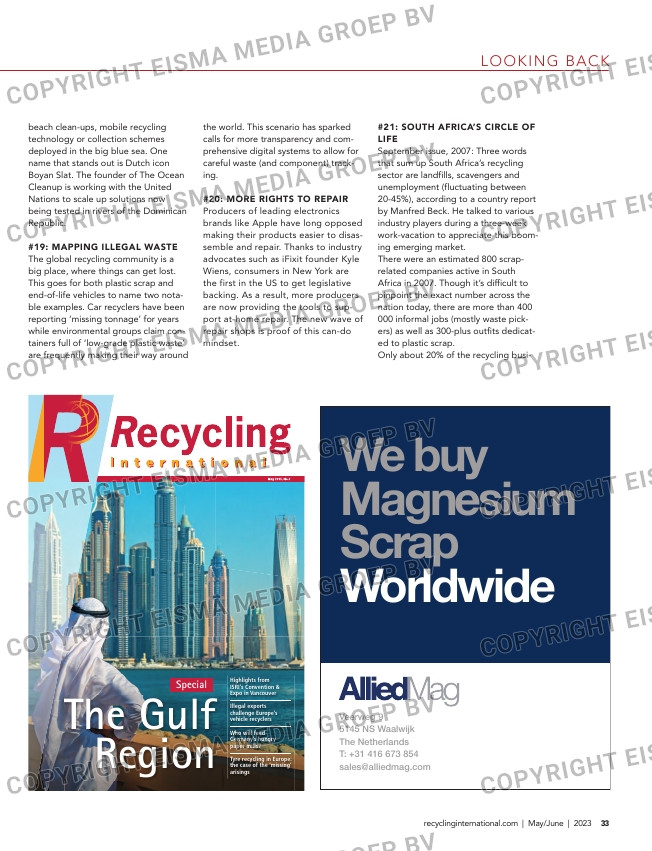 LOOKING BACK
33recyclinginternational.com | May/June | 2023
Veerweg 9
5145 NS Waalwijk
The Netherlands
T: +31 416 673 854
[email protected]
We buy
Magnesium
Scrap
Worldwide

Adv Allied Magnesium.indd 2 14-10-15 13:02
A grave concern was said to be the
India's history of exorbitant duties
(upwards of 30%) on both ferrous and
non-ferrous scrap, the result of taxes,
rebates and more taxes. Factor in cash
payments and a largely informal sector
and you've got a perfect recipe for cor-
ruption. 'If India cuts the duty by half,
it will also cut corruption by half,'
Minter was told – off the record, of
course – during his visit to various
scrap yards in Mumbai.
Meanwhile, the activities at the Alang
shipbreaking yards are said to be wind-
ing down following negative media
attention over the years. Recently, the
yards at Alang witnessed one of their
lowest turnovers in over 12 years: 131
ships were beached there in 2022,
compared to 209 ships in 2021. The
busiest year for Alang was 415 vessels
in 2012.
#18: GOODBYE OCEAN WASTE
Many entrepreneurs are backing efforts
to tackle plastic pollution by means of
beach clean-ups, mobile recycling
technology or collection schemes
deployed in the big blue sea. One
name that stands out is Dutch icon
Boyan Slat. The founder of The Ocean
Cleanup is working with the United
Nations to scale up solutions now
being tested in rivers of the Dominican
Republic.
#19: MAPPING ILLEGAL WASTE
The global recycling community is a
big place, where things can get lost.
This goes for both plastic scrap and
end-of-life vehicles to name two nota-
ble examples. Car recyclers have been
reporting 'missing tonnage' for years
while environmental groups claim con-
tainers full of 'low-grade plastic waste'
are frequently making their way around
the world. This scenario has sparked
calls for more transparency and com-
prehensive digital systems to allow for
careful waste (and component) track-
ing.
#20: MORE RIGHTS TO REPAIR
Producers of leading electronics
brands like Apple have long opposed
making their products easier to disas-
semble and repair. Thanks to industry
advocates such as iFixit founder Kyle
Wiens, consumers in New York are
the first in the US to get legislative
backing. As a result, more producers
are now providing the tools to sup-
port at-home repair. The new wave of
repair shops is proof of this can-do
mindset.
#21: SOUTH AFRICA'S CIRCLE OF
LIFE
September issue, 2007: Three words
that sum up South Africa's recycling
sector are landfills, scavengers and
unemployment (fluctuating between
20-45%), according to a country report
by Manfred Beck. He talked to various
industry players during a three-week
work-vacation to appreciate this boom-
ing emerging market.
There were an estimated 800 scrap-
related companies active in South
Africa in 2007. Though it's difficult to
pinpoint the exact number across the
nation today, there are more than 400
000 informal jobs (mostly waste pick-
ers) as well as 300-plus outfits dedicat-
ed to plastic scrap.
Only about 20% of the recycling busi-
'RECYCLING IS SO UNDERVALUED'
Looking back to the early days of Recycling International, there is no
escaping Peter Mathews. This UK scrap metal trader had already been
a friend of Manfred Beck for some years when Beck told him he was
thinking of launching a new recycling publication. 'At the time, recy-
cling magazines were changing some of their focus and a glossy new
approach to our industry was sorely needed. So I said: "What a great
idea, I'll support you as and when needed."'
Eventually, the first edition was published and Mathews received his
copy. 'Wow! So much hard work had been put in by Manfred, Helga
and their advertising guru, Jan-Willem. Impressive stuff which is con-
tinuing under the leadership of Martijn today, although we continue to
read "young" Manfred's thoughts on a regular basis.'
Mathews has seen great changes in our industry during the past 25
years. 'From EU legislation to the European definition of waste and
the Chinese licensing system, to name but a few. All reported and
informed through Recycling International.'
Now retired ('well, semi'), Mathews still finds himself involved in this
'impressive and very interesting' industry. 'Recycling is so underval-
ued. Recycling International can only help develop the knowledge
that is so sorely needed by those who should understand that the
future of our planet rests, in part, in having a robust, efficient global
market for recyclable commodities.
'I've seen so much technical development and so many new faces that
the future looks healthy for us all, young and old – or, I should say,
older. And Manfred still owes me a beer.'
May 2015, No.4
Highlights from
ISRI's Convention &
Expo in Vancouver

Illegal exports
challenge Europe's
vehicle recyclers

Who will feed
Germany's hungry
paper mills?

Tyre recycling in Europe:
the case of the 'missing'
arisings

The Gulf
Region

M
a
y 2
0
15 , N
o
. 4
Special

RI 4-Cover spread.indd 1 30-03-2023 15:21Naamloos-3 1 2
28-29-30-32-33-35_ri25years-lookingback.indd 33 04-05-2023 10:00