Recycling International free issue 3 2023
Subscribe
Page 100 from: Recycling International free issue 3 2023
100 PLASTICSMARKET ANALYSIS Prices and not promises are key Despite fine words from leading brands, demand for recycled plastics continues to be too low in most parts of the world. Although financial experts may believe the Europe...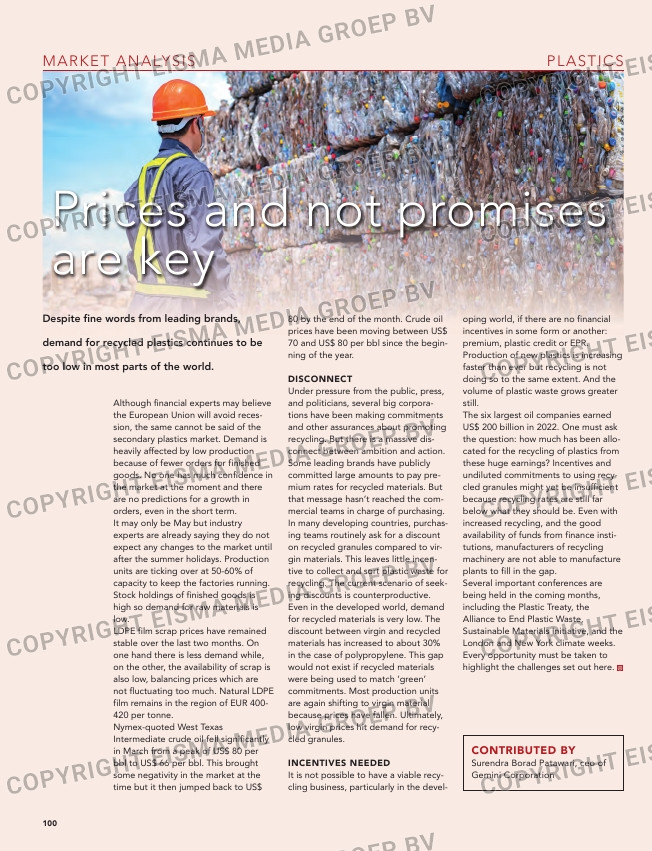 100
PLASTICSMARKET ANALYSIS
Prices and not promises
are key
Despite fine words from leading brands,
demand for recycled plastics continues to be
too low in most parts of the world.
Although financial experts may believe
the European Union will avoid reces-
sion, the same cannot be said of the
secondary plastics market. Demand is
heavily affected by low production
because of fewer orders for finished
goods. No one has much confidence in
the market at the moment and there
are no predictions for a growth in
orders, even in the short term.
It may only be May but industry
experts are already saying they do not
expect any changes to the market until
after the summer holidays. Production
units are ticking over at 50-60% of
capacity to keep the factories running.
Stock holdings of finished goods is
high so demand for raw materials is
low.
LDPE film scrap prices have remained
stable over the last two months. On
one hand there is less demand while,
on the other, the availability of scrap is
also low, balancing prices which are
not fluctuating too much. Natural LDPE
film remains in the region of EUR 400-
420 per tonne.
Nymex-quoted West Texas
Intermediate crude oil fell significantly
in March from a peak of US$ 80 per
bbl to US$ 66 per bbl. This brought
some negativity in the market at the
time but it then jumped back to US$
80 by the end of the month. Crude oil
prices have been moving between US$
70 and US$ 80 per bbl since the begin-
ning of the year.
DISCONNECT
Under pressure from the public, press,
and politicians, several big corpora-
tions have been making commitments
and other assurances about promoting
recycling. But there is a massive dis-
connect between ambition and action.
Some leading brands have publicly
committed large amounts to pay pre-
mium rates for recycled materials. But
that message hasn't reached the com-
mercial teams in charge of purchasing.
In many developing countries, purchas-
ing teams routinely ask for a discount
on recycled granules compared to vir-
gin materials. This leaves little incen-
tive to collect and sort plastic waste for
recycling. The current scenario of seek-
ing discounts is counterproductive.
Even in the developed world, demand
for recycled materials is very low. The
discount between virgin and recycled
materials has increased to about 30%
in the case of polypropylene. This gap
would not exist if recycled materials
were being used to match 'green'
commitments. Most production units
are again shifting to virgin material
because prices have fallen. Ultimately,
low virgin prices hit demand for recy-
cled granules.
INCENTIVES NEEDED
It is not possible to have a viable recy-
cling business, particularly in the devel-
oping world, if there are no financial
incentives in some form or another:
premium, plastic credit or EPR.
Production of new plastics is increasing
faster than ever but recycling is not
doing so to the same extent. And the
volume of plastic waste grows greater
still.
The six largest oil companies earned
US$ 200 billion in 2022. One must ask
the question: how much has been allo-
cated for the recycling of plastics from
these huge earnings? Incentives and
undiluted commitments to using recy-
cled granules might yet be insufficient
because recycling rates are still far
below what they should be. Even with
increased recycling, and the good
availability of funds from finance insti-
tutions, manufacturers of recycling
machinery are not able to manufacture
plants to fill in the gap.
Several important conferences are
being held in the coming months,
including the Plastic Treaty, the
Alliance to End Plastic Waste,
Sustainable Materials Initiative, and the
London and New York climate weeks.
Every opportunity must be taken to
highlight the challenges set out here.
CONTRIBUTED BY
Surendra Borad Patawari, ceo of
Gemini Corporation
100_maplastics.indd 100 03-05-2023 17:10