Recycling International: Free Issue, 2 2023
Subscribe
Page 81 from: Recycling International: Free Issue, 2 2023
IN THE LABORATORY 81recyclinginternational.com | March/April | 2023 Recovered scuba tanks offer new age for carbon fibre recyclers Japanese chemical company Asahi Kasei Group, working with academics, has developed a promis- ing...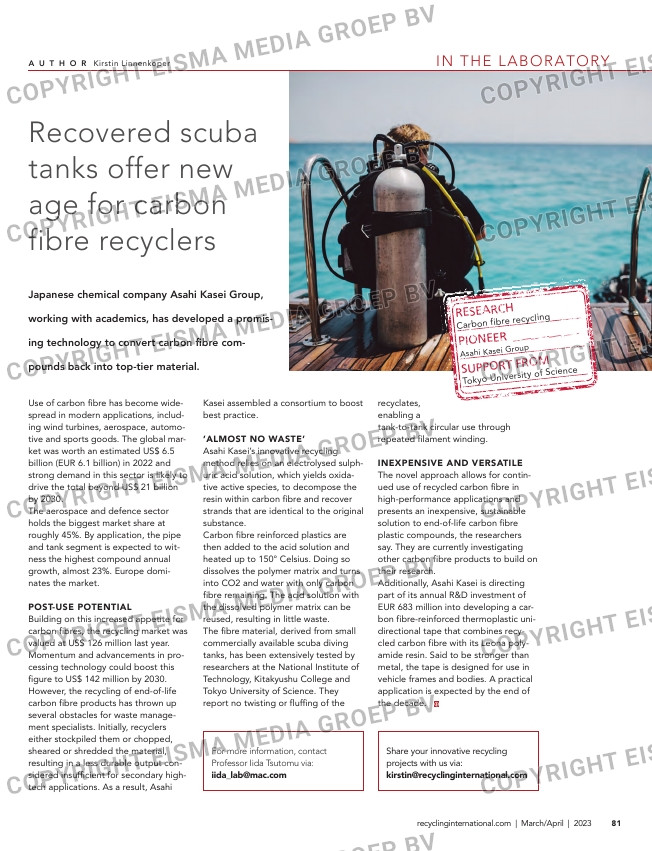 IN THE LABORATORY
81recyclinginternational.com | March/April | 2023
Recovered scuba
tanks offer new
age for carbon
fibre recyclers
Japanese chemical company Asahi Kasei Group,
working with academics, has developed a promis-
ing technology to convert carbon fibre com-
pounds back into top-tier material.
Use of carbon fibre has become wide-
spread in modern applications, includ-
ing wind turbines, aerospace, automo-
tive and sports goods. The global mar-
ket was worth an estimated US$ 6.5
billion (EUR 6.1 billion) in 2022 and
strong demand in this sector is likely to
drive the total beyond US$ 21 billion
by 2030.
The aerospace and defence sector
holds the biggest market share at
roughly 45%. By application, the pipe
and tank segment is expected to wit-
ness the highest compound annual
growth, almost 23%. Europe domi-
nates the market.
POST-USE POTENTIAL
Building on this increased appetite for
carbon fibres, the recycling market was
valued at US$ 126 million last year.
Momentum and advancements in pro-
cessing technology could boost this
figure to US$ 142 million by 2030.
However, the recycling of end-of-life
carbon fibre products has thrown up
several obstacles for waste manage-
ment specialists. Initially, recyclers
either stockpiled them or chopped,
sheared or shredded the material,
resulting in a less durable output con-
sidered insufficient for secondary high-
tech applications. As a result, Asahi
Kasei assembled a consortium to boost
best practice.
'ALMOST NO WASTE'
Asahi Kasei's innovative recycling
method relies on an electrolysed sulph-
uric acid solution, which yields oxida-
tive active species, to decompose the
resin within carbon fibre and recover
strands that are identical to the original
substance.
Carbon fibre reinforced plastics are
then added to the acid solution and
heated up to 150° Celsius. Doing so
dissolves the polymer matrix and turns
into CO2 and water with only carbon
fibre remaining. The acid solution with
the dissolved polymer matrix can be
reused, resulting in little waste.
The fibre material, derived from small
commercially available scuba diving
tanks, has been extensively tested by
researchers at the National Institute of
Technology, Kitakyushu College and
Tokyo University of Science. They
report no twisting or fluffing of the
recyclates,
enabling a
tank-to-tank circular use through
repeated filament winding.
INEXPENSIVE AND VERSATILE
The novel approach allows for contin-
ued use of recycled carbon fibre in
high-performance applications and
presents an inexpensive, sustainable
solution to end-of-life carbon fibre
plastic compounds, the researchers
say. They are currently investigating
other carbon fibre products to build on
their research.
Additionally, Asahi Kasei is directing
part of its annual R&D investment of
EUR 683 million into developing a car-
bon fibre-reinforced thermoplastic uni-
directional tape that combines recy-
cled carbon fibre with its Leona poly-
amide resin. Said to be stronger than
metal, the tape is designed for use in
vehicle frames and bodies. A practical
application is expected by the end of
the decade.
For more information, contact
Professor Iida Tsutomu via:
[email protected]
Share your innovative recycling
projects with us via:
[email protected]
A U T H O R Kirstin Linnenkoper
RESEARCH
PIONEER __
_________
SUPPORT FR
OM
Carbon fibre
recycling
Tokyo Univer
sity of Scienc
e
Asahi Kasei G
roup
81_inthelab.indd 81 15-03-2023 11:52