Recycling International: Free Issue, 2 2023
Subscribe
Page 66 from: Recycling International: Free Issue, 2 2023
MARKET ANALYSIS Quakes shock supply chains and scrap trade Shipments into Turkish ports resume after the natural disaster while general New Year senti- ment improves. 66 Higher deep-sea export prices to Turkey, low inventory and ri...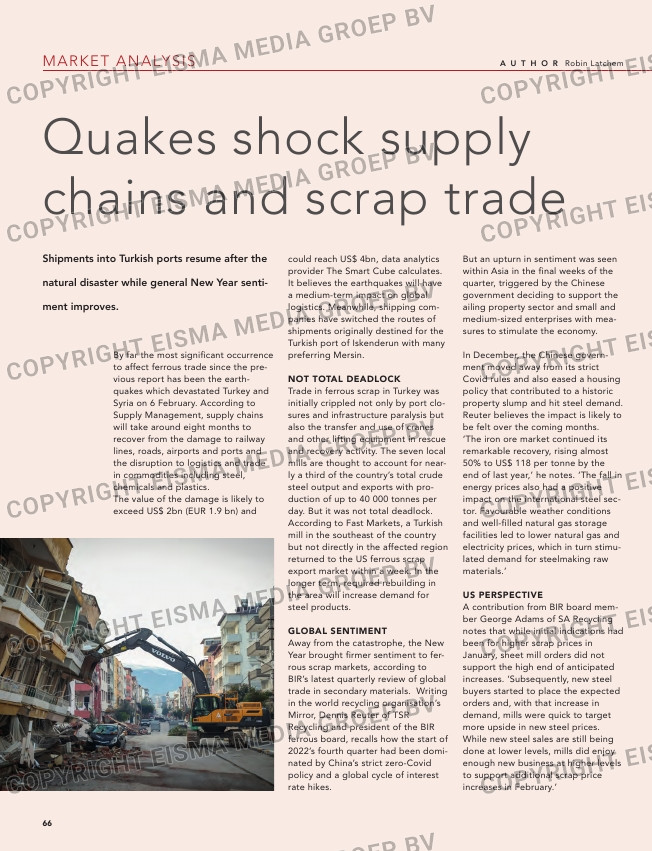 MARKET ANALYSIS
Quakes shock supply
chains and scrap trade
Shipments into Turkish ports resume after the
natural disaster while general New Year senti-
ment improves.
66
Higher deep-sea export prices to
Turkey, low inventory and rising fin-
ished steel prices are factors that oth-
ers see as the background for a fourth
month of increases in US ferrous scrap.
Adams believes the US consumer is
resilient and resistant to a market slow-
down amid strong demand for vehi-
cles, houses and appliances.
'Anticipated additional demand
caused by the recent US infrastruc-
ture bill should help to fuel US con-
struction this year,' he concludes. 'All
of that may be enough to keep the
party going for a little while longer.
Time will tell.'
BETTER FOR STEEL
BIR's quarterly review of the stainless
steel sector indicated a better start
to the year than had been expected,
although chairman Joost van Kleef
A U T H O R Robin Latchem
But an upturn in sentiment was seen
within Asia in the final weeks of the
quarter, triggered by the Chinese
government deciding to support the
ailing property sector and small and
medium-sized enterprises with mea-
sures to stimulate the economy.
In December, the Chinese govern-
ment moved away from its strict
Covid rules and also eased a housing
policy that contributed to a historic
property slump and hit steel demand.
Reuter believes the impact is likely to
be felt over the coming months.
'The iron ore market continued its
remarkable recovery, rising almost
50% to US$ 118 per tonne by the
end of last year,' he notes. 'The fall in
energy prices also had a positive
impact on the international steel sec-
tor. Favourable weather conditions
and well-filled natural gas storage
facilities led to lower natural gas and
electricity prices, which in turn stimu-
lated demand for steelmaking raw
materials.'
US PERSPECTIVE
A contribution from BIR board mem-
ber George Adams of SA Recycling
notes that while initial indications had
been for higher scrap prices in
January, sheet mill orders did not
support the high end of anticipated
increases. 'Subsequently, new steel
buyers started to place the expected
orders and, with that increase in
demand, mills were quick to target
more upside in new steel prices.
While new steel sales are still being
done at lower levels, mills did enjoy
enough new business at higher levels
to support additional scrap price
increases in February.'
By far the most significant occurrence
to affect ferrous trade since the pre-
vious report has been the earth-
quakes which devastated Turkey and
Syria on 6 February. According to
Supply Management, supply chains
will take around eight months to
recover from the damage to railway
lines, roads, airports and ports and
the disruption to logistics and trade
in commodities including steel,
chemicals and plastics.
The value of the damage is likely to
exceed US$ 2bn (EUR 1.9 bn) and
could reach US$ 4bn, data analytics
provider The Smart Cube calculates.
It believes the earthquakes will have
a medium-term impact on global
logistics. Meanwhile, shipping com-
panies have switched the routes of
shipments originally destined for the
Turkish port of Iskenderun with many
preferring Mersin.
NOT TOTAL DEADLOCK
Trade in ferrous scrap in Turkey was
initially crippled not only by port clo-
sures and infrastructure paralysis but
also the transfer and use of cranes
and other lifting equipment in rescue
and recovery activity. The seven local
mills are thought to account for near-
ly a third of the country's total crude
steel output and exports with pro-
duction of up to 40 000 tonnes per
day. But it was not total deadlock.
According to Fast Markets, a Turkish
mill in the southeast of the country
but not directly in the affected region
returned to the US ferrous scrap
export market within a week. In the
longer term, required rebuilding in
the area will increase demand for
steel products.
GLOBAL SENTIMENT
Away from the catastrophe, the New
Year brought firmer sentiment to fer-
rous scrap markets, according to
BIR's latest quarterly review of global
trade in secondary materials. Writing
in the world recycling organisation's
Mirror, Dennis Reuter of TSR
Recycling and president of the BIR
ferrous board, recalls how the start of
2022's fourth quarter had been domi-
nated by China's strict zero-Covid
policy and a global cycle of interest
rate hikes.
66-67-68-69_maferrous.indd 66 15-03-2023 11:49