Recycling International: Free Issue, 2 2023
Subscribe
Page 61 from: Recycling International: Free Issue, 2 2023
TRENDS & UPDATES 61recyclinginternational.com | March/April | 2023 Fotobijschrift 'LACK OF WILL' HAMPERING EU WASTE LEGISLATION Leading associations in the waste management and recycling sector in Europe have expressed co...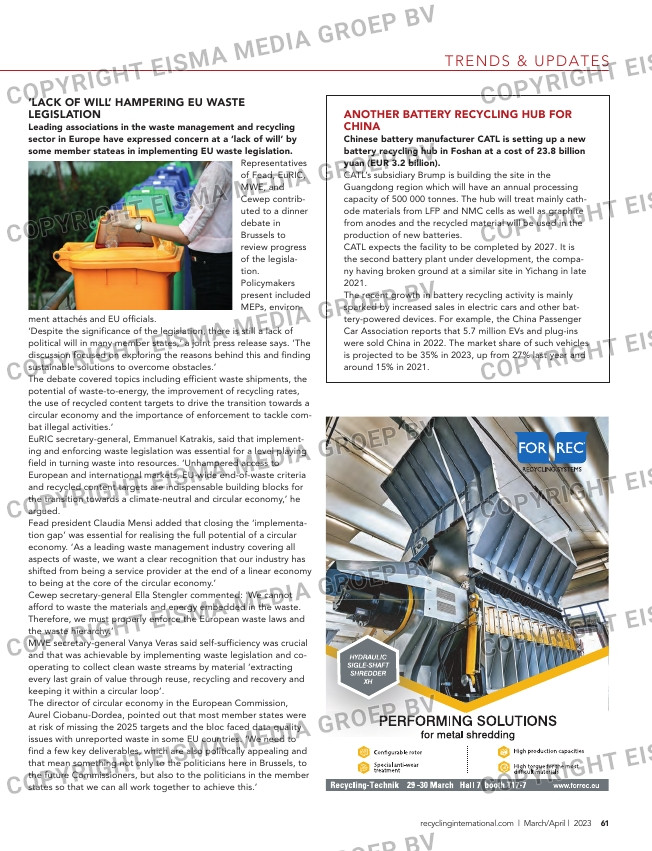 TRENDS & UPDATES
61recyclinginternational.com | March/April | 2023
Fotobijschrift
'LACK OF WILL' HAMPERING EU WASTE
LEGISLATION
Leading associations in the waste management and recycling
sector in Europe have expressed concern at a 'lack of will' by
some member stateas in implementing EU waste legislation.
Representatives
of Fead, EuRIC,
MWE, and
Cewep contrib-
uted to a dinner
debate in
Brussels to
review progress
of the legisla-
tion.
Policymakers
present included
MEPs, environ-
ment attachés and EU officials.
'Despite the significance of the legislation, there is still a lack of
political will in many member states,' a joint press release says. 'The
discussion focused on exploring the reasons behind this and finding
sustainable solutions to overcome obstacles.'
The debate covered topics including efficient waste shipments, the
potential of waste-to-energy, the improvement of recycling rates,
the use of recycled content targets to drive the transition towards a
circular economy and the importance of enforcement to tackle com-
bat illegal activities.'
EuRIC secretary-general, Emmanuel Katrakis, said that implement-
ing and enforcing waste legislation was essential for a level playing
field in turning waste into resources. 'Unhampered access to
European and international markets, EU-wide end-of-waste criteria
and recycled content targets are indispensable building blocks for
the transition towards a climate-neutral and circular economy,' he
argued.
Fead president Claudia Mensi added that closing the 'implementa-
tion gap' was essential for realising the full potential of a circular
economy. 'As a leading waste management industry covering all
aspects of waste, we want a clear recognition that our industry has
shifted from being a service provider at the end of a linear economy
to being at the core of the circular economy.'
Cewep secretary-general Ella Stengler commented: 'We cannot
afford to waste the materials and energy embedded in the waste.
Therefore, we must properly enforce the European waste laws and
the waste hierarchy.'
MWE secretary-general Vanya Veras said self-sufficiency was crucial
and that was achievable by implementing waste legislation and co-
operating to collect clean waste streams by material 'extracting
every last grain of value through reuse, recycling and recovery and
keeping it within a circular loop'.
The director of circular economy in the European Commission,
Aurel Ciobanu-Dordea, pointed out that most member states were
at risk of missing the 2025 targets and the bloc faced data quality
issues with unreported waste in some EU countries. 'We need to
find a few key deliverables, which are also politically appealing and
that mean something not only to the politicians here in Brussels, to
the future Commissioners, but also to the politicians in the member
states so that we can all work together to achieve this.'
Little one,
big footprint

And did you know we throw out
around 22 billion shoes worldwide
every year? My nephew, Ike, is barely a
year-and-a-half old and already has a
dozen original Nike sneakers. Granted,
he's the coolest baby on the block.
It provides a chicken or the egg sce-
nario: are parents to blame for the
excess or should producers simply
manufacture better, more sustainable
products with dedicated take-back
schemes?
Meanwhile, furniture seems to have a
shorter life-cycle year by year – they're
no match for the robust pieces my
grandparents bought. (I doubt my
glass countertop Ikea desk and tur-
quoise swivel chair will pass down the
generations.)
Offices are the main source of furniture
waste. This stream accounts for an esti-
mated 8.5 million tonnes of end-of-life
materials per year in the US alone.
Public buildings such as schools don't
have sustainable credentials either. I
wonder how high or far down the list
parents come…
The ownership of mobile phones and
computers has shifted from adults to
college kids to teens and, probably,
five-year olds. Indeed, we're already
discussing limiting the screen time of
our unborn child and will probably veto
a TV in their bedroom in favour of fam-
ily time.
Call me corny or old-school. Our rugrat
probably will anyway.
ANOTHER BATTERY RECYCLING HUB FOR
CHINA
Chinese battery manufacturer CATL is setting up a new
battery recycling hub in Foshan at a cost of 23.8 billion
yuan (EUR 3.2 billion).
CATL's subsidiary Brump is building the site in the
Guangdong region which will have an annual processing
capacity of 500 000 tonnes. The hub will treat mainly cath-
ode materials from LFP and NMC cells as well as graphite
from anodes and the recycled material will be used in the
production of new batteries.
CATL expects the facility to be completed by 2027. It is
the second battery plant under development, the compa-
ny having broken ground at a similar site in Yichang in late
2021.
The recent growth in battery recycling activity is mainly
sparked by increased sales in electric cars and other bat-
tery-powered devices. For example, the China Passenger
Car Association reports that 5.7 million EVs and plug-ins
were sold China in 2022. The market share of such vehicles
is projected to be 35% in 2023, up from 27% last year and
around 15% in 2021.
60-61-62-63_trendsupdatesii.indd 61 16-03-2023 09:22