Recycling International: Free Issue, 2 2023
Subscribe
Page 52 from: Recycling International: Free Issue, 2 2023
52 Tomra advances metal scrap Sorting specialist Tomra has opened a test centre for metal recycling at its head- quarters near Koblenz, Germany. Recycling International attended the opening together with more than 200 industry stakeho...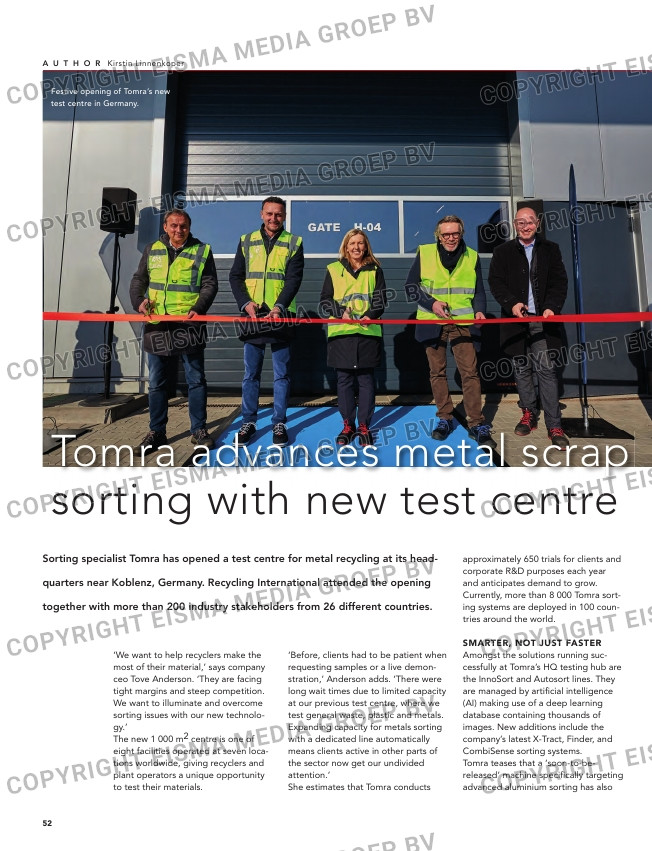 52
Tomra advances metal scrap
Sorting specialist Tomra has opened a test centre for metal recycling at its head-
quarters near Koblenz, Germany. Recycling International attended the opening
together with more than 200 industry stakeholders from 26 different countries.
been installed. 'The machine will be
officially launched this summer,'
Anderson says. 'We're very excited and
believe the market will be as well.'
Ralph Uepping, Tomra's head of tech-
nology, adds that all products are
installed and can be tested in a com-
plete circuit. 'We can simulate the
entire sorting process with eddy cur-
rents, magnets, screens and a ballistic
separator. This showcases the impor-
tance of material pre-treatment and
defined processes that are stable and
economically viable even with chang-
ing input streams.'
Tomra's latest sorters were already
manufactured to be energy efficient, a
huge benefit in a world dealing with
soaring energy costs. 'Many industry
players are scrambling to increase cost
efficiency but we were focussing on
this before the crisis took hold,'
Uepping says. 'Take our floating beam
tech, for example. It uses only a couple
of light bulbs while some of our com-
petitors use 20 or more. In short, our
systems only use energy where needed
– they don't create excess heat or light
pollution.'
HIVE MIND
Thanks to an elaborate neural network,
the latest sorters are linked to a hive
mind. The result is fractions with better
than 96% purity. 'We can train the sys-
tem to do anything, sometimes simul-
taneously,' Uepping says. 'Do you just
want to sort out blue PET flakes? Or
green? Or get rid of colour contamina-
tion? No problem. Our smart system is
learning all the time, putting all the
puzzle pieces together, one bottle and
one day at a time.'
Having such a system builds predict-
ability and reliability into your opera-
tion, Uepping adds. This supports what
Anderson describes as Tomra's over-
arching 'resource revolution'. She
explains this means they 'salvage what
we can, upgrade applications, optimise
the margins and back the mechanical
recycling industry'.
'The world is hungry for materials,
especially recycled materials, and intel-
ligent sorting can really make a differ-
ence,' underlines Tom Eng, company
senior vice president. 'We're all about
'We want to help recyclers make the
most of their material,' says company
ceo Tove Anderson. 'They are facing
tight margins and steep competition.
We want to illuminate and overcome
sorting issues with our new technolo-
gy.'
The new 1 000 m2 centre is one of
eight facilities operated at seven loca-
tions worldwide, giving recyclers and
plant operators a unique opportunity
to test their materials.
'Before, clients had to be patient when
requesting samples or a live demon-
stration,' Anderson adds. 'There were
long wait times due to limited capacity
at our previous test centre, where we
test general waste, plastic and metals.
Expanding capacity for metals sorting
with a dedicated line automatically
means clients active in other parts of
the sector now get our undivided
attention.'
She estimates that Tomra conducts
approximately 650 trials for clients and
corporate R&D purposes each year
and anticipates demand to grow.
Currently, more than 8 000 Tomra sort-
ing systems are deployed in 100 coun-
tries around the world.
SMARTER, NOT JUST FASTER
Amongst the solutions running suc-
cessfully at Tomra's HQ testing hub are
the InnoSort and Autosort lines. They
are managed by artificial intelligence
(AI) making use of a deep learning
database containing thousands of
images. New additions include the
company's latest X-Tract, Finder, and
CombiSense sorting systems.
Tomra teases that a 'soon-to-be-
released' machine specifically targeting
advanced aluminium sorting has also
A U T H O R Kirstin Linnenkoper
sorting with new test centre
Festive opening of Tomra's new
test centre in Germany.
52-53_tomratestcenter.indd 52 15-03-2023 11:46