Recycling International: Free Issue, 2 2023
Subscribe
Page 43 from: Recycling International: Free Issue, 2 2023
CONFERENCE REPORT 43recyclinginternational.com | March/April | 2023 Optimism about India's recycling future dominated the latest conference organ- ised the sector's national body MRAI. India is witnessing more car shredders, in...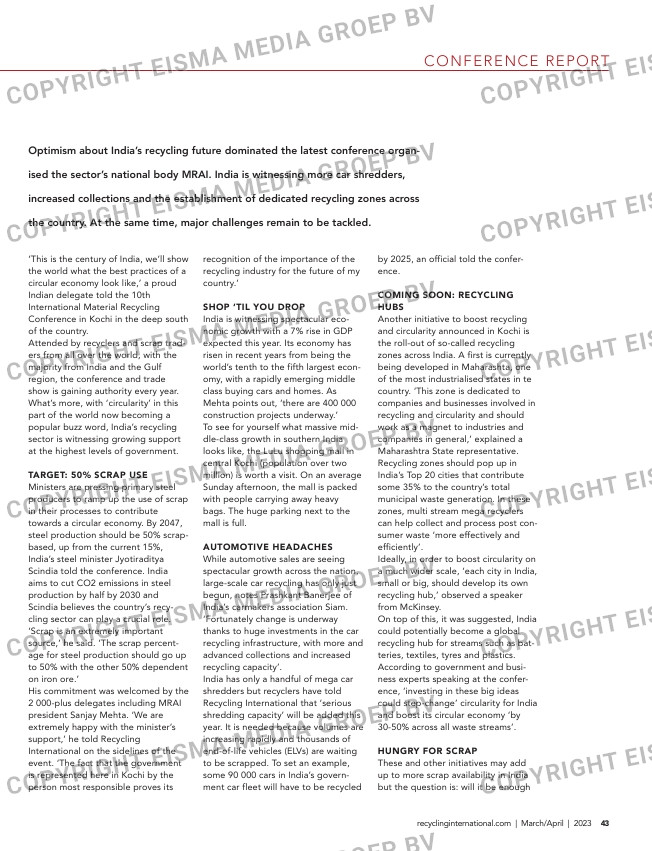 CONFERENCE REPORT
43recyclinginternational.com | March/April | 2023
Optimism about India's recycling future dominated the latest conference organ-
ised the sector's national body MRAI. India is witnessing more car shredders,
increased collections and the establishment of dedicated recycling zones across
the country. At the same time, major challenges remain to be tackled.
'This is the century of India, we'll show
the world what the best practices of a
circular economy look like,' a proud
Indian delegate told the 10th
International Material Recycling
Conference in Kochi in the deep south
of the country.
Attended by recyclers and scrap trad-
ers from all over the world, with the
majority from India and the Gulf
region, the conference and trade
show is gaining authority every year.
What's more, with 'circularity' in this
part of the world now becoming a
popular buzz word, India's recycling
sector is witnessing growing support
at the highest levels of government.
TARGET: 50% SCRAP USE
Ministers are pressing primary steel
producers to ramp up the use of scrap
in their processes to contribute
towards a circular economy. By 2047,
steel production should be 50% scrap-
based, up from the current 15%,
India's steel minister Jyotiraditya
Scindia told the conference. India
aims to cut CO2 emissions in steel
production by half by 2030 and
Scindia believes the country's recy-
cling sector can play a crucial role.
'Scrap is an extremely important
source,' he said. 'The scrap percent-
age for steel production should go up
to 50% with the other 50% dependent
on iron ore.'
His commitment was welcomed by the
2 000-plus delegates including MRAI
president Sanjay Mehta. 'We are
extremely happy with the minister's
support,' he told Recycling
International on the sidelines of the
event. 'The fact that the government
is represented here in Kochi by the
person most responsible proves its
recognition of the importance of the
recycling industry for the future of my
country.'
SHOP 'TIL YOU DROP
India is witnessing spectacular eco-
nomic growth with a 7% rise in GDP
expected this year. Its economy has
risen in recent years from being the
world's tenth to the fifth largest econ-
omy, with a rapidly emerging middle
class buying cars and homes. As
Mehta points out, 'there are 400 000
construction projects underway.'
To see for yourself what massive mid-
dle-class growth in southern India
looks like, the LuLu shopping mall in
central Kochi (population over two
million) is worth a visit. On an average
Sunday afternoon, the mall is packed
with people carrying away heavy
bags. The huge parking next to the
mall is full.
AUTOMOTIVE HEADACHES
While automotive sales are seeing
spectacular growth across the nation,
large-scale car recycling has only just
begun, notes Prashkant Banerjee of
India's carmakers association Siam.
'Fortunately change is underway
thanks to huge investments in the car
recycling infrastructure, with more and
advanced collections and increased
recycling capacity'.
India has only a handful of mega car
shredders but recyclers have told
Recycling International that 'serious
shredding capacity' will be added this
year. It is needed because volumes are
increasing rapidly and thousands of
end-of-life vehicles (ELVs) are waiting
to be scrapped. To set an example,
some 90 000 cars in India's govern-
ment car fleet will have to be recycled
by 2025, an official told the confer-
ence.
COMING SOON: RECYCLING
HUBS
Another initiative to boost recycling
and circularity announced in Kochi is
the roll-out of so-called recycling
zones across India. A first is currently
being developed in Maharashta, one
of the most industrialised states in te
country. 'This zone is dedicated to
companies and businesses involved in
recycling and circularity and should
work as a magnet to industries and
companies in general,' explained a
Maharashtra State representative.
Recycling zones should pop up in
India's Top 20 cities that contribute
some 35% to the country's total
municipal waste generation. In these
zones, multi stream mega recyclers
can help collect and process post con-
sumer waste 'more effectively and
efficiently'.
Ideally, in order to boost circularity on
a much wider scale, 'each city in India,
small or big, should develop its own
recycling hub,' observed a speaker
from McKinsey.
On top of this, it was suggested, India
could potentially become a global
recycling hub for streams such as bat-
teries, textiles, tyres and plastics.
According to government and busi-
ness experts speaking at the confer-
ence, 'investing in these big ideas
could step-change' circularity for India
and boost its circular economy 'by
30-50% across all waste streams'.
HUNGRY FOR SCRAP
These and other initiatives may add
up to more scrap availability in India
but the question is: will it be enough
Fotobijschrift
KADERKOP
??
42-43-44-46-48-49_india.indd 43 16-03-2023 08:56