Recycling International: Free Issue, 2 2023
Subscribe
Page 40 from: Recycling International: Free Issue, 2 2023
40 still has plenty of material to last us for several decades but what comes after that?' Hensel wonders. 'We don't want to wait and see.' At the moment, the company enjoys high prices and high volumes but it is preparing for...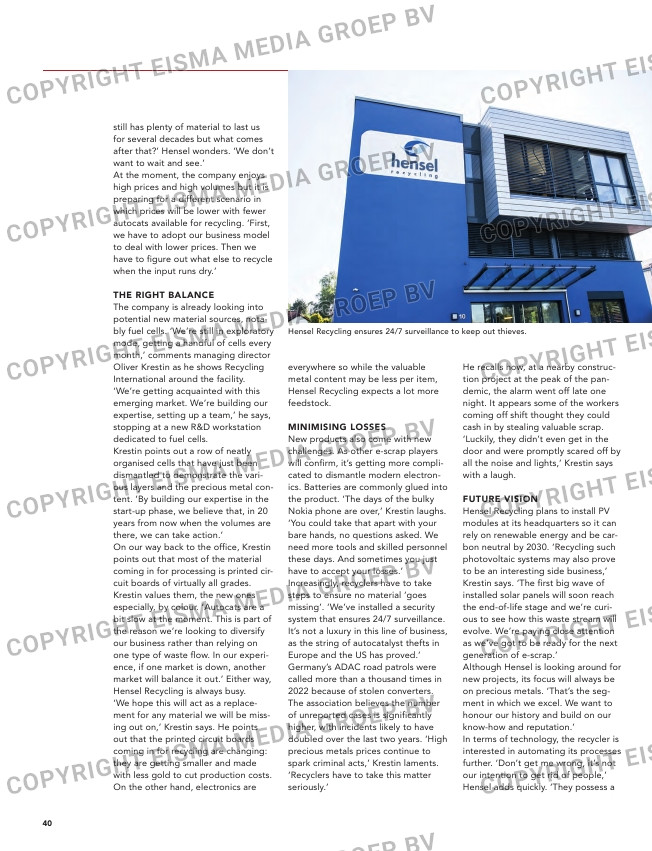 40
still has plenty of material to last us
for several decades but what comes
after that?' Hensel wonders. 'We don't
want to wait and see.'
At the moment, the company enjoys
high prices and high volumes but it is
preparing for a different scenario in
which prices will be lower with fewer
autocats available for recycling. 'First,
we have to adopt our business model
to deal with lower prices. Then we
have to figure out what else to recycle
when the input runs dry.'
THE RIGHT BALANCE
The company is already looking into
potential new material sources, nota-
bly fuel cells. 'We're still in exploratory
mode, getting a handful of cells every
month,' comments managing director
Oliver Krestin as he shows Recycling
International around the facility.
'We're getting acquainted with this
emerging market. We're building our
expertise, setting up a team,' he says,
stopping at a new R&D workstation
dedicated to fuel cells.
Krestin points out a row of neatly
organised cells that have just been
dismantled to demonstrate the vari-
ous layers and the precious metal con-
tent. 'By building our expertise in the
start-up phase, we believe that, in 20
years from now when the volumes are
there, we can take action.'
On our way back to the office, Krestin
points out that most of the material
coming in for processing is printed cir-
cuit boards of virtually all grades.
Krestin values them, the new ones
especially, by colour. 'Autocats are a
bit slow at the moment. This is part of
the reason we're looking to diversify
our business rather than relying on
one type of waste flow. In our experi-
ence, if one market is down, another
market will balance it out.' Either way,
Hensel Recycling is always busy.
'We hope this will act as a replace-
ment for any material we will be miss-
ing out on,' Krestin says. He points
out that the printed circuit boards
coming in for recycling are changing:
they are getting smaller and made
with less gold to cut production costs.
On the other hand, electronics are
everywhere so while the valuable
metal content may be less per item,
Hensel Recycling expects a lot more
feedstock.
MINIMISING LOSSES
New products also come with new
challenges. As other e-scrap players
will confirm, it's getting more compli-
cated to dismantle modern electron-
ics. Batteries are commonly glued into
the product. 'The days of the bulky
Nokia phone are over,' Krestin laughs.
'You could take that apart with your
bare hands, no questions asked. We
need more tools and skilled personnel
these days. And sometimes you just
have to accept your losses.'
Increasingly, recyclers have to take
steps to ensure no material 'goes
missing'. 'We've installed a security
system that ensures 24/7 surveillance.
It's not a luxury in this line of business,
as the string of autocatalyst thefts in
Europe and the US has proved.'
Germany's ADAC road patrols were
called more than a thousand times in
2022 because of stolen converters.
The association believes the number
of unreported cases is significantly
higher, with incidents likely to have
doubled over the last two years. 'High
precious metals prices continue to
spark criminal acts,' Krestin laments.
'Recyclers have to take this matter
seriously.'
He recalls how, at a nearby construc-
tion project at the peak of the pan-
demic, the alarm went off late one
night. It appears some of the workers
coming off shift thought they could
cash in by stealing valuable scrap.
'Luckily, they didn't even get in the
door and were promptly scared off by
all the noise and lights,' Krestin says
with a laugh.
FUTURE VISION
Hensel Recycling plans to install PV
modules at its headquarters so it can
rely on renewable energy and be car-
bon neutral by 2030. 'Recycling such
photovoltaic systems may also prove
to be an interesting side business,'
Krestin says. 'The first big wave of
installed solar panels will soon reach
the end-of-life stage and we're curi-
ous to see how this waste stream will
evolve. We're paying close attention
as we've got to be ready for the next
generation of e-scrap.'
Although Hensel is looking around for
new projects, its focus will always be
on precious metals. 'That's the seg-
ment in which we excel. We want to
honour our history and build on our
know-how and reputation.'
In terms of technology, the recycler is
interested in automating its processes
further. 'Don't get me wrong, it's not
our intention to get rid of people,'
Hensel adds quickly. 'They possess a
Hensel Recycling ensures 24/7 surveillance to keep out thieves.
Hensel Recycling focusses on product diversity. In addition to autocats, it also recycles catalytic converters from trucks.
38-39-40-41_henselrecycling.indd 40 15-03-2023 11:43