Recycling International: Free Issue, 2 2023
Subscribe
Page 27 from: Recycling International: Free Issue, 2 2023
27recyclinginternational.com | March/April | 2023 NON-FERROUS dedicated to this target for several years now and I hear we're well on our way towards hitting it.' Aluminium recycling rates in Europe are among the highest in t...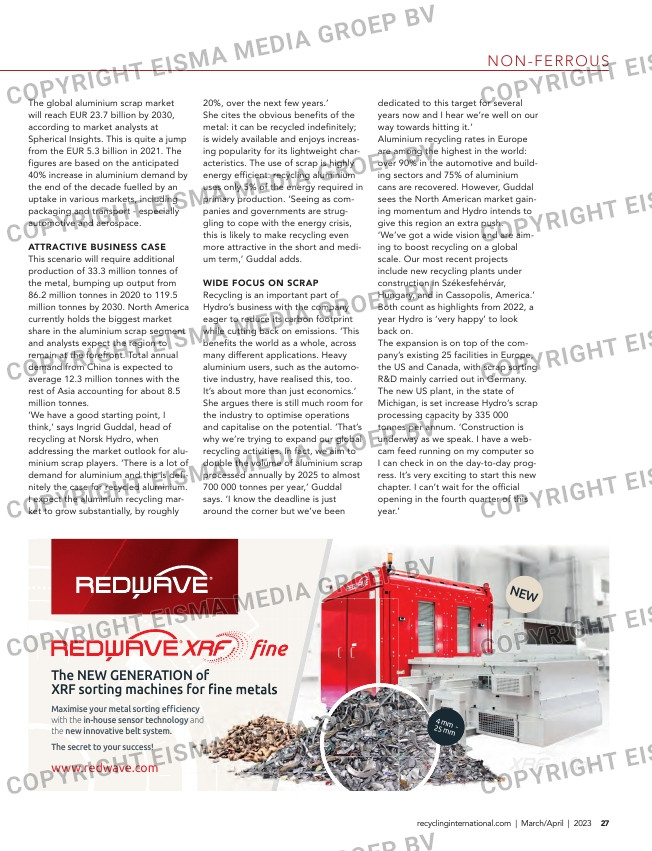 27recyclinginternational.com | March/April | 2023
NON-FERROUS
dedicated to this target for several
years now and I hear we're well on our
way towards hitting it.'
Aluminium recycling rates in Europe
are among the highest in the world:
over 90% in the automotive and build-
ing sectors and 75% of aluminium
cans are recovered. However, Guddal
sees the North American market gain-
ing momentum and Hydro intends to
give this region an extra push.
'We've got a wide vision and are aim-
ing to boost recycling on a global
scale. Our most recent projects
include new recycling plants under
construction in Székesfehérvár,
Hungary, and in Cassopolis, America.'
Both count as highlights from 2022, a
year Hydro is 'very happy' to look
back on.
The expansion is on top of the com-
pany's existing 25 facilities in Europe,
the US and Canada, with scrap sorting
R&D mainly carried out in Germany.
The new US plant, in the state of
Michigan, is set increase Hydro's scrap
processing capacity by 335 000
tonnes per annum. 'Construction is
underway as we speak. I have a web-
cam feed running on my computer so
I can check in on the day-to-day prog-
ress. It's very exciting to start this new
chapter. I can't wait for the official
opening in the fourth quarter of this
year.'
The global aluminium scrap market
will reach EUR 23.7 billion by 2030,
according to market analysts at
Spherical Insights. This is quite a jump
from the EUR 5.3 billion in 2021. The
figures are based on the anticipated
40% increase in aluminium demand by
the end of the decade fuelled by an
uptake in various markets, including
packaging and transport – especially
automotive and aerospace.
ATTRACTIVE BUSINESS CASE
This scenario will require additional
production of 33.3 million tonnes of
the metal, bumping up output from
86.2 million tonnes in 2020 to 119.5
million tonnes by 2030. North America
currently holds the biggest market
share in the aluminium scrap segment
and analysts expect the region to
remain at the forefront. Total annual
demand from China is expected to
average 12.3 million tonnes with the
rest of Asia accounting for about 8.5
million tonnes.
'We have a good starting point, I
think,' says Ingrid Guddal, head of
recycling at Norsk Hydro, when
addressing the market outlook for alu-
minium scrap players. 'There is a lot of
demand for aluminium and this is defi-
nitely the case for recycled aluminium.
I expect the aluminium recycling mar-
ket to grow substantially, by roughly
20%, over the next few years.'
She cites the obvious benefits of the
metal: it can be recycled indefinitely;
is widely available and enjoys increas-
ing popularity for its lightweight char-
acteristics. The use of scrap is highly
energy efficient: recycling aluminium
uses only 5% of the energy required in
primary production. 'Seeing as com-
panies and governments are strug-
gling to cope with the energy crisis,
this is likely to make recycling even
more attractive in the short and medi-
um term,' Guddal adds.
WIDE FOCUS ON SCRAP
Recycling is an important part of
Hydro's business with the company
eager to reduce its carbon footprint
while cutting back on emissions. 'This
benefits the world as a whole, across
many different applications. Heavy
aluminium users, such as the automo-
tive industry, have realised this, too.
It's about more than just economics.'
She argues there is still much room for
the industry to optimise operations
and capitalise on the potential. 'That's
why we're trying to expand our global
recycling activities. In fact, we aim to
double the volume of aluminium scrap
processed annually by 2025 to almost
700 000 tonnes per year,' Guddal
says. 'I know the deadline is just
around the corner but we've been
Fotobijschrift
KADERKOP
??
The NEW GENERATION of
XRF sorting machines for fine metals
4 mm -25 mm
NEW
Maximise your metal sorting efficiency
with the in-house sensor technology and
the new innovative belt system.
The secret to your success!
www.redwave.com
26-27-28-30_aluminium.indd 27 16-03-2023 09:18