Recycling International: Free Issue, 2 2023
Subscribe
Page 14 from: Recycling International: Free Issue, 2 2023
14 KUUSAKOSKI INVESTS IN 'SAFE AND EFFECTIVE' CARBON FIBRE RECYCLING Kuusakoski is spending more than EUR 4 million on a shred- ding and treatment plant for composite materials in south- ern Finland. The new recycling hub will be ...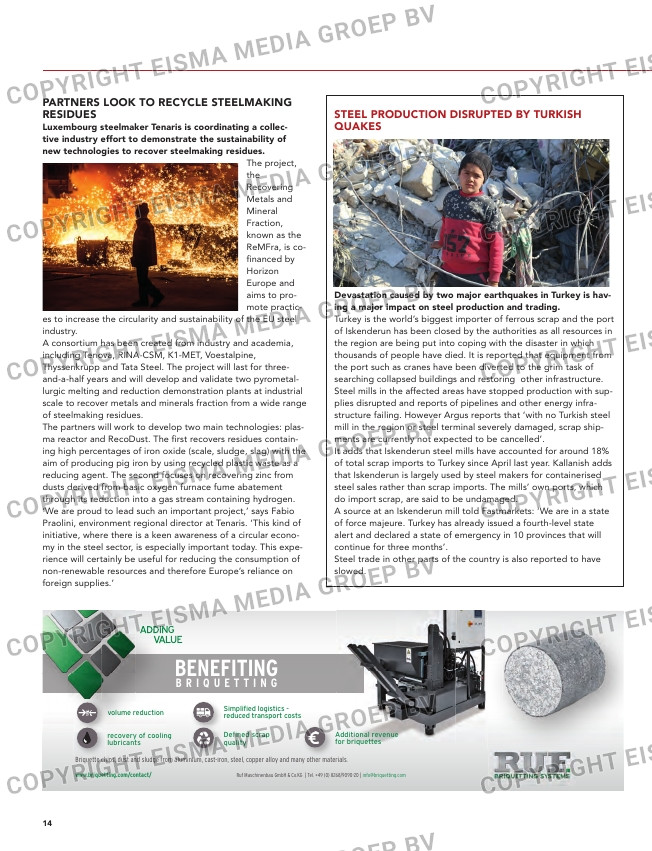 14
KUUSAKOSKI INVESTS IN 'SAFE AND EFFECTIVE'
CARBON FIBRE RECYCLING
Kuusakoski is spending more
than EUR 4 million on a shred-
ding and treatment plant for
composite materials in south-
ern Finland.
The new recycling hub will be at
Kuusakoski's existing site in
Hyvinkää, where composites will be processed 'safely and effective-
ly'. The investment includes the renovation of the current building
and a new processing line. More than a third of the funds (35%) will
be covered by the Finnish government.
The site will be fully operational by the end of 2025. It will feature
two shredders, several covered conveyors, a magnet and a dust
control system. The dust control system is said to be especially
important as the processing of composites creates large amounts of
fine, hazardous dust.
'Our investment brings the circular economy solution piloted in
Germany to Finland,' says company ceo Mikko Kuusilehto. 'With it,
we can provide the best industrial scale recycling process for com-
posite materials locally.'
Kuusilehto cites a growing demand for a sustainable recycling solu-
tion for composites, as the volume of composite waste increases.
Most of the material comes from decommissioned wind turbines,
aircraft, boats and other transport.
Composite recyclate is supplied as a raw material by Kuusakoski to
the cement industry. The shredded material is co-processed in
cement production, where it can be efficiently utilised without
residual ash.
PARTNERS LOOK TO RECYCLE STEELMAKING
RESIDUES
Luxembourg steelmaker Tenaris is coordinating a collec-
tive industry effort to demonstrate the sustainability of
new technologies to recover steelmaking residues.
The project,
the
Recovering
Metals and
Mineral
Fraction,
known as the
ReMFra, is co-
financed by
Horizon
Europe and
aims to pro-
mote practic-
es to increase the circularity and sustainability of the EU steel
industry.
A consortium has been created from industry and academia,
including Tenova, RINA-CSM, K1-MET, Voestalpine,
Thyssenkrupp and Tata Steel. The project will last for three-
and-a-half years and will develop and validate two pyrometal-
lurgic melting and reduction demonstration plants at industrial
scale to recover metals and minerals fraction from a wide range
of steelmaking residues.
The partners will work to develop two main technologies: plas-
ma reactor and RecoDust. The first recovers residues contain-
ing high percentages of iron oxide (scale, sludge, slag) with the
aim of producing pig iron by using recycled plastic waste as a
reducing agent. The second focuses on recovering zinc from
dusts derived from basic oxygen furnace fume abatement
through its reduction into a gas stream containing hydrogen.
'We are proud to lead such an important project,' says Fabio
Praolini, environment regional director at Tenaris. 'This kind of
initiative, where there is a keen awareness of a circular econo-
my in the steel sector, is especially important today. This expe-
rience will certainly be useful for reducing the consumption of
non-renewable resources and therefore Europe's reliance on
foreign supplies.'
INHALERS IN WELSH RECYCLING PILOT
Health authorities in south Wales are piloting a scheme for
the responsible disposal and recycling of inhalers containing
hydrofluorocarbon (HFC) gases.
Eight pharmacies in the Swansea area taking part in the initia-
tive in which inhalers are collected and the HFC gases are
recaptured, cleansed and reused in refrigeration. The alumini-
um and plastic casing of the inhalers are also being recycled.
The Inhaler Recycling Pilot Project has used Welsh Government
funding to establish a contract with Grundon Waste
Management. Patient education and promotional material, such
as stickers on medication bags and boxes, encourage people to
return used or unwanted inhalers to their pharmacy.
A survey undertaken in the area reported that 97.5% of patients
who took part said they would be willing to return the inhaler
to their phar-
macy. The aim
is to recycle
80% of all
inhalers pre-
scribed in the
programme
area by 2025.
STEEL PRODUCTION DISRUPTED BY TURKISH
QUAKES
Devastation caused by two major earthquakes in Turkey is hav-
ing a major impact on steel production and trading.
Turkey is the world's biggest importer of ferrous scrap and the port
of Iskenderun has been closed by the authorities as all resources in
the region are being put into coping with the disaster in which
thousands of people have died. It is reported that equipment from
the port such as cranes have been diverted to the grim task of
searching collapsed buildings and restoring other infrastructure.
Steel mills in the affected areas have stopped production with sup-
plies disrupted and reports of pipelines and other energy infra-
structure failing. However Argus reports that 'with no Turkish steel
mill in the region or steel terminal severely damaged, scrap ship-
ments are currently not expected to be cancelled'.
It adds that Iskenderun steel mills have accounted for around 18%
of total scrap imports to Turkey since April last year. Kallanish adds
that Iskenderun is largely used by steel makers for containerised
steel sales rather than scrap imports. The mills' own ports, which
do import scrap, are said to be undamaged.
A source at an Iskenderun mill told Fastmarkets: 'We are in a state
of force majeure. Turkey has already issued a fourth-level state
alert and declared a state of emergency in 10 provinces that will
continue for three months'.
Steel trade in other parts of the country is also reported to have
slowed.
ADDING
VALUE
www.briquetting.com/contact/ Ruf Maschinenbau GmbH & Co.KG | Tel. +49 (0) 8268/9090-20 | [email protected]
BENEFITING
B R I Q U E T T I N G

Briquette chips, dust and sludge from aluminium, cast-iron, steel, copper alloy and many other materials.
recovery of cooling
lubricants
Simplifi ed logistics –
reduced transport costs
Additional revenue
for briquettes
Defi ned scrap
quality
volume reduction
RUF_M14_RecInt_205x64_GB_oMcc.indd 1 16.09.19 20:05
10-11-12-13-14-15_trendsupdates.indd 14 16-03-2023 09:16