Recycling International: Free Issue, 2 2023
Subscribe
Page 11 from: Recycling International: Free Issue, 2 2023
TRENDS & UPDATES 11recyclinginternational.com | March/April | 2023 Fotobijschrift new dimensions of wear protection we understand we produce we advise we are SWB billions in valuable materials are lost to wear each year we ...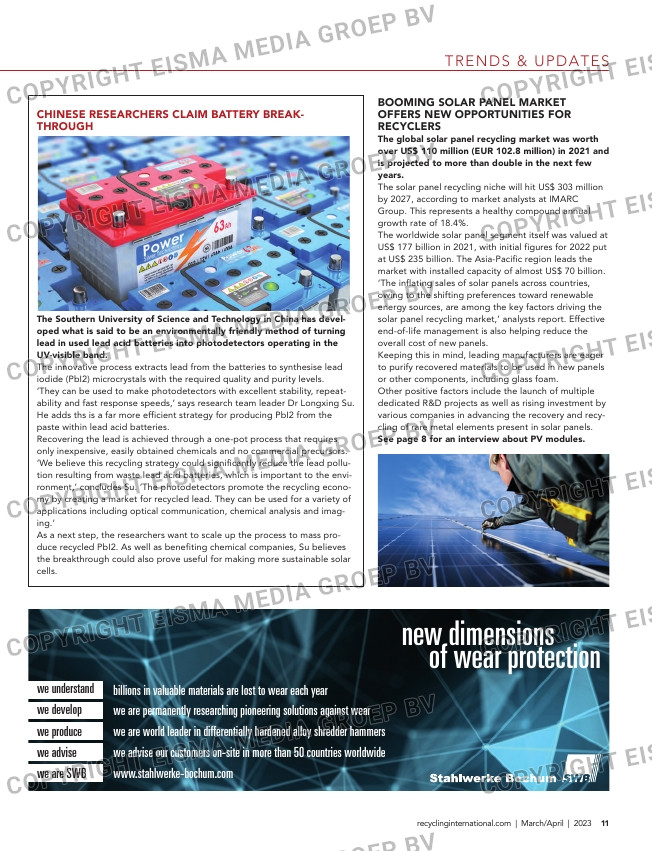 TRENDS & UPDATES
11recyclinginternational.com | March/April | 2023
Fotobijschrift
new dimensions
of wear protection
we understand
we produce
we advise
we are SWB
billions in valuable materials are lost to wear each year
we advise our customers on-site in more than 50 countries worldwide
we are world leader in differentially hardened alloy shredder hammers
we are permanently researching pioneering solutions against wear
www.stahlwerke-bochum.com
we develop
BOOMING SOLAR PANEL MARKET
OFFERS NEW OPPORTUNITIES FOR
RECYCLERS
The global solar panel recycling market was worth
over US$ 110 million (EUR 102.8 million) in 2021 and
is projected to more than double in the next few
years.
The solar panel recycling niche will hit US$ 303 million
by 2027, according to market analysts at IMARC
Group. This represents a healthy compound annual
growth rate of 18.4%.
The worldwide solar panel segment itself was valued at
US$ 177 billion in 2021, with initial figures for 2022 put
at US$ 235 billion. The Asia-Pacific region leads the
market with installed capacity of almost US$ 70 billion.
'The inflating sales of solar panels across countries,
owing to the shifting preferences toward renewable
energy sources, are among the key factors driving the
solar panel recycling market,' analysts report. Effective
end-of-life management is also helping reduce the
overall cost of new panels.
Keeping this in mind, leading manufacturers are eager
to purify recovered materials to be used in new panels
or other components, including glass foam.
Other positive factors include the launch of multiple
dedicated R&D projects as well as rising investment by
various companies in advancing the recovery and recy-
cling of rare metal elements present in solar panels.
See page 8 for an interview about PV modules.
CHINESE RESEARCHERS CLAIM BATTERY BREAK-
THROUGH
The Southern University of Science and Technology in China has devel-
oped what is said to be an environmentally friendly method of turning
lead in used lead acid batteries into photodetectors operating in the
UV-visible band.
The innovative process extracts lead from the batteries to synthesise lead
iodide (PbI2) microcrystals with the required quality and purity levels.
'They can be used to make photodetectors with excellent stability, repeat-
ability and fast response speeds,' says research team leader Dr Longxing Su.
He adds ths is a far more efficient strategy for producing PbI2 from the
paste within lead acid batteries.
Recovering the lead is achieved through a one-pot process that requires
only inexpensive, easily obtained chemicals and no commercial precursors.
'We believe this recycling strategy could significantly reduce the lead pollu-
tion resulting from waste lead acid batteries, which is important to the envi-
ronment,' concludes Su. 'The photodetectors promote the recycling econo-
my by creating a market for recycled lead. They can be used for a variety of
applications including optical communication, chemical analysis and imag-
ing.'
As a next step, the researchers want to scale up the process to mass pro-
duce recycled PbI2. As well as benefiting chemical companies, Su believes
the breakthrough could also prove useful for making more sustainable solar
cells.
STEELMAKER ANNOUNCES WORLD-FIRST
'GREEN' STEEL PLANT
Thyssenkrupp Steel is planning a hydrogen-powered
direct reduction plant in Duisburg, Germany, saying it
is the start of the biggest industrial decarbonisation
projects worldwide which will ultimately avoid more
than 3.5 million tonnes of CO2 per year.
Germany's biggest steelmaker has placed an order with
SMS, Düsseldorf, for the engineering, delivery and con-
struction of the EUR 1.8 billion facility. The plant will
have a capacity of 2.5 million tonnes of directly reduced
iron (DRI) and is scheduled for completion by the end of
2026. The overall project remains subject to European
Union approval under state aid provisions.
The contract award is seen as a 'decisive technological
turnaround' in Thyssenkrupp Steel's more than 200-year
history. Hydrogen-based processes in DRI offer a signifi-
cant basis for manufacturing carbon-neutral steel. thys-
senkrupp Steel is planning to avoid as much as six million
tonnes of CO2 by 2030, more than 30% of its emissions.
The transformation to carbon-neutral production is
expected to be completed by 2045 at the latest.
SMS employs 14 500 people at around 100 locations.
The order is the largest single order in the company's
history spanning more than 150 years.
Bernhard Osburg, ceo of Thyssenkrupp Steel, says: 'It is
a historic day for Thyssenkrupp Steel and good news for
industrial climate change mitigation. Together with SMS
we intend to demonstrate that an innovative and sustain-
able transformation of the steel industry is possible in
Germany and Europe. We are thus creating the basis for
tomorrow's green steel markets.'
Thyssenkrupp says it will be the first steelmaker in the
world to combine a 100% hydrogen-capable direct
reduction plant with innovative melters. Positioning two
melters immediately adjacent to the direct reduction
plant allows the solid input stock produced there to be
converted into molten iron immediately and more effi-
ciently. SMS will also deliver the innovative melters, slag
granulation and other auxiliary equipment, for example
water recycling.
Detailed planning and preparatory work for construction
of the direct reduction plant will commence immediately.
One task involves getting the construction site ready on
the plant premises.
10-11-12-13-14-15_trendsupdates.indd 11 16-03-2023 09:16