Read it online: issue 6!
Subscribe
Page 77 from: Read it online: issue 6!
Collections could be affected during traditional period of peak demand. 77recyclinginternational.com | November/December | 2020 The resurgence of the Covid-19 out- break, particularly across Europe, is causing a big headache. A num...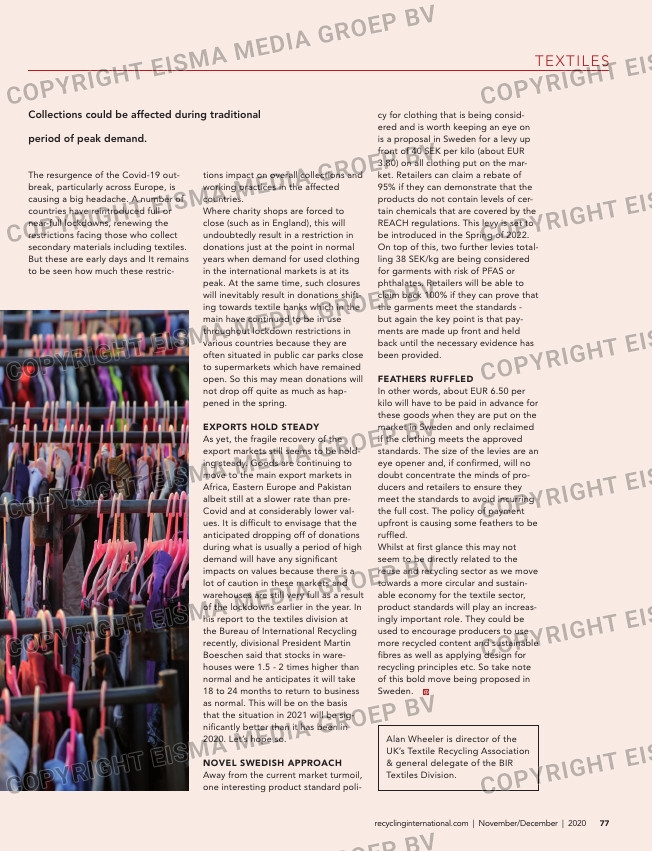 Collections could be affected during traditional
period of peak demand.
77recyclinginternational.com | November/December | 2020
The resurgence of the Covid-19 out-
break, particularly across Europe, is
causing a big headache. A number of
countries have reintroduced full or
near-full lockdowns, renewing the
restrictions facing those who collect
secondary materials including textiles.
But these are early days and It remains
to be seen how much these restric-
tions impact on overall collections and
working practices in the affected
countries.
Where charity shops are forced to
close (such as in England), this will
undoubtedly result in a restriction in
donations just at the point in normal
years when demand for used clothing
in the international markets is at its
peak. At the same time, such closures
will inevitably result in donations shift-
ing towards textile banks which in the
main have continued to be in use
throughout lockdown restrictions in
various countries because they are
often situated in public car parks close
to supermarkets which have remained
open. So this may mean donations will
not drop off quite as much as hap-
pened in the spring.
EXPORTS HOLD STEADY
As yet, the fragile recovery of the
export markets still seems to be hold-
ing steady. Goods are continuing to
move to the main export markets in
Africa, Eastern Europe and Pakistan
albeit still at a slower rate than pre-
Covid and at considerably lower val-
ues. It is difficult to envisage that the
anticipated dropping off of donations
during what is usually a period of high
demand will have any significant
impacts on values because there is a
lot of caution in these markets and
warehouses are still very full as a result
of the lockdowns earlier in the year. In
his report to the textiles division at
the Bureau of International Recycling
recently, divisional President Martin
Boeschen said that stocks in ware-
houses were 1.5 – 2 times higher than
normal and he anticipates it will take
18 to 24 months to return to business
as normal. This will be on the basis
that the situation in 2021 will be sig-
nificantly better than it has been in
2020. Let's hope so.
NOVEL SWEDISH APPROACH
Away from the current market turmoil,
one interesting product standard poli-
cy for clothing that is being consid-
ered and is worth keeping an eye on
is a proposal in Sweden for a levy up
front of 40 SEK per kilo (about EUR
3.80) on all clothing put on the mar-
ket. Retailers can claim a rebate of
95% if they can demonstrate that the
products do not contain levels of cer-
tain chemicals that are covered by the
REACH regulations. This levy is set to
be introduced in the Spring of 2022.
On top of this, two further levies total-
ling 38 SEK/kg are being considered
for garments with risk of PFAS or
phthalates. Retailers will be able to
claim back 100% if they can prove that
the garments meet the standards –
but again the key point is that pay-
ments are made up front and held
back until the necessary evidence has
been provided.
FEATHERS RUFFLED
In other words, about EUR 6.50 per
kilo will have to be paid in advance for
these goods when they are put on the
market in Sweden and only reclaimed
if the clothing meets the approved
standards. The size of the levies are an
eye opener and, if confirmed, will no
doubt concentrate the minds of pro-
ducers and retailers to ensure they
meet the standards to avoid incurring
the full cost. The policy of payment
upfront is causing some feathers to be
ruffled.
Whilst at first glance this may not
seem to be directly related to the
reuse and recycling sector as we move
towards a more circular and sustain-
able economy for the textile sector,
product standards will play an increas-
ingly important role. They could be
used to encourage producers to use
more recycled content and sustainable
fibres as well as applying design for
recycling principles etc. So take note
of this bold move being proposed in
Sweden.
tExtilEs
Alan Wheeler is director of the
UK's Textile Recycling Association
& general delegate of the BIR
Textiles Division.
76-77_matextiles.indd 77 11-11-20 14:30