Read it online: issue 6!
Subscribe
Page 75 from: Read it online: issue 6!
75recyclinginternational.com | November/December | 2020 PLASTICSMARKET ANALYSIS Uncertainty dogs weaker secondary markets New Basel Convention regulations regarding scrap exports due on 1 January require clarification, say tra...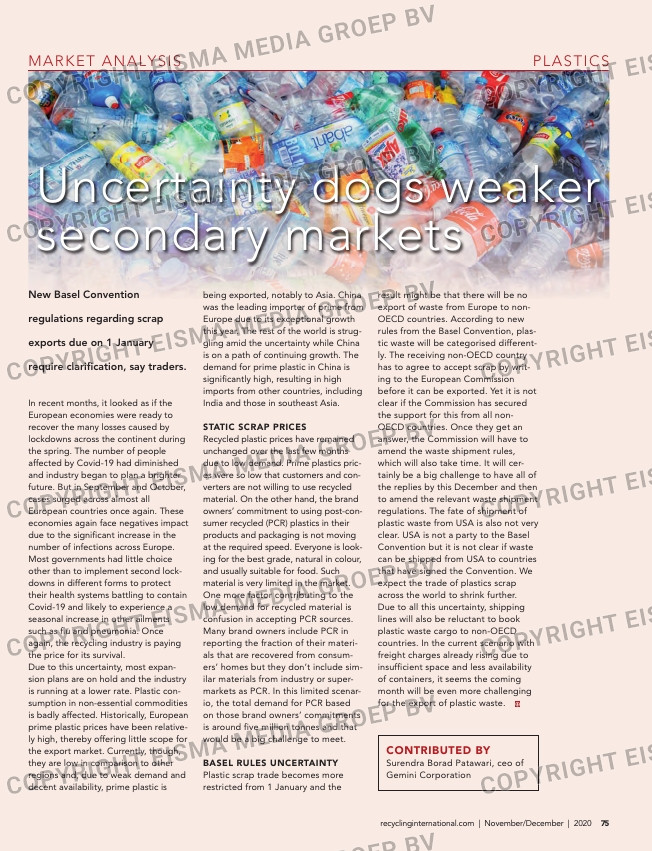 75recyclinginternational.com | November/December | 2020
PLASTICSMARKET ANALYSIS
Uncertainty dogs weaker
secondary markets
New Basel Convention
regulations regarding scrap
exports due on 1 January
require clarification, say traders.
In recent months, it looked as if the
European economies were ready to
recover the many losses caused by
lockdowns across the continent during
the spring. The number of people
affected by Covid-19 had diminished
and industry began to plan a brighter
future. But in September and October,
cases surged across almost all
European countries once again. These
economies again face negatives impact
due to the significant increase in the
number of infections across Europe.
Most governments had little choice
other than to implement second lock-
downs in different forms to protect
their health systems battling to contain
Covid-19 and likely to experience a
seasonal increase in other ailments
such as flu and pneumonia. Once
again, the recycling industry is paying
the price for its survival.
Due to this uncertainty, most expan-
sion plans are on hold and the industry
is running at a lower rate. Plastic con-
sumption in non-essential commodities
is badly affected. Historically, European
prime plastic prices have been relative-
ly high, thereby offering little scope for
the export market. Currently, though,
they are low in comparison to other
regions and, due to weak demand and
decent availability, prime plastic is
CONTRIBUTED BY
Surendra Borad Patawari, ceo of
Gemini Corporation
being exported, notably to Asia. China
was the leading importer of prime from
Europe due to its exceptional growth
this year. The rest of the world is strug-
gling amid the uncertainty while China
is on a path of continuing growth. The
demand for prime plastic in China is
significantly high, resulting in high
imports from other countries, including
India and those in southeast Asia.
STATIC SCRAP PRICES
Recycled plastic prices have remained
unchanged over the last few months
due to low demand. Prime plastics pric-
es were so low that customers and con-
verters are not willing to use recycled
material. On the other hand, the brand
owners' commitment to using post-con-
sumer recycled (PCR) plastics in their
products and packaging is not moving
at the required speed. Everyone is look-
ing for the best grade, natural in colour,
and usually suitable for food. Such
material is very limited in the market.
One more factor contributing to the
low demand for recycled material is
confusion in accepting PCR sources.
Many brand owners include PCR in
reporting the fraction of their materi-
als that are recovered from consum-
ers' homes but they don't include sim-
ilar materials from industry or super-
markets as PCR. In this limited scenar-
io, the total demand for PCR based
on those brand owners' commitments
is around five million tonnes and that
would be a big challenge to meet.
BASEL RULES UNCERTAINTY
Plastic scrap trade becomes more
restricted from 1 January and the
result might be that there will be no
export of waste from Europe to non-
OECD countries. According to new
rules from the Basel Convention, plas-
tic waste will be categorised different-
ly. The receiving non-OECD country
has to agree to accept scrap by writ-
ing to the European Commission
before it can be exported. Yet it is not
clear if the Commission has secured
the support for this from all non-
OECD countries. Once they get an
answer, the Commission will have to
amend the waste shipment rules,
which will also take time. It will cer-
tainly be a big challenge to have all of
the replies by this December and then
to amend the relevant waste shipment
regulations. The fate of shipment of
plastic waste from USA is also not very
clear. USA is not a party to the Basel
Convention but it is not clear if waste
can be shipped from USA to countries
that have signed the Convention. We
expect the trade of plastics scrap
across the world to shrink further.
Due to all this uncertainty, shipping
lines will also be reluctant to book
plastic waste cargo to non-OECD
countries. In the current scenario with
freight charges already rising due to
insufficient space and less availability
of containers, it seems the coming
month will be even more challenging
for the export of plastic waste.
75_maplastics.indd 75 11-11-20 14:29