Read it online: issue 6!
Subscribe
Page 73 from: Read it online: issue 6!
paper the early days of November. Prices around the country ranged between lows of US$ 65 per short ton (FOB - free on board) to US$ 95 per ton in most regions, with peaks of up to US$ 130 in the Pacific Northwest, where containerboa...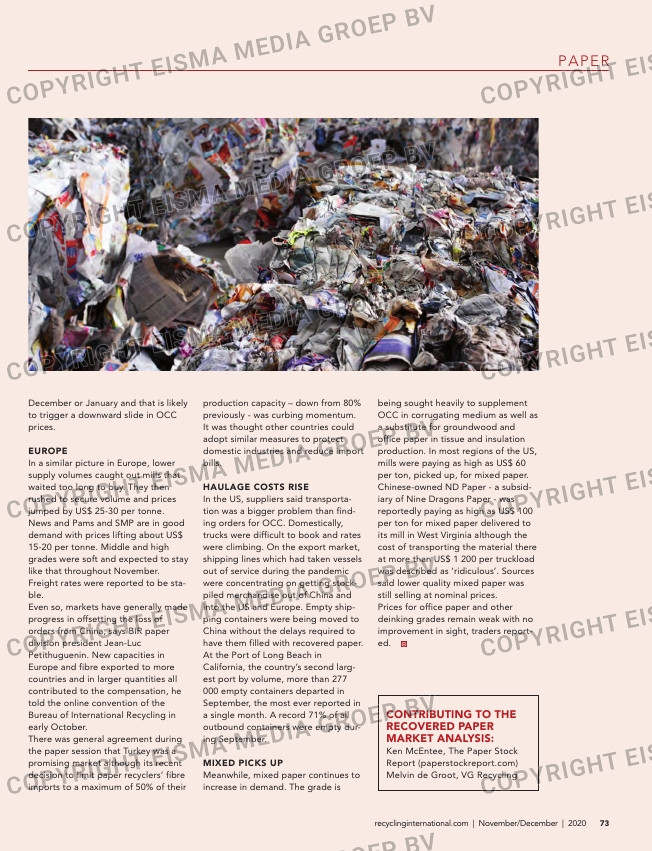 paper
the early days of November. Prices
around the country ranged between
lows of US$ 65 per short ton (FOB –
free on board) to US$ 95 per ton in
most regions, with peaks of up to US$
130 in the Pacific Northwest, where
containerboard mills were reportedly
running at full steam.
Even with China no longer buying,
export prices in November were on
the rise. During the first few days of
November, export prices out of
Californian ports increased by
between US$ 5 and US$ 10 per ton to
about US$ 125 (FAS – free alongside)
for No. 11 OCC, with an additional
US$ 5 per ton for double-sorted OCC.
HUNGRY MILLS
In the Pacific Northwest, traders said,
most OCC was being consumed by
hungry domestic mills despite rising
prices being offered by mills in mar-
kets such as Thailand, Indonesia, India
and Vietnam.
They added that the surprise of
improved OCC prices had resulted
from lower than expected scrap gen-
eration following the re-opening of
American businesses after the Covid-
19 shutdowns. Exacerbating the situa-
tion, many procurement agents who
were anticipating a more abundant
supply after the last of the China-
bound shipments, reportedly held off
on their buying and let inventories
drop.
With China out of the market, a vari-
ety of mills in smaller Asian markets
moved in to take up some of the slack
in October. However, many exporters
anticipate that those markets are able
to consume only a fraction of the vol-
ume that typically moved to China.
They could well have had their fill by
73recyclinginternational.com | November/December | 2020
CONtRIbUtING tO tHE
RECOvEREd PaPER
MaRkEt aNaLYSIS:
Ken McEntee, The Paper Stock
Report (paperstockreport.com)
Melvin de Groot, VG Recycling
December or January and that is likely
to trigger a downward slide in OCC
prices.
EUROPE
In a similar picture in Europe, lower
supply volumes caught out mills that
waited too long to buy. They then
rushed to secure volume and prices
jumped by US$ 25-30 per tonne.
News and Pams and SMP are in good
demand with prices lifting about US$
15-20 per tonne. Middle and high
grades were soft and expected to stay
like that throughout November.
Freight rates were reported to be sta-
ble.
Even so, markets have generally made
progress in offsetting the loss of
orders from China, says BIR paper
division president Jean-Luc
Petithuguenin. New capacities in
Europe and fibre exported to more
countries and in larger quantities all
contributed to the compensation, he
told the online convention of the
Bureau of International Recycling in
early October.
There was general agreement during
the paper session that Turkey was a
promising market although its recent
decision to limit paper recyclers' fibre
imports to a maximum of 50% of their
production capacity – down from 80%
previously – was curbing momentum.
It was thought other countries could
adopt similar measures to protect
domestic industries and reduce import
bills.
HaULaGE COStS RISE
In the US, suppliers said transporta-
tion was a bigger problem than find-
ing orders for OCC. Domestically,
trucks were difficult to book and rates
were climbing. On the export market,
shipping lines which had taken vessels
out of service during the pandemic
were concentrating on getting stock-
piled merchandise out of China and
into the US and Europe. Empty ship-
ping containers were being moved to
China without the delays required to
have them filled with recovered paper.
At the Port of Long Beach in
California, the country's second larg-
est port by volume, more than 277
000 empty containers departed in
September, the most ever reported in
a single month. A record 71% of all
outbound containers were empty dur-
ing September.
MIXEd PICkS UP
Meanwhile, mixed paper continues to
increase in demand. The grade is
being sought heavily to supplement
OCC in corrugating medium as well as
a substitute for groundwood and
office paper in tissue and insulation
production. In most regions of the US,
mills were paying as high as US$ 60
per ton, picked up, for mixed paper.
Chinese-owned ND Paper – a subsid-
iary of Nine Dragons Paper – was
reportedly paying as high as US$ 100
per ton for mixed paper delivered to
its mill in West Virginia although the
cost of transporting the material there
at more than US$ 1 200 per truckload
was described as 'ridiculous'. Sources
said lower quality mixed paper was
still selling at nominal prices.
Prices for office paper and other
deinking grades remain weak with no
improvement in sight, traders report-
ed.
72-73_mapaper.indd 73 11-11-20 14:29