Read it online: issue 6!
Subscribe
Page 67 from: Read it online: issue 6!
nickel & stainless stainless outlook improves amid rising nickel prices gish orders indicate demand for Outokumpu's long products in Europe and the US is not expected to rebound until 2021. But with the global economy expected ...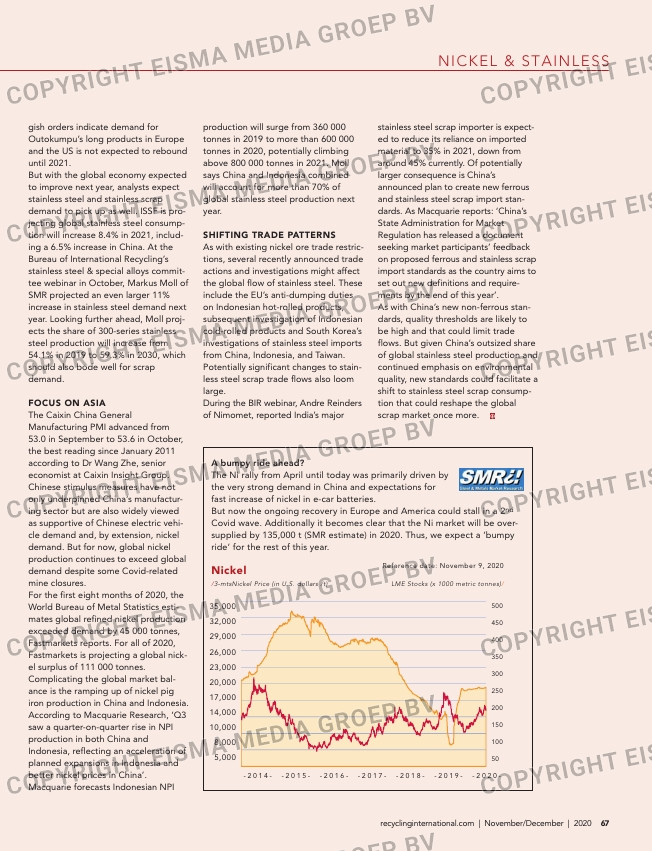 nickel & stainless
stainless outlook improves
amid rising nickel prices
gish orders indicate demand for
Outokumpu's long products in Europe
and the US is not expected to rebound
until 2021.
But with the global economy expected
to improve next year, analysts expect
stainless steel and stainless scrap
demand to pick up as well. ISSF is pro-
jecting global stainless steel consump-
tion will increase 8.4% in 2021, includ-
ing a 6.5% increase in China. At the
Bureau of International Recycling's
stainless steel & special alloys commit-
tee webinar in October, Markus Moll of
SMR projected an even larger 11%
increase in stainless steel demand next
year. Looking further ahead, Moll proj-
ects the share of 300-series stainless
steel production will increase from
54.1% in 2019 to 59.3% in 2030, which
should also bode well for scrap
demand.
FOCUS ON ASIA
The Caixin China General
Manufacturing PMI advanced from
53.0 in September to 53.6 in October,
the best reading since January 2011
according to Dr Wang Zhe, senior
economist at Caixin Insight Group.
Chinese stimulus measures have not
only underpinned China's manufactur-
ing sector but are also widely viewed
as supportive of Chinese electric vehi-
cle demand and, by extension, nickel
demand. But for now, global nickel
production continues to exceed global
demand despite some Covid-related
mine closures.
For the first eight months of 2020, the
World Bureau of Metal Statistics esti-
mates global refined nickel production
exceeded demand by 45 000 tonnes,
Fastmarkets reports. For all of 2020,
Fastmarkets is projecting a global nick-
el surplus of 111 000 tonnes.
Complicating the global market bal-
ance is the ramping up of nickel pig
iron production in China and Indonesia.
According to Macquarie Research, 'Q3
saw a quarter-on-quarter rise in NPI
production in both China and
Indonesia, reflecting an acceleration of
planned expansions in Indonesia and
better nickel prices in China'.
Macquarie forecasts Indonesian NPI
production will surge from 360 000
tonnes in 2019 to more than 600 000
tonnes in 2020, potentially climbing
above 800 000 tonnes in 2021. Moll
says China and Indonesia combined
will account for more than 70% of
global stainless steel production next
year.
SHIFTING TRADE PATTERNS
As with existing nickel ore trade restric-
tions, several recently announced trade
actions and investigations might affect
the global flow of stainless steel. These
include the EU's anti-dumping duties
on Indonesian hot-rolled products,
subsequent investigation of Indonesian
cold-rolled products and South Korea's
investigations of stainless steel imports
from China, Indonesia, and Taiwan.
Potentially significant changes to stain-
less steel scrap trade flows also loom
large.
During the BIR webinar, Andre Reinders
of Nimomet, reported India's major
stainless steel scrap importer is expect-
ed to reduce its reliance on imported
material to 35% in 2021, down from
around 45% currently. Of potentially
larger consequence is China's
announced plan to create new ferrous
and stainless steel scrap import stan-
dards. As Macquarie reports: 'China's
State Administration for Market
Regulation has released a document
seeking market participants' feedback
on proposed ferrous and stainless scrap
import standards as the country aims to
set out new definitions and require-
ments by the end of this year'.
As with China's new non-ferrous stan-
dards, quality thresholds are likely to
be high and that could limit trade
flows. But given China's outsized share
of global stainless steel production and
continued emphasis on environmental
quality, new standards could facilitate a
shift to stainless steel scrap consump-
tion that could reshape the global
scrap market once more.
A bumpy ride ahead?
The Ni rally from April until today was primarily driven by
the very strong demand in China and expectations for
fast increase of nickel in e-car batteries.
But now the ongoing recovery in Europe and America could stall in a 2nd
Covid wave. Additionally it becomes clear that the Ni market will be over-
supplied by 135,000 t (SMR estimate) in 2020. Thus, we expect a 'bumpy
ride' for the rest of this year.
Nickel
/3-mtsNickel Price (in U.S. dollars /t) LME Stocks (x 1000 metric tonnes)/

– 2 0 1 4 – – 2 0 1 5 – – 2 0 1 6 – – 2 0 1 7 – – 2 0 1 8 – – 2 0 1 9 – – 2 0 2 0 –
Reference date: November 9, 2020
500
450
400
350
300
250
200
150
100
50
35,000
32,000
29,000
26,000
23,000
20,000
17,000
14,000
10,000
8,000
5,000
67recyclinginternational.com | November/December | 2020
66-67_manickelstainless.indd 67 11-11-20 14:28