Read it online: issue 6!
Subscribe
Page 60 from: Read it online: issue 6!
60 HungAry is trAnsforMing old tyres into new roAds international oil and gas com- pany Mol group announces that its EUR 8.7 million tyre recy- cling plant in Zalaegerszeg, Hungary, has been completed. The site has a capacity of 20 00...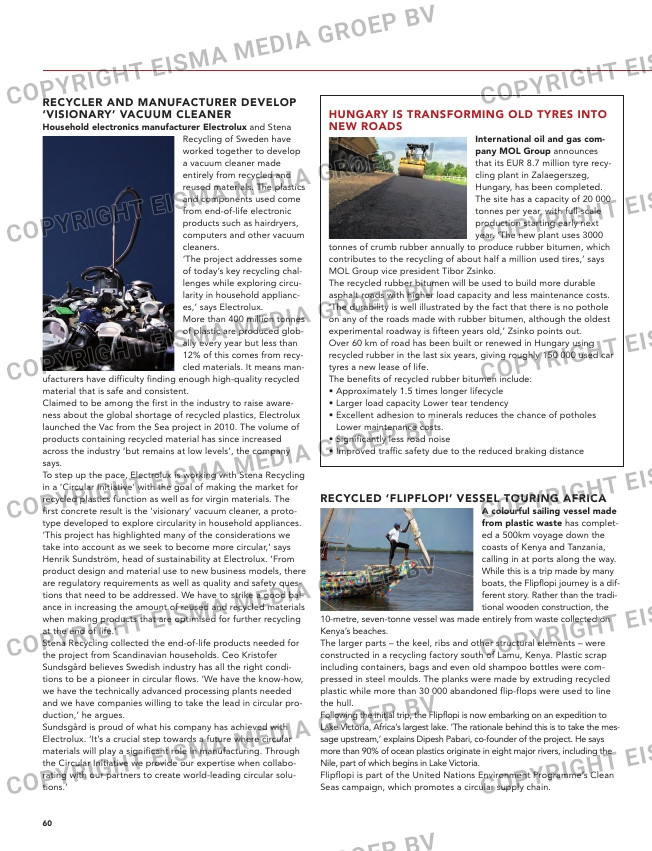 60
HungAry is trAnsforMing old tyres into
new roAds
international oil and gas com-
pany Mol group announces
that its EUR 8.7 million tyre recy-
cling plant in Zalaegerszeg,
Hungary, has been completed.
The site has a capacity of 20 000
tonnes per year, with full-scale
production starting early next
year. 'The new plant uses 3000
tonnes of crumb rubber annually to produce rubber bitumen, which
contributes to the recycling of about half a million used tires,' says
MOL Group vice president Tibor Zsinko.
The recycled rubber bitumen will be used to build more durable
asphalt roads with higher load capacity and less maintenance costs.
'The durability is well illustrated by the fact that there is no pothole
on any of the roads made with rubber bitumen, although the oldest
experimental roadway is fifteen years old,' Zsinko points out.
Over 60 km of road has been built or renewed in Hungary using
recycled rubber in the last six years, giving roughly 150 000 used car
tyres a new lease of life.
The benefits of recycled rubber bitumen include:
• Approximately 1.5 times longer lifecycle
• Larger load capacity Lower tear tendency
• Excellent adhesion to minerals reduces the chance of potholes
Lower maintenance costs.
• Significantly less road noise
• Improved traffic safety due to the reduced braking distance
jApAnese seek second life for
used nAppies
japanese disposable hygiene products manufacturer
Unicharm has announced plans to set up a collection
and recycling infrastructure for used absorbent pads. By
2030 it expects to have at least ten facilities in opera-
tion throughout the country.
As most used nappies are currently incinerated, the
company hopes to speed up moves to recycle them
thus to reduce carbon emissions. The firm's ambition
comes as the Japanese government is increasingly driv-
ing companies to take responsibility and contribute to
greater recycling of their products and materials.
In view of Japan's aging population, with a consequent
increase in the use of adult disposable diapers,
Unicharm believes it is essential to collect these used
products more efficiently. Some 20 billion disposable
diapers are manufactured in Japan o a yearly basis. The
adult napkin market is growing at 6 to 10% a year, and
already worth EUR 1.2 billion by catering to Japan's
elderly population. Japan has the highest percentage of
people above 65 in the world, making up more than
20% of the population.
Unicharm has developed a special technology to recover
pulp fibres from used nappies and clean them, reports
the Japan Times. The company has been conducting
tests on collecting and recycling in several cities.
A recycling network is planned in cooperation with the
relevant local governments.
recycled 'flipflopi' vessel touring AfricA
A colourful sailing vessel made
from plastic waste has complet-
ed a 500km voyage down the
coasts of Kenya and Tanzania,
calling in at ports along the way.
While this is a trip made by many
boats, the Flipflopi journey is a dif-
ferent story. Rather than the tradi-
tional wooden construction, the
10-metre, seven-tonne vessel was made entirely from waste collected on
Kenya's beaches.
The larger parts – the keel, ribs and other structural elements – were
constructed in a recycling factory south of Lamu, Kenya. Plastic scrap
including containers, bags and even old shampoo bottles were com-
pressed in steel moulds. The planks were made by extruding recycled
plastic while more than 30 000 abandoned flip-flops were used to line
the hull.
Following the initial trip, the Flipflopi is now embarking on an expedition to
Lake Victoria, Africa's largest lake. 'The rationale behind this is to take the mes-
sage upstream,' explains Dipesh Pabari, co-founder of the project. He says
more than 90% of ocean plastics originate in eight major rivers, including the
Nile, part of which begins in Lake Victoria.
Flipflopi is part of the United Nations Environment Programme's Clean
Seas campaign, which promotes a circular supply chain.
building HoMes of tHe future witH vineyArd
wAste
researchers at the university of
Melbourne have found a way to trans-
form grapevine waste into particleboard
amid suggestions this new recycled
material could be a substitute for wood-
chip in the construction sector.
This is potentially great news for the
worldwide wine industry which disposes
of more than 42 million tonnes of cut-
tings every year, says University of Melbourne's head of chemical engineering
Amanda Ellis. She estimates that roughly 97 million cubic metres of woodchip
was produced globally last year, mostly for flooring and furniture.
Substituting that with up to 25% of vine waste could significantly cut the import
and transportation costs of using only pine while this hybrid building material
passes all the required industry standards.
'If you cut the vine prunings, you can dump them at the end of the road. [Then]
they go off and get woodchipped and they're dried to about 20% moisture,'
Ellis says. 'Then you combine them with different resins and waxes and anti-
flame retardants and compress it in a hot press at about 173 degrees Celsius for
about five minutes and that seals it all in.'
A unique feature of vine waste is that it has low silica and mineral content. This
means there will be 'less wear and tear' on construction tools if the industry cho-
ses to embrace this new application of the waste stream.
recycler And MAnufActurer develop
'visionAry' vAcuuM cleAner
Household electronics manufacturer electrolux and Stena
Recycling of Sweden have
worked together to develop
a vacuum cleaner made
entirely from recycled and
reused materials. The plastics
and components used come
from end-of-life electronic
products such as hairdryers,
computers and other vacuum
cleaners.
'The project addresses some
of today's key recycling chal-
lenges while exploring circu-
larity in household applianc-
es,' says Electrolux.
More than 400 million tonnes
of plastic are produced glob-
ally every year but less than
12% of this comes from recy-
cled materials. It means man-
ufacturers have difficulty finding enough high-quality recycled
material that is safe and consistent.
Claimed to be among the first in the industry to raise aware-
ness about the global shortage of recycled plastics, Electrolux
launched the Vac from the Sea project in 2010. The volume of
products containing recycled material has since increased
across the industry 'but remains at low levels', the company
says.
To step up the pace, Electrolux is working with Stena Recycling
in a 'Circular Initiative' with the goal of making the market for
recycled plastics function as well as for virgin materials. The
first concrete result is the 'visionary' vacuum cleaner, a proto-
type developed to explore circularity in household appliances.
'This project has highlighted many of the considerations we
take into account as we seek to become more circular,' says
Henrik Sundström, head of sustainability at Electrolux. 'From
product design and material use to new business models, there
are regulatory requirements as well as quality and safety ques-
tions that need to be addressed. We have to strike a good bal-
ance in increasing the amount of reused and recycled materials
when making products that are optimised for further recycling
at the end of life.'
Stena Recycling collected the end-of-life products needed for
the project from Scandinavian households. Ceo Kristofer
Sundsgård believes Swedish industry has all the right condi-
tions to be a pioneer in circular flows. 'We have the know-how,
we have the technically advanced processing plants needed
and we have companies willing to take the lead in circular pro-
duction,' he argues.
Sundsgård is proud of what his company has achieved with
Electrolux. 'It's a crucial step towards a future where circular
materials will play a significant role in manufacturing. Through
the Circular Initiative we provide our expertise when collabo-
rating with our partners to create world-leading circular solu-
tions.'
58-59-60-61_trendsupdates2.indd 60 11-11-20 16:16