Read it online: issue 6!
Subscribe
Page 59 from: Read it online: issue 6!
trends & updates 59recyclinginternational.com | November/December | 2020 Fotobijschrift kAderkop ?? H&M puts new spin on old clotHes An H&M store in stockholm, sweden is piloting a tex- tiles recycling programme that spi...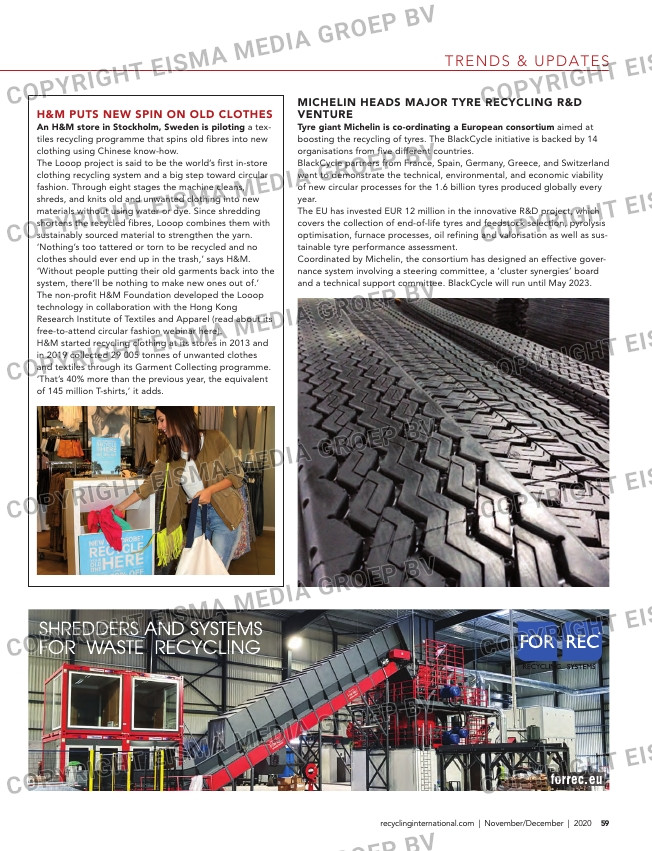 trends & updates
59recyclinginternational.com | November/December | 2020
Fotobijschrift
kAderkop
??
H&M puts new spin on old clotHes
An H&M store in stockholm, sweden is piloting a tex-
tiles recycling programme that spins old fibres into new
clothing using Chinese know-how.
The Looop project is said to be the world's first in-store
clothing recycling system and a big step toward circular
fashion. Through eight stages the machine cleans,
shreds, and knits old and unwanted clothing into new
materials without using water or dye. Since shredding
shortens the recycled fibres, Looop combines them with
sustainably sourced material to strengthen the yarn.
'Nothing's too tattered or torn to be recycled and no
clothes should ever end up in the trash,' says H&M.
'Without people putting their old garments back into the
system, there'll be nothing to make new ones out of.'
The non-profit H&M Foundation developed the Looop
technology in collaboration with the Hong Kong
Research Institute of Textiles and Apparel (read about its
free-to-attend circular fashion webinar here).
H&M started recycling clothing at its stores in 2013 and
in 2019 collected 29 005 tonnes of unwanted clothes
and textiles through its Garment Collecting programme.
'That's 40% more than the previous year, the equivalent
of 145 million T-shirts,' it adds.
MicHelin HeAds MAjor tyre recycling r&d
venture
tyre giant Michelin is co-ordinating a european consortium aimed at
boosting the recycling of tyres. The BlackCycle initiative is backed by 14
organisations from five different countries.
BlackCycle partners from France, Spain, Germany, Greece, and Switzerland
want to demonstrate the technical, environmental, and economic viability
of new circular processes for the 1.6 billion tyres produced globally every
year.
The EU has invested EUR 12 million in the innovative R&D project, which
covers the collection of end-of-life tyres and feedstock selection, pyrolysis
optimisation, furnace processes, oil refining and valorisation as well as sus-
tainable tyre performance assessment.
Coordinated by Michelin, the consortium has designed an effective gover-
nance system involving a steering committee, a 'cluster synergies' board
and a technical support committee. BlackCycle will run until May 2023.
textile recyclers bAck new uk sustAinAbility
drive
uk recyclers
are supporting
a new national
voluntary
agreement for
a more sustain-
able textile
sector – and
have called on
the govern-
ment to speed
consideration
of an extended
producer
responsibility
(EPR) scheme.
Textiles 2030
has been unveiled by the sustainability charity WRAP, building on its previous
Sustainable Clothing Action Plan (SCAP 2020) scheme which is coming to an
end. The aim is to harness the knowledge and expertise of leaders in sustain-
ability to accelerate the UK fashion and textiles industry's move towards a more
circular economy.
The UK's Textile Recycling Association (TRA) is a founding supporter of Textiles
2030 and says SCAP 2020 has made the UK 'a global beacon' for ideas, innova-
tion and action towards the sustainability of the clothing supply chain.
WRAP marked the announcement of the new scheme by publishing research
showing more than half of British people view the environmental impact of
clothing as 'severe', with two in three (63%) saying clothes made to both look
good and last longer are now factors in the brands and clothing they choose.
The findings build on its research from the summer indicating the public wants
inventive new retail options that prolong the life of clothes, including voucher
schemes for clothing exchanges (46%), and pre-loved clothes (41%). It says per-
sonal habits changed during lockdown, with one in four (23%) now repairing
clothes, and one in five (19%) keeping items for longer.
TRA says that reducing greenhouse gas emissions in line with global targets is
not an option and the textiles sector has 'a very significant contribution to make
towards achieving this'. 'We need to develop new markets for reuse and recy-
cling grades,' it says in a statement. 'This will involve investing in new collection
and processing infrastructure and technologies as well as delivering a better
regulatory environment in which to operate. Product standards will have a key
role to play.'
The TRA adds that the voluntary elements of the new agreement could be
underpinned by a regulatory scheme for clothing and textiles and it urges the
Government to bring forward to 2022 a planned review of EPR.
'If it is delayed until 2025 this will be a lost opportunity and with a number of
other countries now making strides to introduce their own producer responsibil-
ity schemes, we would be playing catch up and will be in a weaker position to
influence important collective international decisions about the direction the
fashion and textiles sector should take,' it adds.
Textiles 2030 is due to have an official launch next April. Leading businesses
across clothing retail, supply, reuse and recycling, including SCAP 2020 signato-
ries, will collaborate as 'partners'. Other fashion and textiles Brands and
Retailers can sign up as 'members' and benefit from WRAP's support in achiev-
ing a science-based, robust climate strategy and measuring their GHG emis-
sions. Innovators, researchers, academics and industry membership groups can
join as affiliates.
58-59-60-61_trendsupdates2.indd 59 11-11-20 16:16