Read it online: issue 6!
Subscribe
Page 57 from: Read it online: issue 6!
PLASTICS SPECIAL 57recyclinginternational.com | November/December | 2020 the manufacturer and cost were the main reasons that OSO Polymers brought over Chinese plant. HIGH QUALITY, LESS COSTS 'We'd compared European manufac- t...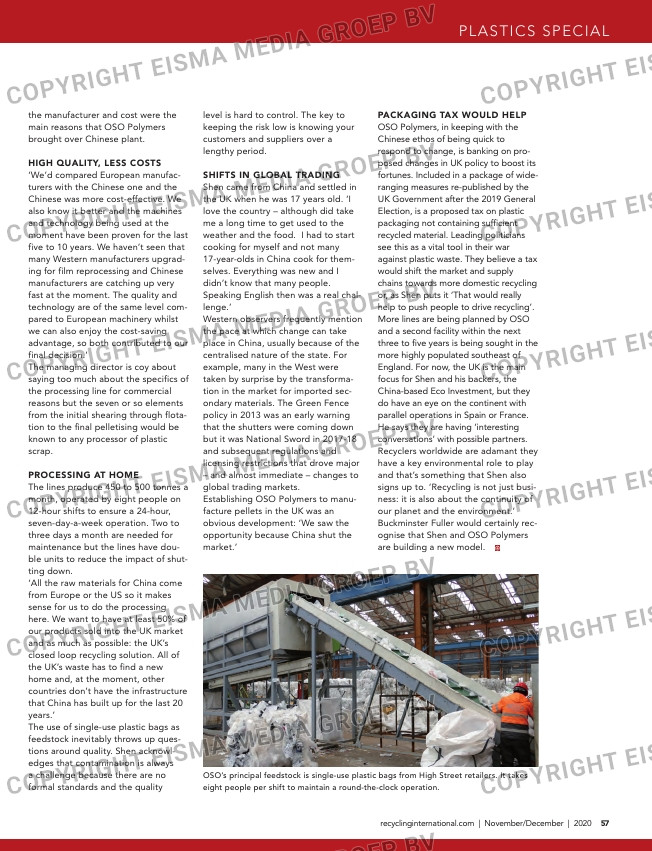 PLASTICS SPECIAL
57recyclinginternational.com | November/December | 2020
the manufacturer and cost were the
main reasons that OSO Polymers
brought over Chinese plant.
HIGH QUALITY, LESS COSTS
'We'd compared European manufac-
turers with the Chinese one and the
Chinese was more cost-effective. We
also know it better and the machines
and technology being used at the
moment have been proven for the last
five to 10 years. We haven't seen that
many Western manufacturers upgrad-
ing for film reprocessing and Chinese
manufacturers are catching up very
fast at the moment. The quality and
technology are of the same level com-
pared to European machinery whilst
we can also enjoy the cost-saving
advantage, so both contributed to our
final decision.'
The managing director is coy about
saying too much about the specifics of
the processing line for commercial
reasons but the seven or so elements
from the initial shearing through flota-
tion to the final pelletising would be
known to any processor of plastic
scrap.
PROCESSING AT HOME
The lines produce 450 to 500 tonnes a
month, operated by eight people on
12-hour shifts to ensure a 24-hour,
seven-day-a-week operation. Two to
three days a month are needed for
maintenance but the lines have dou-
ble units to reduce the impact of shut-
ting down.
'All the raw materials for China come
from Europe or the US so it makes
sense for us to do the processing
here. We want to have at least 50% of
our products sold into the UK market
and as much as possible: the UK's
closed loop recycling solution. All of
the UK's waste has to find a new
home and, at the moment, other
countries don't have the infrastructure
that China has built up for the last 20
years.'
The use of single-use plastic bags as
feedstock inevitably throws up ques-
tions around quality. Shen acknowl-
edges that contamination is always
a challenge because there are no
formal standards and the quality
level is hard to control. The key to
keeping the risk low is knowing your
customers and suppliers over a
lengthy period.
SHIFTS IN GLOBAL TRADING
Shen came from China and settled in
the UK when he was 17 years old. 'I
love the country – although did take
me a long time to get used to the
weather and the food. I had to start
cooking for myself and not many
17-year-olds in China cook for them-
selves. Everything was new and I
didn't know that many people.
Speaking English then was a real chal-
lenge.'
Western observers frequently mention
the pace at which change can take
place in China, usually because of the
centralised nature of the state. For
example, many in the West were
taken by surprise by the transforma-
tion in the market for imported sec-
ondary materials. The Green Fence
policy in 2013 was an early warning
that the shutters were coming down
but it was National Sword in 2017-18
and subsequent regulations and
licensing restrictions that drove major
– and almost immediate – changes to
global trading markets.
Establishing OSO Polymers to manu-
facture pellets in the UK was an
obvious development: 'We saw the
opportunity because China shut the
market.'
PACKAGING TAX WOULD HELP
OSO Polymers, in keeping with the
Chinese ethos of being quick to
respond to change, is banking on pro-
posed changes in UK policy to boost its
fortunes. Included in a package of wide-
ranging measures re-published by the
UK Government after the 2019 General
Election, is a proposed tax on plastic
packaging not containing sufficient
recycled material. Leading politicians
see this as a vital tool in their war
against plastic waste. They believe a tax
would shift the market and supply
chains towards more domestic recycling
or, as Shen puts it 'That would really
help to push people to drive recycling'.
More lines are being planned by OSO
and a second facility within the next
three to five years is being sought in the
more highly populated southeast of
England. For now, the UK is the main
focus for Shen and his backers, the
China-based Eco Investment, but they
do have an eye on the continent with
parallel operations in Spain or France.
He says they are having 'interesting
conversations' with possible partners.
Recyclers worldwide are adamant they
have a key environmental role to play
and that's something that Shen also
signs up to. 'Recycling is not just busi-
ness: it is also about the continuity of
our planet and the environment.'
Buckminster Fuller would certainly rec-
ognise that Shen and OSO Polymers
are building a new model.
Fotobijschrift
KADERKOP
??
OSO's principal feedstock is single-use plastic bags from High Street retailers. It takes
eight people per shift to maintain a round-the-clock operation.
56-57_chinesearecoming.indd 57 11-11-20 14:27