Read it online: issue 6!
Subscribe
Page 48 from: Read it online: issue 6!
PLASTICS SPECIAL 48 Heavily contaminated plastic scrap does not have to be a problem, according to Tim Stedman, ceo of US firm Agilyx. In his view, recycling it by pyrolysis into fuel offers the perfect solution for this challenging w...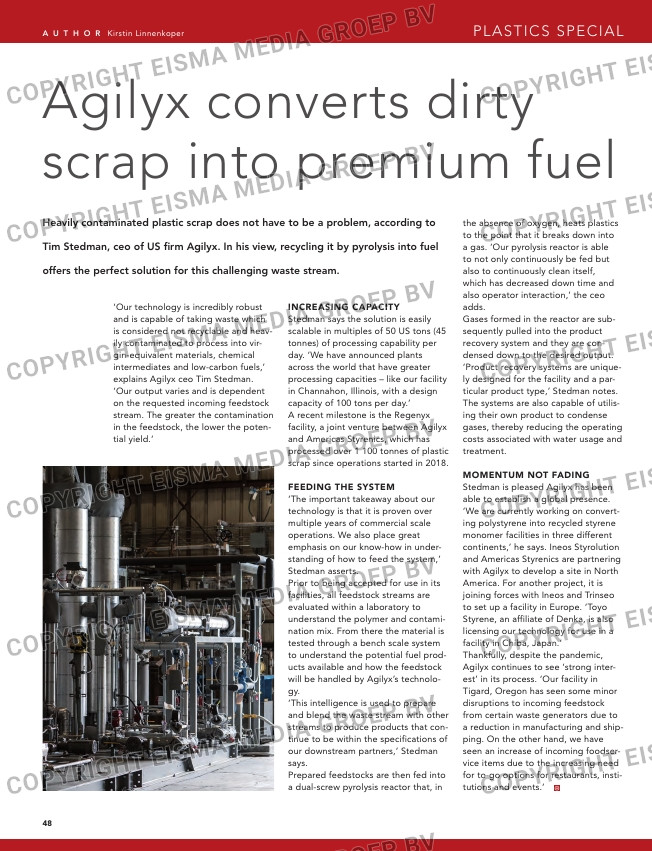 PLASTICS SPECIAL
48
Heavily contaminated plastic scrap does not have to be a problem, according to
Tim Stedman, ceo of US firm Agilyx. In his view, recycling it by pyrolysis into fuel
offers the perfect solution for this challenging waste stream.
'Our technology is incredibly robust
and is capable of taking waste which
is considered not recyclable and heav-
ily contaminated to process into vir-
gin-equivalent materials, chemical
intermediates and low-carbon fuels,'
explains Agilyx ceo Tim Stedman.
'Our output varies and is dependent
on the requested incoming feedstock
stream. The greater the contamination
in the feedstock, the lower the poten-
tial yield.'
INCREASING CAPACITY
Stedman says the solution is easily
scalable in multiples of 50 US tons (45
tonnes) of processing capability per
day. 'We have announced plants
across the world that have greater
processing capacities – like our facility
in Channahon, Illinois, with a design
capacity of 100 tons per day.'
A recent milestone is the Regenyx
facility, a joint venture between Agilyx
and Americas Styrenics, which has
processed over 1 100 tonnes of plastic
scrap since operations started in 2018.
FEEDING THE SYSTEM
'The important takeaway about our
technology is that it is proven over
multiple years of commercial scale
operations. We also place great
emphasis on our know-how in under-
standing of how to feed the system,'
Stedman asserts.
Prior to being accepted for use in its
facilities, all feedstock streams are
evaluated within a laboratory to
understand the polymer and contami-
nation mix. From there the material is
tested through a bench scale system
to understand the potential fuel prod-
ucts available and how the feedstock
will be handled by Agilyx's technolo-
gy.
'This intelligence is used to prepare
and blend the waste stream with other
streams to produce products that con-
tinue to be within the specifications of
our downstream partners,' Stedman
says.
Prepared feedstocks are then fed into
a dual-screw pyrolysis reactor that, in
the absence of oxygen, heats plastics
to the point that it breaks down into
a gas. 'Our pyrolysis reactor is able
to not only continuously be fed but
also to continuously clean itself,
which has decreased down time and
also operator interaction,' the ceo
adds.
Gases formed in the reactor are sub-
sequently pulled into the product
recovery system and they are con-
densed down to the desired output.
'Product recovery systems are unique-
ly designed for the facility and a par-
ticular product type,' Stedman notes.
The systems are also capable of utilis-
ing their own product to condense
gases, thereby reducing the operating
costs associated with water usage and
treatment.
MoMENTuM NoT FADING
Stedman is pleased Agilyx has been
able to establish a global presence.
'We are currently working on convert-
ing polystyrene into recycled styrene
monomer facilities in three different
continents,' he says. Ineos Styrolution
and Americas Styrenics are partnering
with Agilyx to develop a site in North
America. For another project, it is
joining forces with Ineos and Trinseo
to set up a facility in Europe. 'Toyo
Styrene, an affiliate of Denka, is also
licensing our technology for use in a
facility in Chiba, Japan.'
Thankfully, despite the pandemic,
Agilyx continues to see 'strong inter-
est' in its process. 'Our facility in
Tigard, Oregon has seen some minor
disruptions to incoming feedstock
from certain waste generators due to
a reduction in manufacturing and ship-
ping. On the other hand, we have
seen an increase of incoming foodser-
vice items due to the increasing need
for to-go options for restaurants, insti-
tutions and events.'
Fotobijschrift
KADERKoP
??
A U T H o r Kirstin Linnenkoper
Agilyx converts dirty
scrap into premium fuel
48_chemicalprocessing.indd 48 11-11-20 15:31