Read it online: issue 6!
Subscribe
Page 35 from: Read it online: issue 6!
PLASTICS SPECIAL 35recyclinginternational.com | November/December | 2020 20% in Europe, 50% in parts of Asia and as much as 60% for some firms in the United States. According to a new 'pandemic recov- ery report' by market resea...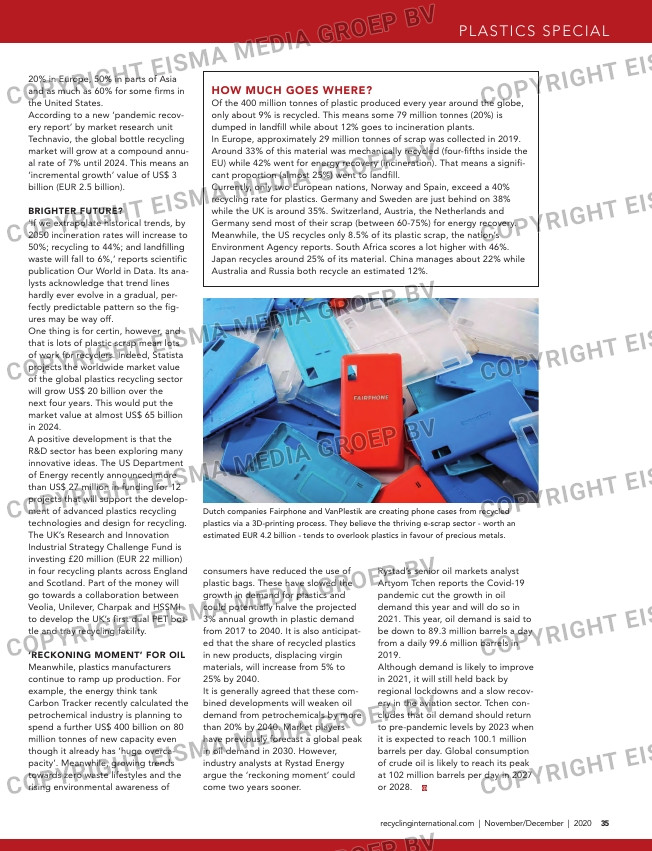 PLASTICS SPECIAL
35recyclinginternational.com | November/December | 2020
20% in Europe, 50% in parts of Asia
and as much as 60% for some firms in
the United States.
According to a new 'pandemic recov-
ery report' by market research unit
Technavio, the global bottle recycling
market will grow at a compound annu-
al rate of 7% until 2024. This means an
'incremental growth' value of US$ 3
billion (EUR 2.5 billion).
Brighter future?
'If we extrapolate historical trends, by
2050 incineration rates will increase to
50%; recycling to 44%; and landfilling
waste will fall to 6%,' reports scientific
publication Our World in Data. Its ana-
lysts acknowledge that trend lines
hardly ever evolve in a gradual, per-
fectly predictable pattern so the fig-
ures may be way off.
One thing is for certin, however, and
that is lots of plastic scrap mean lots
of work for recyclers. Indeed, Statista
projects the worldwide market value
of the global plastics recycling sector
will grow US$ 20 billion over the
next four years. This would put the
market value at almost US$ 65 billion
in 2024.
A positive development is that the
R&D sector has been exploring many
innovative ideas. The US Department
of Energy recently announced more
than US$ 27 million in funding for 12
projects that will support the develop-
ment of advanced plastics recycling
technologies and design for recycling.
The UK's Research and Innovation
Industrial Strategy Challenge Fund is
investing £20 million (EUR 22 million)
in four recycling plants across England
and Scotland. Part of the money will
go towards a collaboration between
Veolia, Unilever, Charpak and HSSMI
to develop the UK's first dual PET bot-
tle and tray recycling facility.
'reckoning moment' for oil
Meanwhile, plastics manufacturers
continue to ramp up production. For
example, the energy think tank
Carbon Tracker recently calculated the
petrochemical industry is planning to
spend a further US$ 400 billion on 80
million tonnes of new capacity even
though it already has 'huge overca-
pacity'. Meanwhile, growing trends
towards zero waste lifestyles and the
rising environmental awareness of
consumers have reduced the use of
plastic bags. These have slowed the
growth in demand for plastics and
could potentially halve the projected
3% annual growth in plastic demand
from 2017 to 2040. It is also anticipat-
ed that the share of recycled plastics
in new products, displacing virgin
materials, will increase from 5% to
25% by 2040.
It is generally agreed that these com-
bined developments will weaken oil
demand from petrochemicals by more
than 20% by 2040. Market players
have previously forecast a global peak
in oil demand in 2030. However,
industry analysts at Rystad Energy
argue the 'reckoning moment' could
come two years sooner.
Rystad's senior oil markets analyst
Artyom Tchen reports the Covid-19
pandemic cut the growth in oil
demand this year and will do so in
2021. This year, oil demand is said to
be down to 89.3 million barrels a day
from a daily 99.6 million barrels in
2019.
Although demand is likely to improve
in 2021, it will still held back by
regional lockdowns and a slow recov-
ery in the aviation sector. Tchen con-
cludes that oil demand should return
to pre-pandemic levels by 2023 when
it is expected to reach 100.1 million
barrels per day. Global consumption
of crude oil is likely to reach its peak
at 102 million barrels per day in 2027
or 2028.
Fotobijschrift
Dutch companies Fairphone and VanPlestik are creating phone cases from recycled
plastics via a 3D-printing process. They believe the thriving e-scrap sector – worth an
estimated EUR 4.2 billion – tends to overlook plastics in favour of precious metals.
kaderkop
??
how much goes where?
Of the 400 million tonnes of plastic produced every year around the globe,
only about 9% is recycled. This means some 79 million tonnes (20%) is
dumped in landfill while about 12% goes to incineration plants.
In Europe, approximately 29 million tonnes of scrap was collected in 2019.
Around 33% of this material was mechanically recycled (four-fifths inside the
EU) while 42% went for energy recovery (incineration). That means a signifi-
cant proportion (almost 25%) went to landfill.
Currently, only two European nations, Norway and Spain, exceed a 40%
recycling rate for plastics. Germany and Sweden are just behind on 38%
while the UK is around 35%. Switzerland, Austria, the Netherlands and
Germany send most of their scrap (between 60-75%) for energy recovery.
Meanwhile, the US recycles only 8.5% of its plastic scrap, the nation's
Environment Agency reports. South Africa scores a lot higher with 46%.
Japan recycles around 25% of its material. China manages about 22% while
Australia and Russia both recycle an estimated 12%.
cling of PET bottles – the most com-
monly recycled plastic item – hovers
around 30% in most developed coun-
tries.
Since the arrival of Covid-19, even
drinks bottles made with recycled plas-
tic have become less viable. The recy-
cled raw materials are 83-93% more
expensive than virgin plastic, according
to analysts at the Independent
Commodity Intelligence Services.
This year, plastic recyclers report their
businesses have shrunk, by more than
34-35_plastics-wherearewenow.indd 35 11-11-20 16:19