Read it online: issue 6!
Subscribe
Page 30 from: Read it online: issue 6!
Panizzolo technology puts Generation 3.0 on the map Located in the Italian province of Vicenza, Generation 3.0 has commercial relationships all over the world, trading a wide range of metal scrap and supplying secondary raw mate...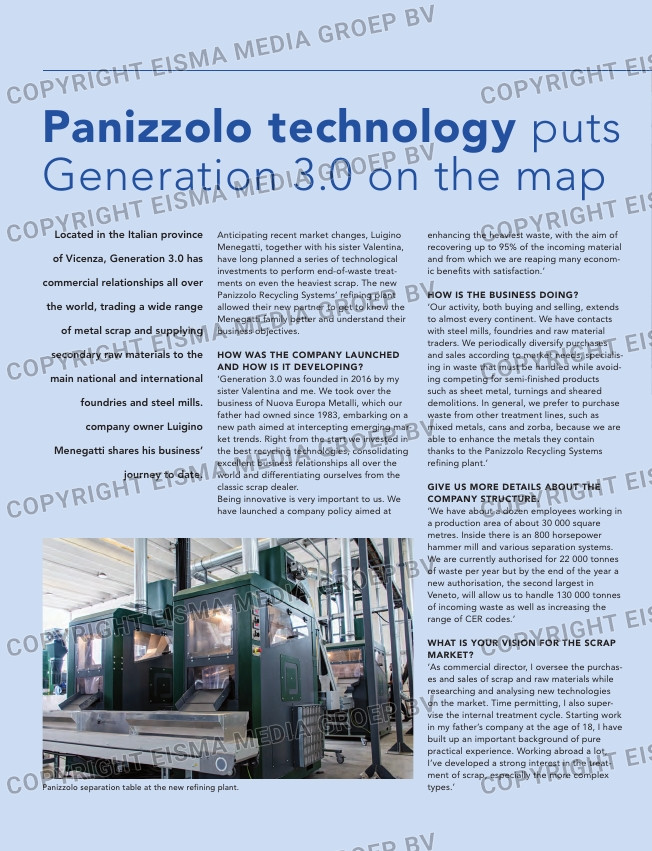 Panizzolo technology puts
Generation 3.0 on the map
Located in the Italian province
of Vicenza, Generation 3.0 has
commercial relationships all over
the world, trading a wide range
of metal scrap and supplying
secondary raw materials to the
main national and international
foundries and steel mills.
company owner Luigino
Menegatti shares his business'
journey to date.
How did you select tHe rigHt recy-
cling tecHnology Partner?
'I went to the most interesting companies,
bringing samples of our material, in order to
assess production, quality and wear. Panizzolo
Recycling Systems is well-known in Italy in this
field. After a preliminary visit, I was able to test
and see the quality of the granulates in the
Piove di Sacco plant.
The machinery has very well designed precau-
tions, especially the refining hammer mills. The
material I deal with contains significant
amounts of steel, iron and aluminium. Not
being able to use traditional blade mills,
Panizzolo's grinding method is truly intelligent,
simple and innovative.
When new, all grinders are interesting and
beautiful to look at. The problem, however, is
how the plant behaves in the medium to long
term, what machine downtime it will be sub-
ject to, what wear it will suffer, the costs of
spare parts and more.
The waste we deal with has a percentage of
metal that fluctuates between 10 – 20%, so for
me management costs are really very relevant.
Weighing all these things we concluded that
Panizzolo Recycling Systems offered the most
intelligent solution, with the right compromise
of quality and processing cost, allowing us a
good profit margin.'
Anticipating recent market changes, Luigino
Menegatti, together with his sister Valentina,
have long planned a series of technological
investments to perform end-of-waste treat-
ments on even the heaviest scrap. The new
Panizzolo Recycling Systems' refining plant
allowed their new partner to get to know the
Menegatti family better and understand their
business objectives.
How was tHe comPany launcHed
and How is it develoPing?
'Generation 3.0 was founded in 2016 by my
sister Valentina and me. We took over the
business of Nuova Europa Metalli, which our
father had owned since 1983, embarking on a
new path aimed at intercepting emerging mar-
ket trends. Right from the start we invested in
the best recycling technologies, consolidating
excellent business relationships all over the
world and differentiating ourselves from the
classic scrap dealer.
Being innovative is very important to us. We
have launched a company policy aimed at
enhancing the heaviest waste, with the aim of
recovering up to 95% of the incoming material
and from which we are reaping many econom-
ic benefits with satisfaction.'
How is tHe business doing?
'Our activity, both buying and selling, extends
to almost every continent. We have contacts
with steel mills, foundries and raw material
traders. We periodically diversify purchases
and sales according to market needs, specialis-
ing in waste that must be handled while avoid-
ing competing for semi-finished products
such as sheet metal, turnings and sheared
demolitions. In general, we prefer to purchase
waste from other treatment lines, such as
mixed metals, cans and zorba, because we are
able to enhance the metals they contain
thanks to the Panizzolo Recycling Systems
refining plant.'
give us more details about tHe
comPany structure.
'We have about a dozen employees working in
a production area of about 30 000 square
metres. Inside there is an 800 horsepower
hammer mill and various separation systems.
We are currently authorised for 22 000 tonnes
of waste per year but by the end of the year a
new authorisation, the second largest in
Veneto, will allow us to handle 130 000 tonnes
of incoming waste as well as increasing the
range of CER codes.'
wHat is your vision for tHe scraP
market?
'As commercial director, I oversee the purchas-
es and sales of scrap and raw materials while
researching and analysing new technologies
on the market. Time permitting, I also super-
vise the internal treatment cycle. Starting work
in my father's company at the age of 18, I have
built up an important background of pure
practical experience. Working abroad a lot,
I've developed a strong interest in the treat-
ment of scrap, especially the more complex
types.'Panizzolo separation table at the new refining plant.
Luigino Menegatti, owner of Generation 3.0.
30-31_panizzolo.indd 30 11-11-20 14:24