Read it online: issue 6!
Subscribe
Page 29 from: Read it online: issue 6!
TECHNOLOGY EXPERT 'We will celebrate this milestone in style' What does UNTHA stand for? CEO Alois Kitzberger looks back on the company's 50-year history and more importantly, perhaps, shines a light on the present and th...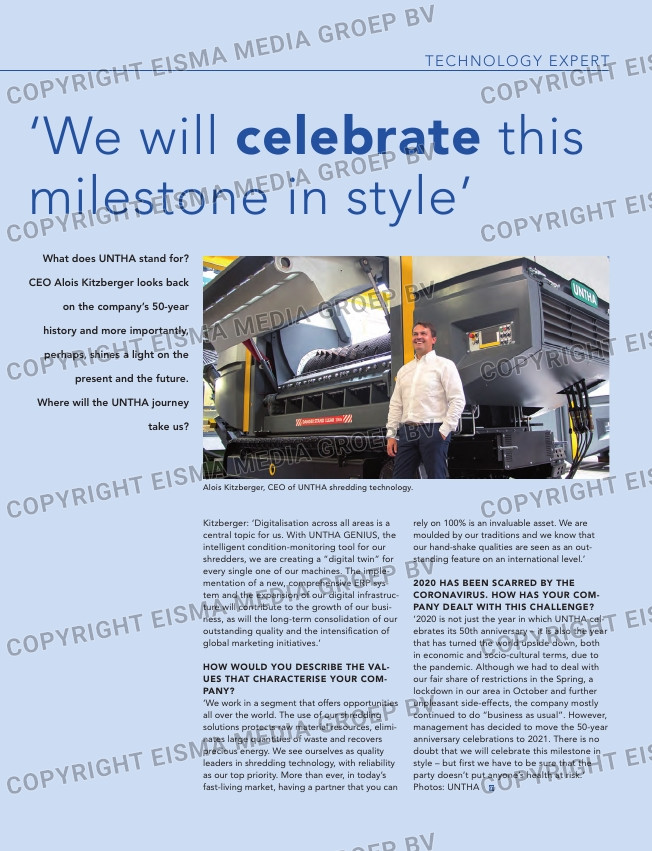 TECHNOLOGY EXPERT
'We will celebrate this
milestone in style'
What does UNTHA stand for?
CEO Alois Kitzberger looks back
on the company's 50-year
history and more importantly,
perhaps, shines a light on the
present and the future.
Where will the UNTHA journey
take us?
homogeneous output material. The robust cut-
ting chamber is designed for the pre-shred-
ding of particularly bulky materials and materi-
als with a high content of non-shreddable
items. Following an extensive customer
requirement analysis, intense market research
and exchanges with potential clients, the new
concept of the RC cutting system was devel-
oped over a 12-month period. Market research
showed a particularly high demand for three
criteria on which the UNTHA development
team accordingly focused its efforts to take
the RC cutting system to the next level: the
elimination of the ram device, resulting in a
larger machine opening and depth; reduced
maintenance and servicing costs; and opti-
mised value for money. During the field tests
with a range of pre-series models, other
advantages soon became obvious. The new
cutting system with its novel cutter geometry
deals with significantly higher throughput vol-
umes – more than 100 tonnes per hour, for
instance, with domestic waste. This is equiva-
lent to an increase in performance of 50%
compared to previous systems.
Photos: UNTHA
Kitzberger: 'Digitalisation across all areas is a
central topic for us. With UNTHA GENIUS, the
intelligent condition-monitoring tool for our
shredders, we are creating a "digital twin" for
every single one of our machines. The imple-
mentation of a new, comprehensive ERP sys-
tem and the expansion of our digital infrastruc-
ture will contribute to the growth of our busi-
ness, as will the long-term consolidation of our
outstanding quality and the intensification of
global marketing initiatives.'
HOW WOUlD yOU DESCRIBE THE vAl-
UES THAT CHARACTERISE yOUR COm-
PANy?
'We work in a segment that offers opportunities
all over the world. The use of our shredding
solutions protects raw material resources, elimi-
nates large quantities of waste and recovers
precious energy. We see ourselves as quality
leaders in shredding technology, with reliability
as our top priority. More than ever, in today's
fast-living market, having a partner that you can
rely on 100% is an invaluable asset. We are
moulded by our traditions and we know that
our hand-shake qualities are seen as an out-
standing feature on an international level.'
2020 HAS BEEN SCARRED By THE
CORONAvIRUS. HOW HAS yOUR COm-
PANy DEAlT WITH THIS CHAllENGE?
'2020 is not just the year in which UNTHA cel-
ebrates its 50th anniversary – it is also the year
that has turned the world upside down, both
in economic and socio-cultural terms, due to
the pandemic. Although we had to deal with
our fair share of restrictions in the Spring, a
lockdown in our area in October and further
unpleasant side-effects, the company mostly
continued to do "business as usual". However,
management has decided to move the 50-year
anniversary celebrations to 2021. There is no
doubt that we will celebrate this milestone in
style – but first we have to be sure that the
party doesn't put anyone's health at risk.'
Photos: UNTHA
GENIUS is the condition-monitoring tool developed to be the 'brain'
behind every shredder.
Alois Kitzberger, CEO of UNTHA shredding technology.
26-27-28-29_unthashredding-50years.indd 29 11-11-20 14:24