Read it online: issue 6!
Subscribe
Page 26 from: Read it online: issue 6!
Tradition meets innovation How UNTHA has made the transition from a small metalworking shop to a global player in shredding technology. This year is a very special one for UNTHA shredding technology. Based in Kuchl near Salzburg...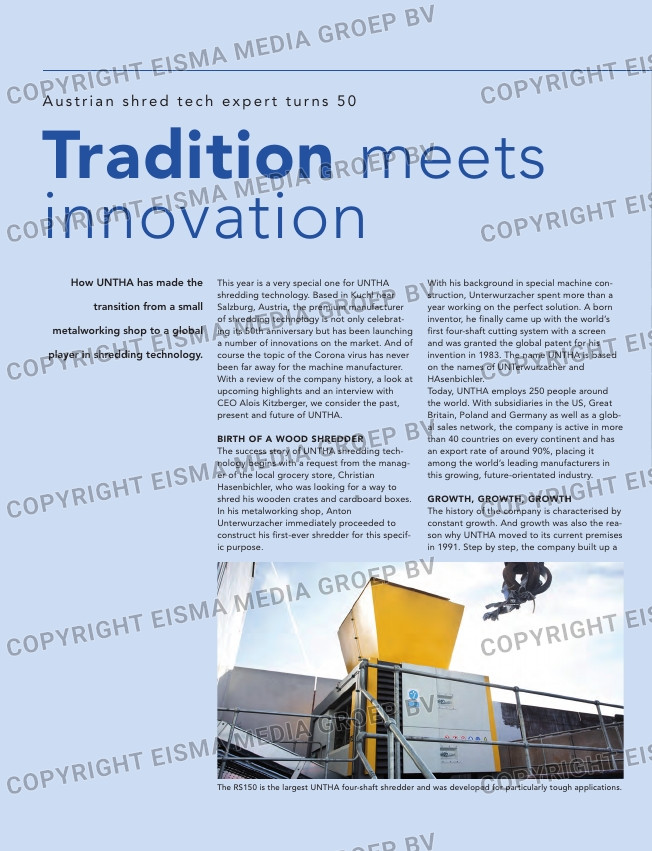 Tradition meets
innovation
How UNTHA has made the
transition from a small
metalworking shop to a global
player in shredding technology.
This year is a very special one for UNTHA
shredding technology. Based in Kuchl near
Salzburg, Austria, the premium manufacturer
of shredding technology is not only celebrat-
ing its 50th anniversary but has been launching
a number of innovations on the market. And of
course the topic of the Corona virus has never
been far away for the machine manufacturer.
With a review of the company history, a look at
upcoming highlights and an interview with
CEO Alois Kitzberger, we consider the past,
present and future of UNTHA.
BIRTH OF A WOOD SHREDDER
The success story of UNTHA shredding tech-
nology begins with a request from the manag-
er of the local grocery store, Christian
Hasenbichler, who was looking for a way to
shred his wooden crates and cardboard boxes.
In his metalworking shop, Anton
Unterwurzacher immediately proceeded to
construct his first-ever shredder for this specif-
ic purpose.
With his background in special machine con-
struction, Unterwurzacher spent more than a
year working on the perfect solution. A born
inventor, he finally came up with the world's
first four-shaft cutting system with a screen
and was granted the global patent for his
invention in 1983. The name UNTHA is based
on the names of UNTerwurzacher and
HAsenbichler.
Today, UNTHA employs 250 people around
the world. With subsidiaries in the US, Great
Britain, Poland and Germany as well as a glob-
al sales network, the company is active in more
than 40 countries on every continent and has
an export rate of around 90%, placing it
among the world's leading manufacturers in
this growing, future-orientated industry.
GROWTH, GROWTH, GROWTH
The history of the company is characterised by
constant growth. And growth was also the rea-
son why UNTHA moved to its current premises
in 1991. Step by step, the company built up a
sales network in Europe and the US. The
UNTHA Shredders brand was created and
eventually gave rise to the brand name
'UNTHA shredding technology', which is legal-
ly protected worldwide. In 2000, the UNTHA
test centre was set up and additional ware-
house and assembly facilities were added. Six
years later, the new office wing was opened,
which houses the entire sales organisation. In
2008, Alois Kitzberger was appointed CEO
and still holds this position today.
ONE-STOP APPROACH
UNTHA build and supplies around 400 units a
year and the proportion of in-house produc-
tion at the Kuchl plant is 80%. The in-house
welding and paint shop as well as the CNC
machining centre ensure the highest possible
level of flexibility, adaptability and short deliv-
ery times, as well as guaranteeing the highest
quality standards. A dedicated development
department works on the constant advance-
ment of innovative shredding solutions.
Furthermore, UNTHA operates its own test The RS150 is the largest UNTHA four-shaft shredder and was developed for particularly tough applications.
It all started with the four-shaft cutting system. To this day, it is still in successful use for numerous applications – here in hard disk shredding.
A u s t r i a n s h re d t e c h e x p e r t t u r n s 5 0
26-27-28-29_unthashredding-50years.indd 26 11-11-20 14:24