Read it online: issue 6!
Subscribe
Page 25 from: Read it online: issue 6!
BIR WEBINAR REPORT 25recyclinginternational.com | November/December | 2020 Waste export ban under Green Deal questioned Recyclers are concerned that the European Commission's pro- posed Green Deal fails to recog- nise or value ...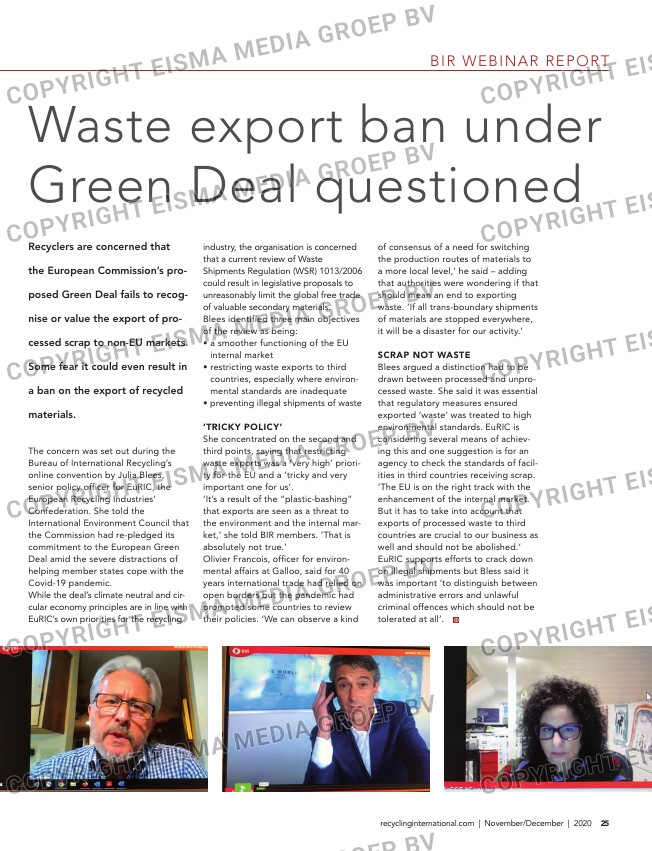 BIR WEBINAR REPORT
25recyclinginternational.com | November/December | 2020
Waste export ban under
Green Deal questioned
Recyclers are concerned that
the European Commission's pro-
posed Green Deal fails to recog-
nise or value the export of pro-
cessed scrap to non-EU markets.
Some fear it could even result in
a ban on the export of recycled
materials.
The concern was set out during the
Bureau of International Recycling's
online convention by Julia Blees,
senior policy officer for EuRIC, the
European Recycling Industries'
Confederation. She told the
International Environment Council that
the Commission had re-pledged its
commitment to the European Green
Deal amid the severe distractions of
helping member states cope with the
Covid-19 pandemic.
While the deal's climate neutral and cir-
cular economy principles are in line with
EuRIC's own priorities for the recycling
industry, the organisation is concerned
that a current review of Waste
Shipments Regulation (WSR) 1013/2006
could result in legislative proposals to
unreasonably limit the global free trade
of valuable secondary materials.
Blees identified three main objectives
of the review as being:
• a smoother functioning of the EU
internal market
• restricting waste exports to third
countries, especially where environ-
mental standards are inadequate
• preventing illegal shipments of waste
'TRICKY pOLICY'
She concentrated on the second and
third points, saying that restricting
waste exports was a 'very high' priori-
ty for the EU and a 'tricky and very
important one for us'.
'It's a result of the "plastic-bashing"
that exports are seen as a threat to
the environment and the internal mar-
ket,' she told BIR members. 'That is
absolutely not true.'
Olivier Francois, officer for environ-
mental affairs at Galloo, said for 40
years international trade had relied on
open borders but the pandemic had
prompted some countries to review
their policies. 'We can observe a kind
of consensus of a need for switching
the production routes of materials to
a more local level,' he said – adding
that authorities were wondering if that
should mean an end to exporting
waste. 'If all trans-boundary shipments
of materials are stopped everywhere,
it will be a disaster for our activity.'
SCRAp NOT WASTE
Blees argued a distinction had to be
drawn between processed and unpro-
cessed waste. She said it was essential
that regulatory measures ensured
exported 'waste' was treated to high
environmental standards. EuRIC is
considering several means of achiev-
ing this and one suggestion is for an
agency to check the standards of facil-
ities in third countries receiving scrap.
'The EU is on the right track with the
enhancement of the internal market.
But it has to take into account that
exports of processed waste to third
countries are crucial to our business as
well and should not be abolished.'
EuRIC supports efforts to crack down
on illegal shipments but Bless said it
was important 'to distinguish between
administrative errors and unlawful
criminal offences which should not be
tolerated at all'.
Greece-based Anamet. Robin Wiener,
president of the US Institute of Scrap
Recycling Industries said legislative
'over-reach' in a bid to find rapid solu-
tions to high-profile problems such as
ocean plastics was affecting the legiti-
mate trade in materials. This view was
echoed by Josephita Harry of Pan
American Zinc who spoke of 'a big lack
of awareness' among policy-makers
'making life difficult for recyclers'.
MOLL: 'NICKEL WILL WIN AND SCRAp WILL WIN'
The growing share of the global stainless steel market claimed by the
300 series grade over the coming decade will benefit the scrap sector,
according to a leading observer of the industry.
The 2019 market share for 300 of 54.1% is expected to reach 59.3% by
2030, Markus Moll, managing director of market research specialists SMR
told the BIR webinar. Moll said 'That means nickel will win and scrap will
win'.
As with most metals markets, China's position is a key factor and Moll
believes the global decline in stainless steel consumption this year, largely
driven by the Covid-19 pandemic, will only be 4% because it is cushioned by
3% growth in China – the largest consumer of stainless steel at more than 21
million tonnes per annum. The global figure for 2021 is expected to rise by
11% next year. He anticipated that consumption drops of 13% in 2020 for
both Europe and the USA in 2020 would be followed by respective gains of
16% and 19% next year. Asia (excluding China) was expected to turn a
decrease of 12% into growth of 22% in 2021.
Moll pointed put that China's scrap ratio was just above 20% in 2019, com-
pared to levels of the 70+% in Europe and 80+% in the USA. Stainless scrap
availability in China – currently at around three million tonnes a year – was
growing by at least 10% per annum and would continue to be consumed
entirely within the domestic market, he contended. New buildings 20 or
more years ago would typically become today's scrap, a significant point
bearing in mind China's massive infrastructure growth in recent decades.
Moll noted that the combined share of global stainless steel production held
by China and Indonesia would exceed 70% next year. However, he expected
this dominant figure to plateau during the decade, not least because of anti-
dumping and anti-subsidy measures adopted by other countries.
22-23-24-25_birconvention.indd 25 11-11-20 14:24