Read it online: issue 6!
Subscribe
Page 24 from: Read it online: issue 6!
24 Waste export ban under Green Deal questioned UAE pROJECTS ON HOLD Sidney Lazarus of Non-Ferrous Metal Works in South Africa confirmed an improvement in business conditions as well as greater scrap dealer activity within his countr...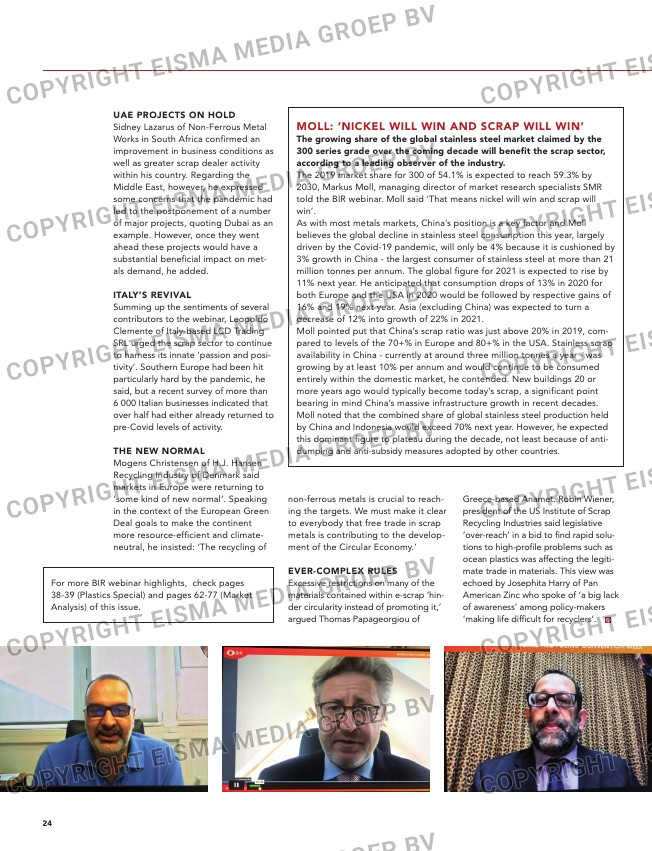 24
Waste export ban under
Green Deal questioned
UAE pROJECTS ON HOLD
Sidney Lazarus of Non-Ferrous Metal
Works in South Africa confirmed an
improvement in business conditions as
well as greater scrap dealer activity
within his country. Regarding the
Middle East, however, he expressed
some concerns that the pandemic had
led to the postponement of a number
of major projects, quoting Dubai as an
example. However, once they went
ahead these projects would have a
substantial beneficial impact on met-
als demand, he added.
ITALY'S REVIVAL
Summing up the sentiments of several
contributors to the webinar, Leopoldo
Clemente of Italy-based LCD Trading
SRL urged the scrap sector to continue
to harness its innate 'passion and posi-
tivity'. Southern Europe had been hit
particularly hard by the pandemic, he
said, but a recent survey of more than
6 000 Italian businesses indicated that
over half had either already returned to
pre-Covid levels of activity.
THE NEW NORMAL
Mogens Christensen of H.J. Hansen
Recycling Industry of Denmark said
markets in Europe were returning to
'some kind of new normal'. Speaking
in the context of the European Green
Deal goals to make the continent
more resource-efficient and climate-
neutral, he insisted: 'The recycling of
non-ferrous metals is crucial to reach-
ing the targets. We must make it clear
to everybody that free trade in scrap
metals is contributing to the develop-
ment of the Circular Economy.'
EVER-COMpLEX RULES
Excessive restrictions on many of the
materials contained within e-scrap 'hin-
der circularity instead of promoting it,'
argued Thomas Papageorgiou of
Greece-based Anamet. Robin Wiener,
president of the US Institute of Scrap
Recycling Industries said legislative
'over-reach' in a bid to find rapid solu-
tions to high-profile problems such as
ocean plastics was affecting the legiti-
mate trade in materials. This view was
echoed by Josephita Harry of Pan
American Zinc who spoke of 'a big lack
of awareness' among policy-makers
'making life difficult for recyclers'.
MOLL: 'NICKEL WILL WIN AND SCRAp WILL WIN'
The growing share of the global stainless steel market claimed by the
300 series grade over the coming decade will benefit the scrap sector,
according to a leading observer of the industry.
The 2019 market share for 300 of 54.1% is expected to reach 59.3% by
2030, Markus Moll, managing director of market research specialists SMR
told the BIR webinar. Moll said 'That means nickel will win and scrap will
win'.
As with most metals markets, China's position is a key factor and Moll
believes the global decline in stainless steel consumption this year, largely
driven by the Covid-19 pandemic, will only be 4% because it is cushioned by
3% growth in China – the largest consumer of stainless steel at more than 21
million tonnes per annum. The global figure for 2021 is expected to rise by
11% next year. He anticipated that consumption drops of 13% in 2020 for
both Europe and the USA in 2020 would be followed by respective gains of
16% and 19% next year. Asia (excluding China) was expected to turn a
decrease of 12% into growth of 22% in 2021.
Moll pointed put that China's scrap ratio was just above 20% in 2019, com-
pared to levels of the 70+% in Europe and 80+% in the USA. Stainless scrap
availability in China – currently at around three million tonnes a year – was
growing by at least 10% per annum and would continue to be consumed
entirely within the domestic market, he contended. New buildings 20 or
more years ago would typically become today's scrap, a significant point
bearing in mind China's massive infrastructure growth in recent decades.
Moll noted that the combined share of global stainless steel production held
by China and Indonesia would exceed 70% next year. However, he expected
this dominant figure to plateau during the decade, not least because of anti-
dumping and anti-subsidy measures adopted by other countries.
For more BIR webinar highlights, check pages
38-39 (Plastics Special) and pages 62-77 (Market
Analysis) of this issue.
22-23-24-25_birconvention.indd 24 11-11-20 14:23