Read it online: issue 6!
Subscribe
Page 22 from: Read it online: issue 6!
22 Recyclers, keep it up! Tro u b l e d s c r a p s c e n e m e e t s o n l i n e … w h e re e l s e ? A 'brutal' year within the most severe economic crisis since the 1930s sets the scene for the world recycling organisatio...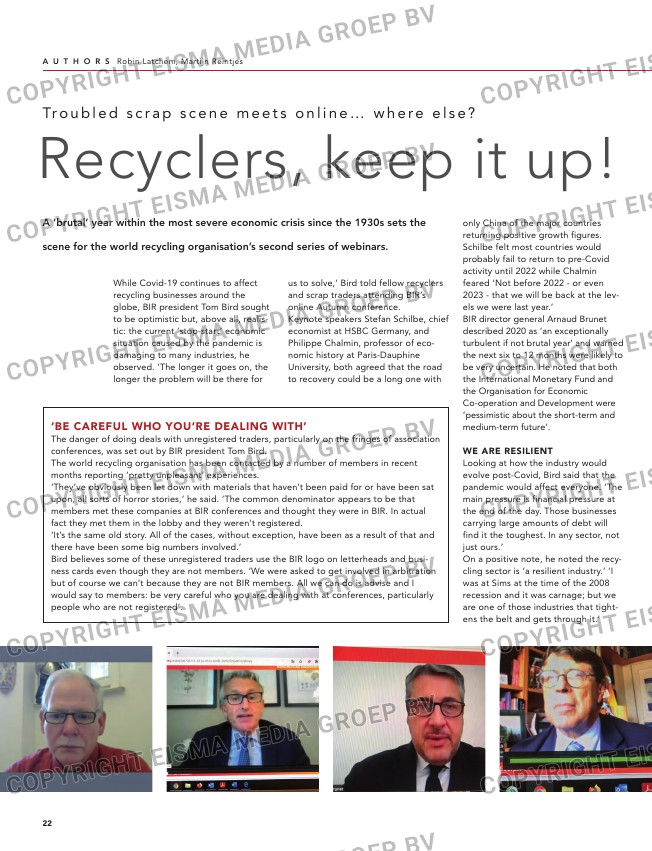 22
Recyclers, keep it up!
Tro u b l e d s c r a p s c e n e m e e t s o n l i n e … w h e re e l s e ?
A 'brutal' year within the most severe economic crisis since the 1930s sets the
scene for the world recycling organisation's second series of webinars.
EMERGING MARKETS
Slight optimism was also heard over
the shifting global copper and alumin-
ium scrap markets. According to
Dhawal Shah of Metco Marketing in
India, the domestic secondary non-
ferrous sector had mirrored a recent
upturn in most other parts of his coun-
try's economy, with the crucial auto-
motive industry boosted notably in
recent months by rural demand. A
'very ambitious' nationwide vehicle
scrappage programme would be
unveiled shortly, said Shah, which he
believed should have a transforma-
tional impact on new car sales and
domestic scrap loops.
Shah also raised latest developments in
Pakistan, which he observed as 'one of
the fastest-growing recycling industries'.
Once China had begun to make changes
to its environmental laws, he explained,
'a lot of non-ferrous scrap started going
to Pakistan for recycling and smelting to
make ingots for the domestic and inter-
national markets. Pakistan also senses
that, if they are to grow, they need to
ensure that they wholly and squarely
address environmental concerns as well,
and they are putting new investment in
that direction.'
Meanwhile, Shen Dong of US-based
Omnisource Corporation reported that
China had remained a significant world
market: its 12 batches of import quotas
issued in 2020 amounted to almost 880
000 tonnes of copper scrap and 818
000 tonnes of aluminium scrap.
However, many shipping lines had
stopped accepting scrap cargoes for
China given its imminent ban on solid
waste imports. Lines were also reluctant
to ship to Hong Kong, Dong noted.
While Covid-19 continues to affect
recycling businesses around the
globe, BIR president Tom Bird sought
to be optimistic but, above all, realis-
tic: the current 'stop-start' economic
situation caused by the pandemic is
damaging to many industries, he
observed. 'The longer it goes on, the
longer the problem will be there for
us to solve,' Bird told fellow recyclers
and scrap traders attending BIR's
online Autumn conference.
Keynote speakers Stefan Schilbe, chief
economist at HSBC Germany, and
Philippe Chalmin, professor of eco-
nomic history at Paris-Dauphine
University, both agreed that the road
to recovery could be a long one with
only China of the major countries
returning positive growth figures.
Schilbe felt most countries would
probably fail to return to pre-Covid
activity until 2022 while Chalmin
feared 'Not before 2022 – or even
2023 – that we will be back at the lev-
els we were last year.'
BIR director general Arnaud Brunet
described 2020 as 'an exceptionally
turbulent if not brutal year' and warned
the next six to 12 months were likely to
be very uncertain. He noted that both
the International Monetary Fund and
the Organisation for Economic
Co-operation and Development were
'pessimistic about the short-term and
medium-term future'.
WE ARE RESILIENT
Looking at how the industry would
evolve post-Covid, Bird said that the
pandemic would affect everyone. 'The
main pressure is financial pressure at
the end of the day. Those businesses
carrying large amounts of debt will
find it the toughest. In any sector, not
just ours.'
On a positive note, he noted the recy-
cling sector is 'a resilient industry.' 'I
was at Sims at the time of the 2008
recession and it was carnage; but we
are one of those industries that tight-
ens the belt and gets through it.'
A U T H O R S Robin Latchem, Martijn Reintjes
'BE CAREFUL WHO YOU'RE DEALING WITH'
The danger of doing deals with unregistered traders, particularly on the fringes of association
conferences, was set out by BIR president Tom Bird.
The world recycling organisation has been contacted by a number of members in recent
months reporting 'pretty unpleasant' experiences.
'They've obviously been let down with materials that haven't been paid for or have been sat
upon, all sorts of horror stories,' he said. 'The common denominator appears to be that
members met these companies at BIR conferences and thought they were in BIR. In actual
fact they met them in the lobby and they weren't registered.
'It's the same old story. All of the cases, without exception, have been as a result of that and
there have been some big numbers involved.'
Bird believes some of these unregistered traders use the BIR logo on letterheads and busi-
ness cards even though they are not members. 'We were asked to get involved in arbitration
but of course we can't because they are not BIR members. All we can do is advise and I
would say to members: be very careful who you are dealing with at conferences, particularly
people who are not registered'.
22-23-24-25_birconvention.indd 22 11-11-20 14:23