Read it online: issue 6!
Subscribe
Page 21 from: Read it online: issue 6!
TECHNOLOGY EXPERT Unveiled: the art of recycling Andritz recently opened its new Recycling Technology Centre in St. Michael, Austria, considerably expanding the range of services available to its customers and significantly bo...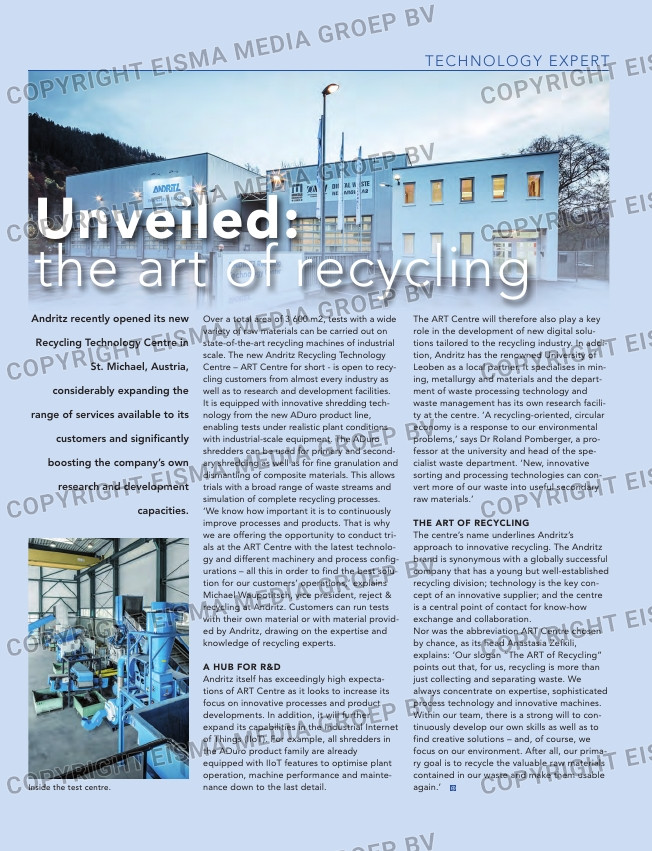 TECHNOLOGY EXPERT
Unveiled:
the art of recycling
Andritz recently opened its new
Recycling Technology Centre in
St. Michael, Austria,
considerably expanding the
range of services available to its
customers and significantly
boosting the company's own
research and development
capacities.
Over a total area of 3 600 m2, tests with a wide
variety of raw materials can be carried out on
state-of-the-art recycling machines of industrial
scale. The new Andritz Recycling Technology
Centre – ART Centre for short – is open to recy-
cling customers from almost every industry as
well as to research and development facilities.
It is equipped with innovative shredding tech-
nology from the new ADuro product line,
enabling tests under realistic plant conditions
with industrial-scale equipment. The ADuro
shredders can be used for primary and second-
ary shredding as well as for fine granulation and
dismantling of composite materials. This allows
trials with a broad range of waste streams and
simulation of complete recycling processes.
'We know how important it is to continuously
improve processes and products. That is why
we are offering the opportunity to conduct tri-
als at the ART Centre with the latest technolo-
gy and different machinery and process config-
urations – all this in order to find the best solu-
tion for our customers' operations,' explains
Michael Waupotitsch, vice president, reject &
recycling at Andritz. Customers can run tests
with their own material or with material provid-
ed by Andritz, drawing on the expertise and
knowledge of recycling experts.
A HUB FOR R&D
Andritz itself has exceedingly high expecta-
tions of ART Centre as it looks to increase its
focus on innovative processes and product
developments. In addition, it will further
expand its capabilities in the Industrial Internet
of Things (IIoT). For example, all shredders in
the ADuro product family are already
equipped with IIoT features to optimise plant
operation, machine performance and mainte-
nance down to the last detail.
The ART Centre will therefore also play a key
role in the development of new digital solu-
tions tailored to the recycling industry. In addi-
tion, Andritz has the renowned University of
Leoben as a local partner. It specialises in min-
ing, metallurgy and materials and the depart-
ment of waste processing technology and
waste management has its own research facili-
ty at the centre. 'A recycling-oriented, circular
economy is a response to our environmental
problems,' says Dr Roland Pomberger, a pro-
fessor at the university and head of the spe-
cialist waste department. 'New, innovative
sorting and processing technologies can con-
vert more of our waste into useful secondary
raw materials.'
THE ART OF RECYCLING
The centre's name underlines Andritz's
approach to innovative recycling. The Andritz
brand is synonymous with a globally successful
company that has a young but well-established
recycling division; technology is the key con-
cept of an innovative supplier; and the centre
is a central point of contact for know-how
exchange and collaboration.
Nor was the abbreviation ART Centre chosen
by chance, as its head Anastasia Zefkili,
explains: 'Our slogan "The ART of Recycling"
points out that, for us, recycling is more than
just collecting and separating waste. We
always concentrate on expertise, sophisticated
process technology and innovative machines.
Within our team, there is a strong will to con-
tinuously develop our own skills as well as to
find creative solutions – and, of course, we
focus on our environment. After all, our prima-
ry goal is to recycle the valuable raw materials
contained in our waste and make them usable
again.' Inside the test centre.
21_andritz.indd 21 11-11-20 14:23