Read it online: issue 6!
Subscribe
Page 14 from: Read it online: issue 6!
14 uk aluminium recycling ShineS aluminium packaging recy- cling rates in the UK exceed- ed their total target for 2020 with three months of the year still remaining. Nationally, most materials are ahead of target with paper already on...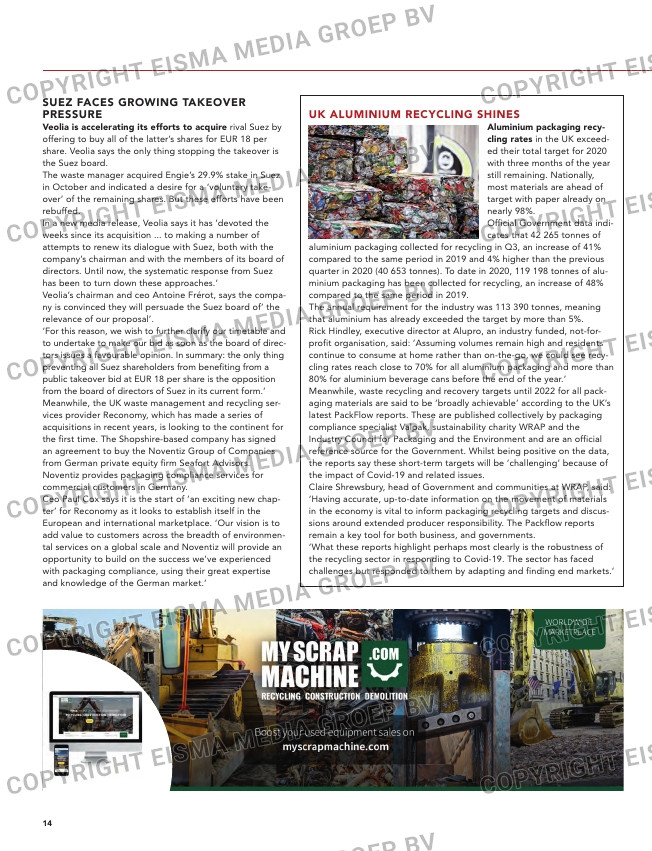 14
uk aluminium recycling ShineS
aluminium packaging recy-
cling rates in the UK exceed-
ed their total target for 2020
with three months of the year
still remaining. Nationally,
most materials are ahead of
target with paper already on
nearly 98%.
Official Government data indi-
cates that 42 265 tonnes of
aluminium packaging collected for recycling in Q3, an increase of 41%
compared to the same period in 2019 and 4% higher than the previous
quarter in 2020 (40 653 tonnes). To date in 2020, 119 198 tonnes of alu-
minium packaging has been collected for recycling, an increase of 48%
compared to the same period in 2019.
The annual requirement for the industry was 113 390 tonnes, meaning
that aluminium has already exceeded the target by more than 5%.
Rick Hindley, executive director at Alupro, an industry funded, not-for-
profit organisation, said: 'Assuming volumes remain high and residents
continue to consume at home rather than on-the-go, we could see recy-
cling rates reach close to 70% for all aluminium packaging and more than
80% for aluminium beverage cans before the end of the year.'
Meanwhile, waste recycling and recovery targets until 2022 for all pack-
aging materials are said to be 'broadly achievable' according to the UK's
latest PackFlow reports. These are published collectively by packaging
compliance specialist Valpak, sustainability charity WRAP and the
Industry Council for Packaging and the Environment and are an official
reference source for the Government. Whilst being positive on the data,
the reports say these short-term targets will be 'challenging' because of
the impact of Covid-19 and related issues.
Claire Shrewsbury, head of Government and communities at WRAP, said:
'Having accurate, up-to-date information on the movement of materials
in the economy is vital to inform packaging recycling targets and discus-
sions around extended producer responsibility. The Packflow reports
remain a key tool for both business, and governments.
'What these reports highlight perhaps most clearly is the robustness of
the recycling sector in responding to Covid-19. The sector has faced
challenges but responded to them by adapting and finding end markets.'
WORLDWIDE
MARKETPLACE
'Sam'S commitment to the induStry iS truly unmatched'
what started as a small car wreck recycling business in 1964 is now a big company with
nine yards. Sam Gershowitz, founder of New York City area-based Gershow Recycling has
been honoured with the 2020 ISRI Lifetime Achievement Award.
The US Institute of Scrap Recycling Industries presented Gershowitz with the annual award
during an online ceremony. 'Sam's commitment to the industry and drive to improve the
lives of his employees is truly unmatched,' says ISRI President Robin Wiener. 'From his work
ethic to the many ways he benefits his community through numerous philanthropic efforts,
Sam – and Gershow – embody the best of all our industry has to offer. ISRI is proud to rec-
ognise Sam with its 2020 Lifetime Achievement Award.'
immigrant SucceSS Story
The son of Polish and Russian immigrants to the United States, Gershowitz quit school at 17
to support his family in Brooklyn, New York. On days off from work, he travelled to the
Hamptons on Long Island where he noticed abandoned cars and scrap metal on the side of
the roads. To address this problem, he founded Gershow Auto Parts & Wreckers in 1964.
In 1981, he changed the company's name to Gershow Recycling to reflect the company's
growth and overall commitment to recycling and conservation, later adding the motto
'Conserving the Future by Recycling the Past'. From its beginnings as a two-person opera-
tion with a tractor-trailer, a truck, and a mobile car baler, Gershow has grown to nine facili-
ties on Long Island and in Brooklyn, processing ferrous and non-ferrous metal, paper and
plastics, and employing more than 750 people.
long hourS on long iSland
'Being recognised by one's peers is the highest honour one could receive,' comments
Gershowitz. 'A lot of hard work and long hours went into Gershow Recycling. It is our peo-
ple, along with our dedicated managers – some who have been with Gershow for more than
25 years – and our employees that have made Gershow the success it is today.'
The recycler attributes the company's success to his wife Marlena and praises the contribu-
tions of mother-in-law Jeanne Lederman, brother Lou, nephew Ira and daughter Pamela.
Gershow is a third-generation family business with sons Kevin and Elliot running the day-to-
day operations while son-in-law Jonathan Abrams and grandson Alexander are also part of
the company. 'I am truly a lucky man to be able to work with my family every day,' he says.
yard, marina and charity
Over the years, Gershowitz has invested in the equipment, technology, property, and peo-
ple to ensure Gershow's continued success. He proudly states that the company has never
laid off a single worker, even in the worst economic conditions. Now, at the age of 81, he
continues to put time in at Gershow and at Sam's Star Island Yacht Club & Marina, which he
owns.
Gershow Recycling's philanthropic endeavours include support of cancer-related charities,
scholarships for students pursuing engineering or environmental degrees, and contributions
to environmental organisations.
Suez FaceS growing takeover
PreSSure
veolia is accelerating its efforts to acquire rival Suez by
offering to buy all of the latter's shares for EUR 18 per
share. Veolia says the only thing stopping the takeover is
the Suez board.
The waste manager acquired Engie's 29.9% stake in Suez
in October and indicated a desire for a 'voluntary take-
over' of the remaining shares. But these efforts have been
rebuffed.
In a new media release, Veolia says it has 'devoted the
weeks since its acquisition … to making a number of
attempts to renew its dialogue with Suez, both with the
company's chairman and with the members of its board of
directors. Until now, the systematic response from Suez
has been to turn down these approaches.'
Veolia's chairman and ceo Antoine Frérot, says the compa-
ny is convinced they will persuade the Suez board of' the
relevance of our proposal'.
'For this reason, we wish to further clarify our timetable and
to undertake to make our bid as soon as the board of direc-
tors issues a favourable opinion. In summary: the only thing
preventing all Suez shareholders from benefiting from a
public takeover bid at EUR 18 per share is the opposition
from the board of directors of Suez in its current form.'
Meanwhile, the UK waste management and recycling ser-
vices provider Reconomy, which has made a series of
acquisitions in recent years, is looking to the continent for
the first time. The Shopshire-based company has signed
an agreement to buy the Noventiz Group of Companies
from German private equity firm Seafort Advisors.
Noventiz provides packaging compliance services for
commercial customers in Germany.
Ceo Paul Cox says it is the start of 'an exciting new chap-
ter' for Reconomy as it looks to establish itself in the
European and international marketplace. 'Our vision is to
add value to customers across the breadth of environmen-
tal services on a global scale and Noventiz will provide an
opportunity to build on the success we've experienced
with packaging compliance, using their great expertise
and knowledge of the German market.'
10-11-12-13-14-15_trendsupdatesi.indd 14 11-11-20 15:28