Read it online: issue 6!
Subscribe
Page 12 from: Read it online: issue 6!
12 high hoPeS For aFrican Phone battery Programme Phone recycler closing the loop of the Netherlands has developed a pilot programme to ship more than five tonnes of mobile phone batteries from Nigeria to Belgium and recycle them into ...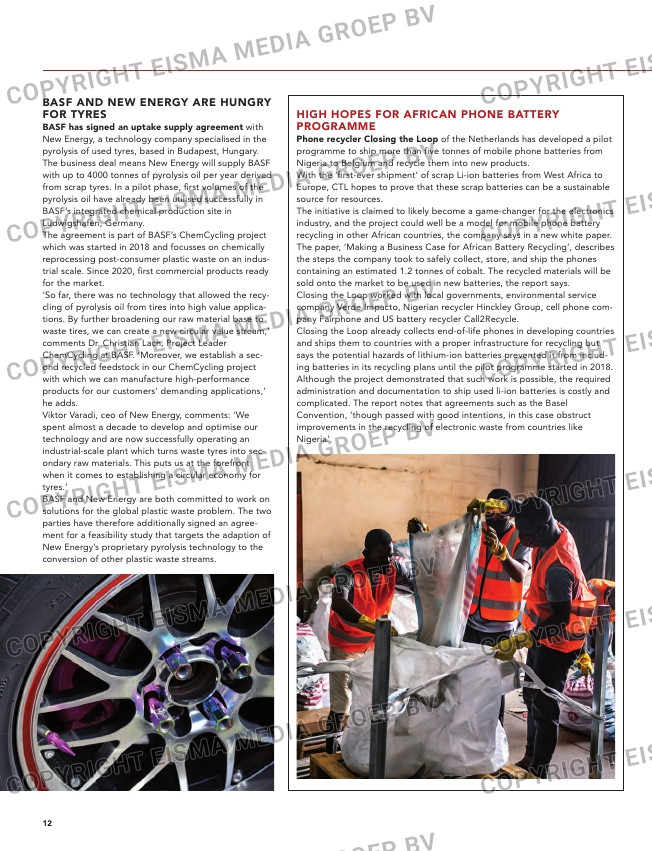 12
high hoPeS For aFrican Phone battery
Programme
Phone recycler closing the loop of the Netherlands has developed a pilot
programme to ship more than five tonnes of mobile phone batteries from
Nigeria to Belgium and recycle them into new products.
With the 'first-ever shipment' of scrap Li-ion batteries from West Africa to
Europe, CTL hopes to prove that these scrap batteries can be a sustainable
source for resources.
The initiative is claimed to likely become a game-changer for the electronics
industry, and the project could well be a model for mobile phone battery
recycling in other African countries, the company says in a new white paper.
The paper, 'Making a Business Case for African Battery Recycling', describes
the steps the company took to safely collect, store, and ship the phones
containing an estimated 1.2 tonnes of cobalt. The recycled materials will be
sold onto the market to be used in new batteries, the report says.
Closing the Loop worked with local governments, environmental service
company Verde Impacto, Nigerian recycler Hinckley Group, cell phone com-
pany Fairphone and US battery recycler Call2Recycle.
Closing the Loop already collects end-of-life phones in developing countries
and ships them to countries with a proper infrastructure for recycling but
says the potential hazards of lithium-ion batteries prevented it from includ-
ing batteries in its recycling plans until the pilot programme started in 2018.
Although the project demonstrated that such work is possible, the required
administration and documentation to ship used li-ion batteries is costly and
complicated. The report notes that agreements such as the Basel
Convention, 'though passed with good intentions, in this case obstruct
improvements in the recycling of electronic waste from countries like
Nigeria'.
baSF and new energy are hungry
For tyreS
baSF has signed an uptake supply agreement with
New Energy, a technology company specialised in the
pyrolysis of used tyres, based in Budapest, Hungary.
The business deal means New Energy will supply BASF
with up to 4000 tonnes of pyrolysis oil per year derived
from scrap tyres. In a pilot phase, first volumes of the
pyrolysis oil have already been utilised successfully in
BASF's integrated chemical production site in
Ludwigshafen, Germany.
The agreement is part of BASF's ChemCycling project
which was started in 2018 and focusses on chemically
reprocessing post-consumer plastic waste on an indus-
trial scale. Since 2020, first commercial products ready
for the market.
'So far, there was no technology that allowed the recy-
cling of pyrolysis oil from tires into high value applica-
tions. By further broadening our raw material base to
waste tires, we can create a new circular value stream,'
comments Dr. Christian Lach, Project Leader
ChemCycling at BASF. 'Moreover, we establish a sec-
ond recycled feedstock in our ChemCycling project
with which we can manufacture high-performance
products for our customers' demanding applications,'
he adds.
Viktor Varadi, ceo of New Energy, comments: 'We
spent almost a decade to develop and optimise our
technology and are now successfully operating an
industrial-scale plant which turns waste tyres into sec-
ondary raw materials. This puts us at the forefront
when it comes to establishing a circular economy for
tyres.'
BASF and New Energy are both committed to work on
solutions for the global plastic waste problem. The two
parties have therefore additionally signed an agree-
ment for a feasibility study that targets the adaption of
New Energy's proprietary pyrolysis technology to the
conversion of other plastic waste streams.
muSt-have SunglaSSeS made From ocean PlaSticS
'it's incredible to think that only a year ago this plastic was polluting our oceans
and now it's something beautiful, turning a problem into a solution,' says Dutchman
Boyan Slat, founder and ceo of The Ocean Cleanup. The non-profit organisation
developing advanced technologies to rid the world's oceans and rivers of plastic has
unveiled a product made from the plastic they recovered from the ocean to help
fund their multi-million Euro project.
Ocean Cleanup has taken its first batch of plastic certified from the Great Pacific
Garbage Patch, recycled it, and turned it into something useful and durable: sun-
glasses. With a contribution of EUR 199, supporters have the chance to own a piece
of the Great Pacific Garbage Patch and help fund the continuation of the project, as
100% of the proceeds go directly to future operations.
Reclaiming an area of the oceans said to be the equivalent of 24 football fields pro-
duces the plastic used for each pair of sunglasses. Sunglasses were chosen as the
first product because the organisation wanted to offer something durable and useful
and to remind users of 'the beauty and importance' of our oceans.
Ocean Cleanup sunglasses are meant to last and keep their value, having been
designed in California by renowned designer Yves Béhar and his team at fuseproject
and crafted by Italian eyewear producer Safilo. The frame is made with plastic certi-
fied by DNV GL from the Great Pacific Garbage Patch. The case is made with recy-
cled material from System 001, also known as 'Wilson', the first ocean clean-up sys-
tem deployed in 2018. With end-of-life in mind every component, from metal hinges
to polarised lenses, are designed to be taken apart easily and recycled again should
this be necessary.
'Of course, The Ocean Cleanup is only here today because of our supporters, so I
am excited these sunglasses are just another opportunity for everyone to be part of
the clean-up and help us maximize our impact,' says Slat. 'I am thankful for the sup-
port of our followers and our partners and for their dedication and efforts to realise
this very important step on our mission to rid the world's oceans of plastic.'
10-11-12-13-14-15_trendsupdatesi.indd 12 11-11-20 15:28