Read it online: issue 6!
Subscribe
Page 10 from: Read it online: issue 6!
10 Survey: Pandemic driveS urgency to recycle most europeans (86%) believe that taking care of our environment and recycling is even more important since the outbreak of Covid-19 - while 91% say they would like to do more, according to ...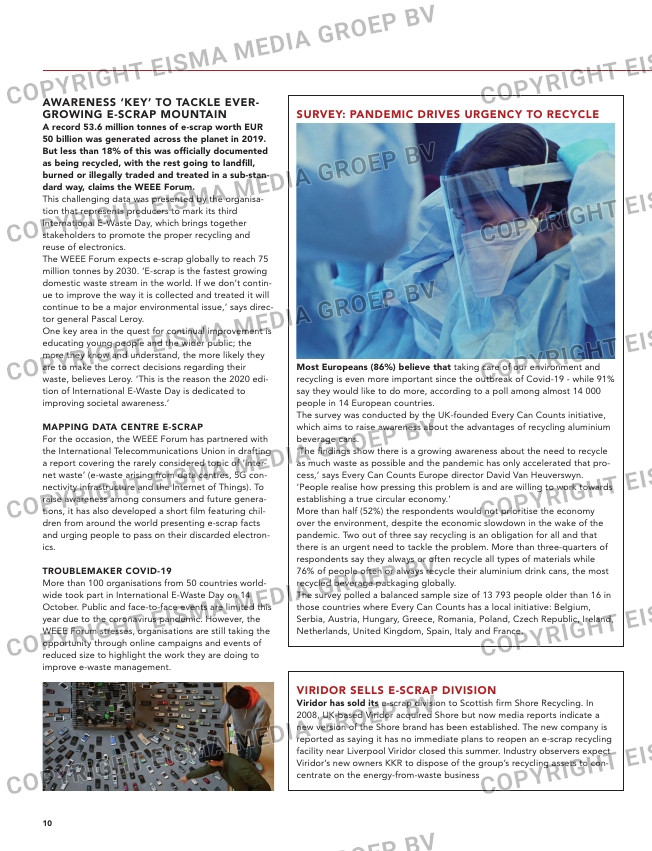 10
Survey: Pandemic driveS urgency to recycle
most europeans (86%) believe that taking care of our environment and
recycling is even more important since the outbreak of Covid-19 – while 91%
say they would like to do more, according to a poll among almost 14 000
people in 14 European countries.
The survey was conducted by the UK-founded Every Can Counts initiative,
which aims to raise awareness about the advantages of recycling aluminium
beverage cans.
'The findings show there is a growing awareness about the need to recycle
as much waste as possible and the pandemic has only accelerated that pro-
cess,' says Every Can Counts Europe director David Van Heuverswyn.
'People realise how pressing this problem is and are willing to work towards
establishing a true circular economy.'
More than half (52%) the respondents would not prioritise the economy
over the environment, despite the economic slowdown in the wake of the
pandemic. Two out of three say recycling is an obligation for all and that
there is an urgent need to tackle the problem. More than three-quarters of
respondents say they always or often recycle all types of materials while
76% of people often or always recycle their aluminium drink cans, the most
recycled beverage packaging globally.
The survey polled a balanced sample size of 13 793 people older than 16 in
those countries where Every Can Counts has a local initiative: Belgium,
Serbia, Austria, Hungary, Greece, Romania, Poland, Czech Republic, Ireland,
Netherlands, United Kingdom, Spain, Italy and France.
multinational takeS SuStainability SteP towardS
circular PlaSticS
lyondellbasell seeks to lead its manufacturing sector by pledging to produce
two million tonnes of recycled and renewable-based polymers annually by 2030.
The ambition is set out in its annual sustainability report.
The company sells products into more than 100 countries and is the world's larg-
est producer of polymer compounds. It was the first company to achieve the
parallel commercial production of polypropylene and low-density polyethylene
made from renewable raw materials.
As a next step, LyondellBasell is developing its MoReTec pyrolysis technology,
reducing plastics to their molecular building blocks, and has expanded mechani-
cal recycling of its product grades and colour offerings through a 50/50 joint
venture Quality Circular Polymers.
The company also wants to join peers in the American Chemistry Council and
Plastics Europe industry and ensure 100% of plastic packaging is reused, recy-
cled or recovered by 2040.
'LyondellBasell has been on a multi-year journey to advance the circular econo-
my and we have made strides in mechanical and advanced recycling as well as
producing renewable-based products,' says Jim Seward, senior vice president
research & development, technology and sustainability. 'Our goals underscore
what we see as possible in the next decade and our sustainability ambitions
require us to adapt our business models.
'When viewed through the lens of technology and innovation, our track record
demonstrates our capacity to advance new collaborations and partnerships for
the benefit of society.'
awareneSS 'key' to tackle ever-
growing e-ScraP mountain
a record 53.6 million tonnes of e-scrap worth eur
50 billion was generated across the planet in 2019.
but less than 18% of this was officially documented
as being recycled, with the rest going to landfill,
burned or illegally traded and treated in a sub-stan-
dard way, claims the weee Forum.
This challenging data was presented by the organisa-
tion that represents producers to mark its third
International E-Waste Day, which brings together
stakeholders to promote the proper recycling and
reuse of electronics.
The WEEE Forum expects e-scrap globally to reach 75
million tonnes by 2030. 'E-scrap is the fastest growing
domestic waste stream in the world. If we don't contin-
ue to improve the way it is collected and treated it will
continue to be a major environmental issue,' says direc-
tor general Pascal Leroy.
One key area in the quest for continual improvement is
educating young people and the wider public; the
more they know and understand, the more likely they
are to make the correct decisions regarding their
waste, believes Leroy. 'This is the reason the 2020 edi-
tion of International E-Waste Day is dedicated to
improving societal awareness.'
maPPing data centre e-ScraP
For the occasion, the WEEE Forum has partnered with
the International Telecommunications Union in drafting
a report covering the rarely considered topic of 'inter-
net waste' (e-waste arising from data centres, 5G con-
nectivity infrastructure and the Internet of Things). To
raise awareness among consumers and future genera-
tions, it has also developed a short film featuring chil-
dren from around the world presenting e-scrap facts
and urging people to pass on their discarded electron-
ics.
troublemaker covid-19
More than 100 organisations from 50 countries world-
wide took part in International E-Waste Day on 14
October. Public and face-to-face events are limited this
year due to the coronavirus pandemic. However, the
WEEE Forum stresses, organisations are still taking the
opportunity through online campaigns and events of
reduced size to highlight the work they are doing to
improve e-waste management.
new dimensions
of wear protection
we understand
we produce
we advise
we are SWB
billions in valuable materials are lost to wear each year
we advise our customers on-site in more than 50 countries worldwide
we are world leader in differentially hardened alloy shredder hammers
we are permanently researching pioneering solutions against wear
www.stahlwerke-bochum.com
we develop
viridor SellS e-ScraP diviSion
viridor has sold its e-scrap division to Scottish firm Shore Recycling. In
2008, UK-based Viridor acquired Shore but now media reports indicate a
new version of the Shore brand has been established. The new company is
reported as saying it has no immediate plans to reopen an e-scrap recycling
facility near Liverpool Viridor closed this summer. Industry observers expect
Viridor's new owners KKR to dispose of the group's recycling assets to con-
centrate on the energy-from-waste business
10-11-12-13-14-15_trendsupdatesi.indd 10 11-11-20 15:28