Previous editions >>
Subscribe
Page 9 from: Previous editions >>
INTERVIEW 9recyclinginternational.com | March/April | 2020 Scrapping with your head in the clouds if you get a small piece of that very big pie, that's good business.' WHAT HAPPENS TO THE MATERI- ALS YOU RECOVER? 'Working e...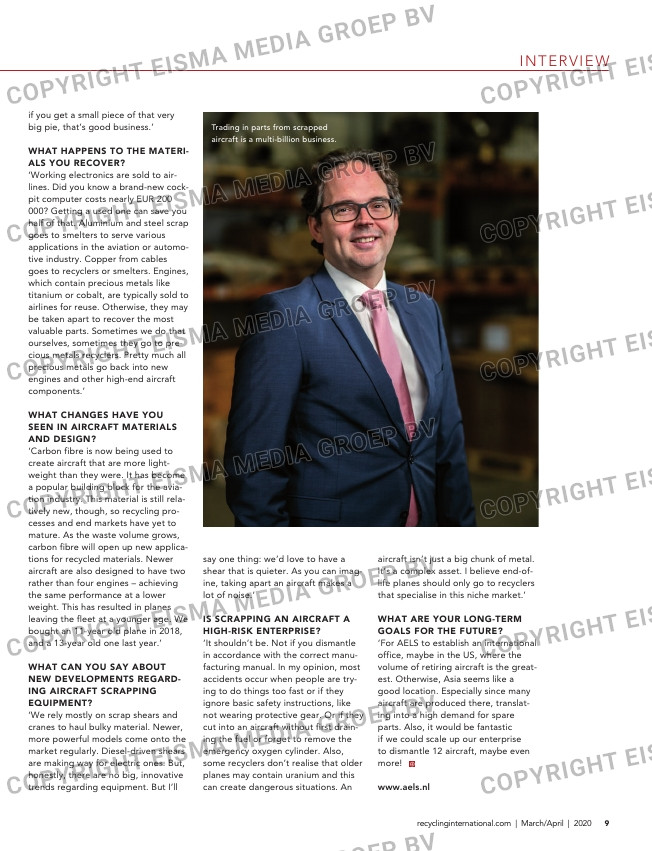 INTERVIEW
9recyclinginternational.com | March/April | 2020
Scrapping with your
head in the clouds
if you get a small piece of that very
big pie, that's good business.'
WHAT HAPPENS TO THE MATERI-
ALS YOU RECOVER?
'Working electronics are sold to air-
lines. Did you know a brand-new cock-
pit computer costs nearly EUR 200
000? Getting a used one can save you
half of that. Aluminium and steel scrap
goes to smelters to serve various
applications in the aviation or automo-
tive industry. Copper from cables
goes to recyclers or smelters. Engines,
which contain precious metals like
titanium or cobalt, are typically sold to
airlines for reuse. Otherwise, they may
be taken apart to recover the most
valuable parts. Sometimes we do that
ourselves, sometimes they go to pre-
cious metals recyclers. Pretty much all
precious metals go back into new
engines and other high-end aircraft
components.'
WHAT CHANGES HAVE YOU
SEEN IN AIRCRAFT MATERIALS
AND DESIGN?
'Carbon fibre is now being used to
create aircraft that are more light-
weight than they were. It has become
a popular building block for the avia-
tion industry. This material is still rela-
tively new, though, so recycling pro-
cesses and end markets have yet to
mature. As the waste volume grows,
carbon fibre will open up new applica-
tions for recycled materials. Newer
aircraft are also designed to have two
rather than four engines – achieving
the same performance at a lower
weight. This has resulted in planes
leaving the fleet at a younger age. We
bought an 11-year old plane in 2018,
and a 13-year old one last year.'
WHAT CAN YOU SAY ABOUT
NEW DEVELOPMENTS REGARD-
ING AIRCRAFT SCRAPPING
EQUIPMENT?
'We rely mostly on scrap shears and
cranes to haul bulky material. Newer,
more powerful models come onto the
market regularly. Diesel-driven shears
are making way for electric ones. But,
honestly, there are no big, innovative
trends regarding equipment. But I'll
Fotobijschrift
KADERKOP
??
Trading in parts from scrapped
aircraft is a multi-billion business.
say one thing: we'd love to have a
shear that is quieter. As you can imag-
ine, taking apart an aircraft makes a
lot of noise.'
IS SCRAPPING AN AIRCRAFT A
HIGH-RISK ENTERPRISE?
'It shouldn't be. Not if you dismantle
in accordance with the correct manu-
facturing manual. In my opinion, most
accidents occur when people are try-
ing to do things too fast or if they
ignore basic safety instructions, like
not wearing protective gear. Or if they
cut into an aircraft without first drain-
ing the fuel or forget to remove the
emergency oxygen cylinder. Also,
some recyclers don't realise that older
planes may contain uranium and this
can create dangerous situations. An
aircraft isn't just a big chunk of metal.
It's a complex asset. I believe end-of-
life planes should only go to recyclers
that specialise in this niche market.'
WHAT ARE YOUR LONG-TERM
GOALS FOR THE FUTURE?
'For AELS to establish an international
office, maybe in the US, where the
volume of retiring aircraft is the great-
est. Otherwise, Asia seems like a
good location. Especially since many
aircraft are produced there, translat-
ing into a high demand for spare
parts. Also, it would be fantastic
if we could scale up our enterprise
to dismantle 12 aircraft, maybe even
more!
www.aels.nl
08-09_usrecyclingwhistleblower-davidmayeske.indd 9 05-03-20 12:23