Previous editions >>
Subscribe
Page 79 from: Previous editions >>
BECK'S 79recyclinginternational.com | March/April | 2020 Fotobijschrift KADERKOP ?? When the words just don't come It's the biggest cliché in the book to write about having writer's block and, as we know, writers ...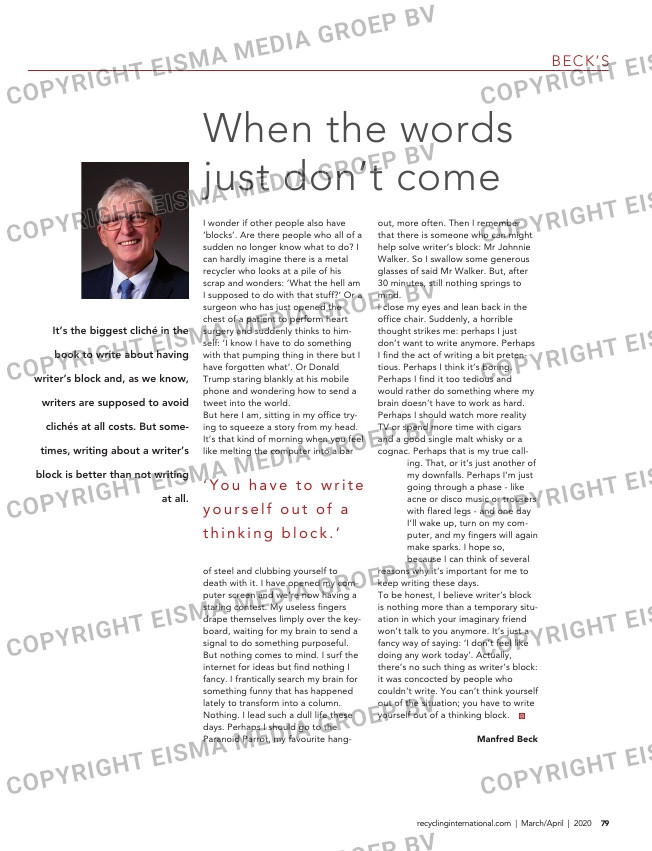 BECK'S
79recyclinginternational.com | March/April | 2020
Fotobijschrift
KADERKOP
??
When the words
just don't come
It's the biggest cliché in the
book to write about having
writer's block and, as we know,
writers are supposed to avoid
clichés at all costs. But some-
times, writing about a writer's
block is better than not writing
at all.
I wonder if other people also have
'blocks'. Are there people who all of a
sudden no longer know what to do? I
can hardly imagine there is a metal
recycler who looks at a pile of his
scrap and wonders: 'What the hell am
I supposed to do with that stuff?' Or a
surgeon who has just opened the
chest of a patient to perform heart
surgery and suddenly thinks to him-
self: 'I know I have to do something
with that pumping thing in there but I
have forgotten what'. Or Donald
Trump staring blankly at his mobile
phone and wondering how to send a
tweet into the world.
But here I am, sitting in my office try-
ing to squeeze a story from my head.
It's that kind of morning when you feel
like melting the computer into a bar
of steel and clubbing yourself to
death with it. I have opened my com-
puter screen and we're now having a
staring contest. My useless fingers
drape themselves limply over the key-
board, waiting for my brain to send a
signal to do something purposeful.
But nothing comes to mind. I surf the
internet for ideas but find nothing I
fancy. I frantically search my brain for
something funny that has happened
lately to transform into a column.
Nothing. I lead such a dull life these
days. Perhaps I should go to the
Paranoid Parrot, my favourite hang-
out, more often. Then I remember
that there is someone who can might
help solve writer's block: Mr Johnnie
Walker. So I swallow some generous
glasses of said Mr Walker. But, after
30 minutes, still nothing springs to
mind.
I close my eyes and lean back in the
office chair. Suddenly, a horrible
thought strikes me: perhaps I just
don't want to write anymore. Perhaps
I find the act of writing a bit preten-
tious. Perhaps I think it's boring.
Perhaps I find it too tedious and
would rather do something where my
brain doesn't have to work as hard.
Perhaps I should watch more reality
TV or spend more time with cigars
and a good single malt whisky or a
cognac. Perhaps that is my true call-
ing. That, or it's just another of
my downfalls. Perhaps I'm just
going through a phase – like
acne or disco music or trousers
with flared legs – and one day
I'll wake up, turn on my com-
puter, and my fingers will again
make sparks. I hope so,
because I can think of several
reasons why it's important for me to
keep writing these days.
To be honest, I believe writer's block
is nothing more than a temporary situ-
ation in which your imaginary friend
won't talk to you anymore. It's just a
fancy way of saying: 'I don't feel like
doing any work today'. Actually,
there's no such thing as writer's block:
it was concocted by people who
couldn't write. You can't think yourself
out of the situation; you have to write
yourself out of a thinking block.
Manfred Beck
' Y o u h a v e t o w r i t e
y o u r s e l f o u t o f a
t h i n k i n g b l o c k . '
79_becks.indd 79 05-03-20 12:33