Previous editions >>
Subscribe
Page 75 from: Previous editions >>
IN THE LABORATORY 75recyclinginternational.com | March/April | 2020 Oil from deep fryers benefits 3D printers A group of Canadian researchers is claiming a scoop: they have transformed waste cooking oil from fast food restaurant...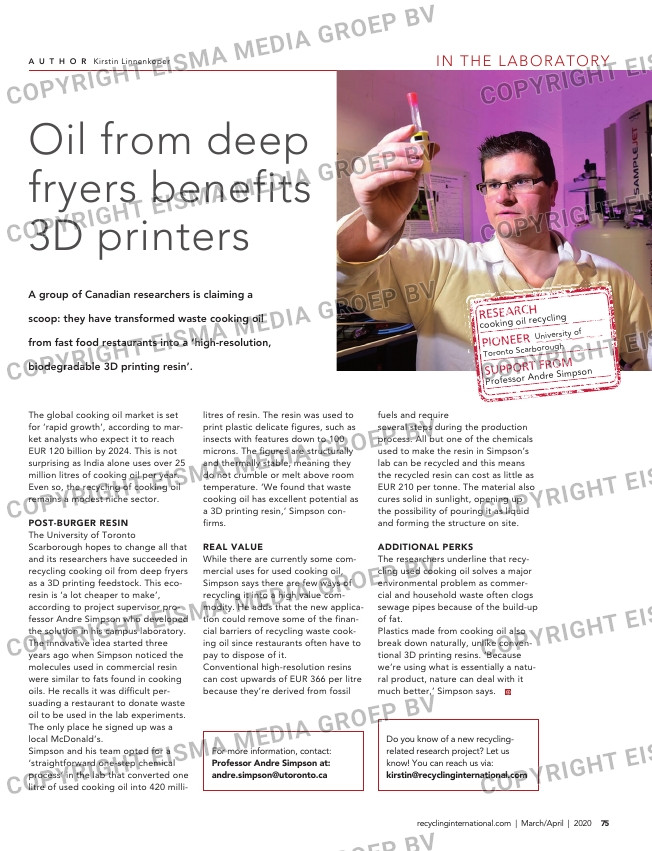 IN THE LABORATORY
75recyclinginternational.com | March/April | 2020
Oil from deep
fryers benefits
3D printers
A group of Canadian researchers is claiming a
scoop: they have transformed waste cooking oil
from fast food restaurants into a 'high-resolution,
biodegradable 3D printing resin'.
The global cooking oil market is set
for 'rapid growth', according to mar-
ket analysts who expect it to reach
EUR 120 billion by 2024. This is not
surprising as India alone uses over 25
million litres of cooking oil per year.
Even so, the recycling of cooking oil
remains a modest niche sector.
POST-BURGER RESIN
The University of Toronto
Scarborough hopes to change all that
and its researchers have succeeded in
recycling cooking oil from deep fryers
as a 3D printing feedstock. This eco-
resin is 'a lot cheaper to make',
according to project supervisor pro-
fessor Andre Simpson who developed
the solution in his campus laboratory.
The innovative idea started three
years ago when Simpson noticed the
molecules used in commercial resin
were similar to fats found in cooking
oils. He recalls it was difficult per-
suading a restaurant to donate waste
oil to be used in the lab experiments.
The only place he signed up was a
local McDonald's.
Simpson and his team opted for a
'straightforward one-step chemical
process' in the lab that converted one
litre of used cooking oil into 420 milli-
litres of resin. The resin was used to
print plastic delicate figures, such as
insects with features down to 100
microns. The figures are structurally
and thermally stable, meaning they
do not crumble or melt above room
temperature. 'We found that waste
cooking oil has excellent potential as
a 3D printing resin,' Simpson con-
firms.
REAL VALUE
While there are currently some com-
mercial uses for used cooking oil,
Simpson says there are few ways of
recycling it into a high value com-
modity. He adds that the new applica-
tion could remove some of the finan-
cial barriers of recycling waste cook-
ing oil since restaurants often have to
pay to dispose of it.
Conventional high-resolution resins
can cost upwards of EUR 366 per litre
because they're derived from fossil
fuels and require
several steps during the production
process. All but one of the chemicals
used to make the resin in Simpson's
lab can be recycled and this means
the recycled resin can cost as little as
EUR 210 per tonne. The material also
cures solid in sunlight, opening up
the possibility of pouring it as liquid
and forming the structure on site.
ADDITIONAL PERKS
The researchers underline that recy-
cling used cooking oil solves a major
environmental problem as commer-
cial and household waste often clogs
sewage pipes because of the build-up
of fat.
Plastics made from cooking oil also
break down naturally, unlike conven-
tional 3D printing resins. 'Because
we're using what is essentially a natu-
ral product, nature can deal with it
much better,' Simpson says.
For more information, contact:
Professor Andre Simpson at:
[email protected]
Do you know of a new recycling-
related research project? Let us
know! You can reach us via:
[email protected]
A U T H O R Kirstin Linnenkoper
RESEARCH
PIONEER __
_________
SUPPORT FR
OM
cooking oil
recycling
Universi
ty of
Toronto Sc
arborough
Professor A
ndre Simps
on
75_inthelab.indd 75 05-03-20 12:34