Previous editions >>
Subscribe
Page 73 from: Previous editions >>
TEXTILESMARKET ANALYSIS Clothing reuse market is essential for circular economy challenge Bulgarian ban on shoe imports is against EU single market principles and is bad policy. 73recyclinginternational.com | March/April | 2020 A...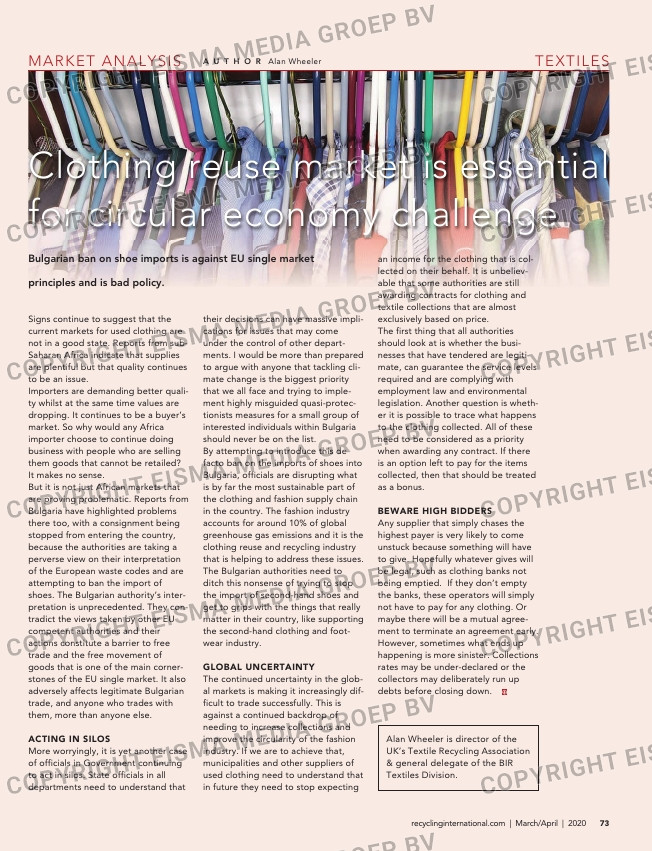 TEXTILESMARKET ANALYSIS
Clothing reuse market is essential
for circular economy challenge
Bulgarian ban on shoe imports is against EU single market
principles and is bad policy.
73recyclinginternational.com | March/April | 2020
Alan Wheeler is director of the
UK's Textile Recycling Association
& general delegate of the BIR
Textiles Division.
Signs continue to suggest that the
current markets for used clothing are
not in a good state. Reports from sub-
Saharan Africa indicate that supplies
are plentiful but that quality continues
to be an issue.
Importers are demanding better quali-
ty whilst at the same time values are
dropping. It continues to be a buyer's
market. So why would any Africa
importer choose to continue doing
business with people who are selling
them goods that cannot be retailed?
It makes no sense.
But it is not just African markets that
are proving problematic. Reports from
Bulgaria have highlighted problems
there too, with a consignment being
stopped from entering the country,
because the authorities are taking a
perverse view on their interpretation
of the European waste codes and are
attempting to ban the import of
shoes. The Bulgarian authority's inter-
pretation is unprecedented. They con-
tradict the views taken by other EU
competent authorities and their
actions constitute a barrier to free
trade and the free movement of
goods that is one of the main corner-
stones of the EU single market. It also
adversely affects legitimate Bulgarian
trade, and anyone who trades with
them, more than anyone else.
ACTING IN SILOS
More worryingly, it is yet another case
of officials in Government continuing
to act in silos. State officials in all
departments need to understand that
their decisions can have massive impli-
cations for issues that may come
under the control of other depart-
ments. I would be more than prepared
to argue with anyone that tackling cli-
mate change is the biggest priority
that we all face and trying to imple-
ment highly misguided quasi-protec-
tionists measures for a small group of
interested individuals within Bulgaria
should never be on the list.
By attempting to introduce this de
facto ban on the imports of shoes into
Bulgaria, officials are disrupting what
is by far the most sustainable part of
the clothing and fashion supply chain
in the country. The fashion industry
accounts for around 10% of global
greenhouse gas emissions and it is the
clothing reuse and recycling industry
that is helping to address these issues.
The Bulgarian authorities need to
ditch this nonsense of trying to stop
the import of second-hand shoes and
get to grips with the things that really
matter in their country, like supporting
the second-hand clothing and foot-
wear industry.
GLOBAL UNCERTAINTY
The continued uncertainty in the glob-
al markets is making it increasingly dif-
ficult to trade successfully. This is
against a continued backdrop of
needing to increase collections and
improve the circularity of the fashion
industry. If we are to achieve that,
municipalities and other suppliers of
used clothing need to understand that
in future they need to stop expecting
an income for the clothing that is col-
lected on their behalf. It is unbeliev-
able that some authorities are still
awarding contracts for clothing and
textile collections that are almost
exclusively based on price.
The first thing that all authorities
should look at is whether the busi-
nesses that have tendered are legiti-
mate, can guarantee the service levels
required and are complying with
employment law and environmental
legislation. Another question is wheth-
er it is possible to trace what happens
to the clothing collected. All of these
need to be considered as a priority
when awarding any contract. If there
is an option left to pay for the items
collected, then that should be treated
as a bonus.
BEWARE HIGH BIDDERS
Any supplier that simply chases the
highest payer is very likely to come
unstuck because something will have
to give. Hopefully whatever gives will
be legal, such as clothing banks not
being emptied. If they don't empty
the banks, these operators will simply
not have to pay for any clothing. Or
maybe there will be a mutual agree-
ment to terminate an agreement early.
However, sometimes what ends up
happening is more sinister. Collections
rates may be under-declared or the
collectors may deliberately run up
debts before closing down.
A U T H O R Alan Wheeler
73_ma-textiles.indd 73 05-03-20 12:34