Previous editions >>
Subscribe
Page 67 from: Previous editions >>
NON-FERROUS Global health fears dent optimism all be called Copper Wire with a requirement for 99% minimum copper content. Brass scrap is to be grouped under four main categories divided into eight products with minimum copper conte...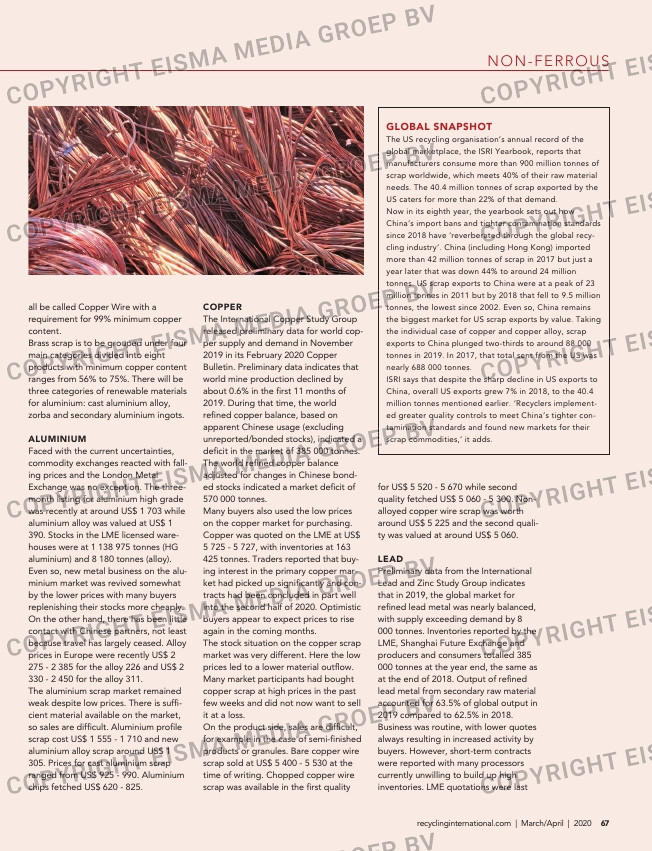 NON-FERROUS
Global health fears
dent optimism
all be called Copper Wire with a
requirement for 99% minimum copper
content.
Brass scrap is to be grouped under four
main categories divided into eight
products with minimum copper content
ranges from 56% to 75%. There will be
three categories of renewable materials
for aluminium: cast aluminium alloy,
zorba and secondary aluminium ingots.
ALUMINIUM
Faced with the current uncertainties,
commodity exchanges reacted with fall-
ing prices and the London Metal
Exchange was no exception. The three-
month listing for aluminium high grade
was recently at around US$ 1 703 while
aluminium alloy was valued at US$ 1
390. Stocks in the LME licensed ware-
houses were at 1 138 975 tonnes (HG
aluminium) and 8 180 tonnes (alloy).
Even so, new metal business on the alu-
minium market was revived somewhat
by the lower prices with many buyers
replenishing their stocks more cheaply.
On the other hand, there has been little
contact with Chinese partners, not least
because travel has largely ceased. Alloy
prices in Europe were recently US$ 2
275 – 2 385 for the alloy 226 and US$ 2
330 – 2 450 for the alloy 311.
The aluminium scrap market remained
weak despite low prices. There is suffi-
cient material available on the market,
so sales are difficult. Aluminium profile
scrap cost US$ 1 555 – 1 710 and new
aluminium alloy scrap around US$ 1
305. Prices for cast aluminium scrap
ranged from US$ 925 – 990. Aluminium
chips fetched US$ 620 – 825.
COPPER
The International Copper Study Group
released preliminary data for world cop-
per supply and demand in November
2019 in its February 2020 Copper
Bulletin. Preliminary data indicates that
world mine production declined by
about 0.6% in the first 11 months of
2019. During that time, the world
refined copper balance, based on
apparent Chinese usage (excluding
unreported/bonded stocks), indicated a
deficit in the market of 385 000 tonnes.
The world refined copper balance
adjusted for changes in Chinese bond-
ed stocks indicated a market deficit of
570 000 tonnes.
Many buyers also used the low prices
on the copper market for purchasing.
Copper was quoted on the LME at US$
5 725 – 5 727, with inventories at 163
425 tonnes. Traders reported that buy-
ing interest in the primary copper mar-
ket had picked up significantly and con-
tracts had been concluded in part well
into the second half of 2020. Optimistic
buyers appear to expect prices to rise
again in the coming months.
The stock situation on the copper scrap
market was very different. Here the low
prices led to a lower material outflow.
Many market participants had bought
copper scrap at high prices in the past
few weeks and did not now want to sell
it at a loss.
On the product side, sales are difficult,
for example in the case of semi-finished
products or granules. Bare copper wire
scrap sold at US$ 5 400 – 5 530 at the
time of writing. Chopped copper wire
scrap was available in the first quality
for US$ 5 520 – 5 670 while second
quality fetched US$ 5 060 – 5 300. Non-
alloyed copper wire scrap was worth
around US$ 5 225 and the second quali-
ty was valued at around US$ 5 060.
LEAD
Preliminary data from the International
Lead and Zinc Study Group indicates
that in 2019, the global market for
refined lead metal was nearly balanced,
with supply exceeding demand by 8
000 tonnes. Inventories reported by the
LME, Shanghai Future Exchange and
producers and consumers totalled 385
000 tonnes at the year end, the same as
at the end of 2018. Output of refined
lead metal from secondary raw material
accounted for 63.5% of global output in
2019 compared to 62.5% in 2018.
Business was routine, with lower quotes
always resulting in increased activity by
buyers. However, short-term contracts
were reported with many processors
currently unwilling to build up high
inventories. LME quotations were last
67recyclinginternational.com | March/April | 2020
GLOBAL SNAPSHOT
The US recycling organisation's annual record of the
global marketplace, the ISRI Yearbook, reports that
manufacturers consume more than 900 million tonnes of
scrap worldwide, which meets 40% of their raw material
needs. The 40.4 million tonnes of scrap exported by the
US caters for more than 22% of that demand.
Now in its eighth year, the yearbook sets out how
China's import bans and tighter contamination standards
since 2018 have 'reverberated through the global recy-
cling industry'. China (including Hong Kong) imported
more than 42 million tonnes of scrap in 2017 but just a
year later that was down 44% to around 24 million
tonnes. US scrap exports to China were at a peak of 23
million tonnes in 2011 but by 2018 that fell to 9.5 million
tonnes, the lowest since 2002. Even so, China remains
the biggest market for US scrap exports by value. Taking
the individual case of copper and copper alloy, scrap
exports to China plunged two-thirds to around 88 000
tonnes in 2019. In 2017, that total sent from the US was
nearly 688 000 tonnes.
ISRI says that despite the sharp decline in US exports to
China, overall US exports grew 7% in 2018, to the 40.4
million tonnes mentioned earlier. 'Recyclers implement-
ed greater quality controls to meet China's tighter con-
tamination standards and found new markets for their
scrap commodities,' it adds.
66-67-68_manon-ferrous.indd 67 05-03-20 12:32