Previous editions >>
Subscribe
Page 66 from: Previous editions >>
MARKET ANALYSIS Global health fears dent optimism New Year hopes for higher prices are dashed by impact of corona virus. all be called Copper Wire with a requirement for 99% minimum copper content. Brass scrap is to be grouped under...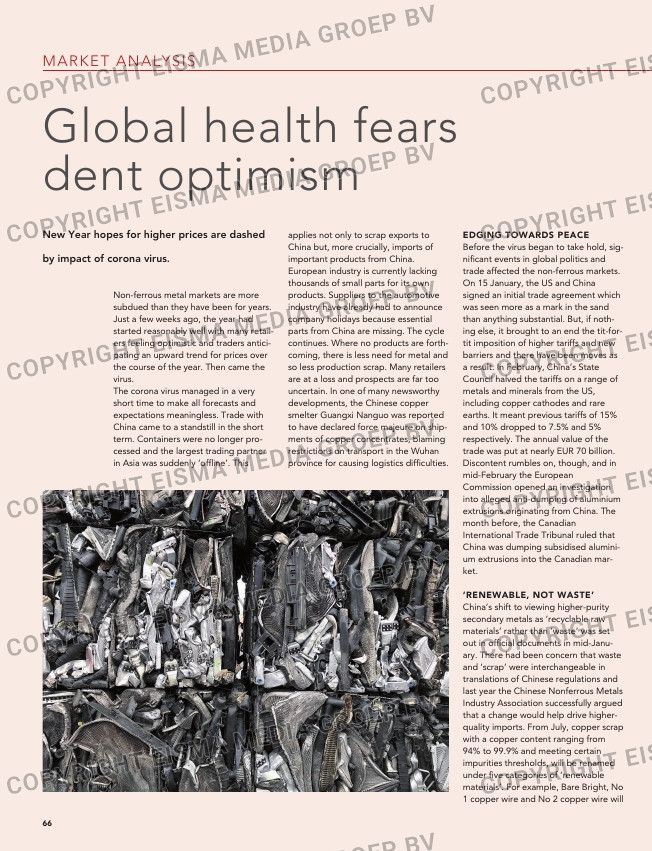 MARKET ANALYSIS
Global health fears
dent optimism
New Year hopes for higher prices are dashed
by impact of corona virus.
all be called Copper Wire with a
requirement for 99% minimum copper
content.
Brass scrap is to be grouped under four
main categories divided into eight
products with minimum copper content
ranges from 56% to 75%. There will be
three categories of renewable materials
for aluminium: cast aluminium alloy,
zorba and secondary aluminium ingots.
ALUMINIUM
Faced with the current uncertainties,
commodity exchanges reacted with fall-
ing prices and the London Metal
Exchange was no exception. The three-
month listing for aluminium high grade
was recently at around US$ 1 703 while
aluminium alloy was valued at US$ 1
390. Stocks in the LME licensed ware-
houses were at 1 138 975 tonnes (HG
aluminium) and 8 180 tonnes (alloy).
Even so, new metal business on the alu-
minium market was revived somewhat
by the lower prices with many buyers
replenishing their stocks more cheaply.
On the other hand, there has been little
contact with Chinese partners, not least
because travel has largely ceased. Alloy
prices in Europe were recently US$ 2
275 – 2 385 for the alloy 226 and US$ 2
330 – 2 450 for the alloy 311.
The aluminium scrap market remained
weak despite low prices. There is suffi-
cient material available on the market,
so sales are difficult. Aluminium profile
scrap cost US$ 1 555 – 1 710 and new
aluminium alloy scrap around US$ 1
305. Prices for cast aluminium scrap
ranged from US$ 925 – 990. Aluminium
chips fetched US$ 620 – 825.
66
Non-ferrous metal markets are more
subdued than they have been for years.
Just a few weeks ago, the year had
started reasonably well with many retail-
ers feeling optimistic and traders antici-
pating an upward trend for prices over
the course of the year. Then came the
virus.
The corona virus managed in a very
short time to make all forecasts and
expectations meaningless. Trade with
China came to a standstill in the short
term. Containers were no longer pro-
cessed and the largest trading partner
in Asia was suddenly 'offline'. This
applies not only to scrap exports to
China but, more crucially, imports of
important products from China.
European industry is currently lacking
thousands of small parts for its own
products. Suppliers to the automotive
industry have already had to announce
company holidays because essential
parts from China are missing. The cycle
continues. Where no products are forth-
coming, there is less need for metal and
so less production scrap. Many retailers
are at a loss and prospects are far too
uncertain. In one of many newsworthy
developments, the Chinese copper
smelter Guangxi Nanguo was reported
to have declared force majeure on ship-
ments of copper concentrates, blaming
restrictions on transport in the Wuhan
province for causing logistics difficulties.
EDGING TOWARDS PEACE
Before the virus began to take hold, sig-
nificant events in global politics and
trade affected the non-ferrous markets.
On 15 January, the US and China
signed an initial trade agreement which
was seen more as a mark in the sand
than anything substantial. But, if noth-
ing else, it brought to an end the tit-for-
tit imposition of higher tariffs and new
barriers and there have been moves as
a result. In February, China's State
Council halved the tariffs on a range of
metals and minerals from the US,
including copper cathodes and rare
earths. It meant previous tariffs of 15%
and 10% dropped to 7.5% and 5%
respectively. The annual value of the
trade was put at nearly EUR 70 billion.
Discontent rumbles on, though, and in
mid-February the European
Commission opened an investigation
into alleged anti-dumping of aluminium
extrusions originating from China. The
month before, the Canadian
International Trade Tribunal ruled that
China was dumping subsidised alumini-
um extrusions into the Canadian mar-
ket.
'RENEWABLE, NOT WASTE'
China's shift to viewing higher-purity
secondary metals as 'recyclable raw
materials' rather than 'waste' was set
out in official documents in mid-Janu-
ary. There had been concern that waste
and 'scrap' were interchangeable in
translations of Chinese regulations and
last year the Chinese Nonferrous Metals
Industry Association successfully argued
that a change would help drive higher-
quality imports. From July, copper scrap
with a copper content ranging from
94% to 99.9% and meeting certain
impurities thresholds, will be renamed
under five categories of 'renewable
materials'. For example, Bare Bright, No
1 copper wire and No 2 copper wire will
66-67-68_manon-ferrous.indd 66 05-03-20 12:32