Previous editions >>
Subscribe
Page 65 from: Previous editions >>
NICKEL & STAINLESS Market off to negative start in 2020 million tonnes. Non-Chinese growth as a whole fell 6.2% year-on-year in 2019, compared with 2018 growth of 7.7% (mainly Indonesia).' Tsingshan, the world's largest stainl...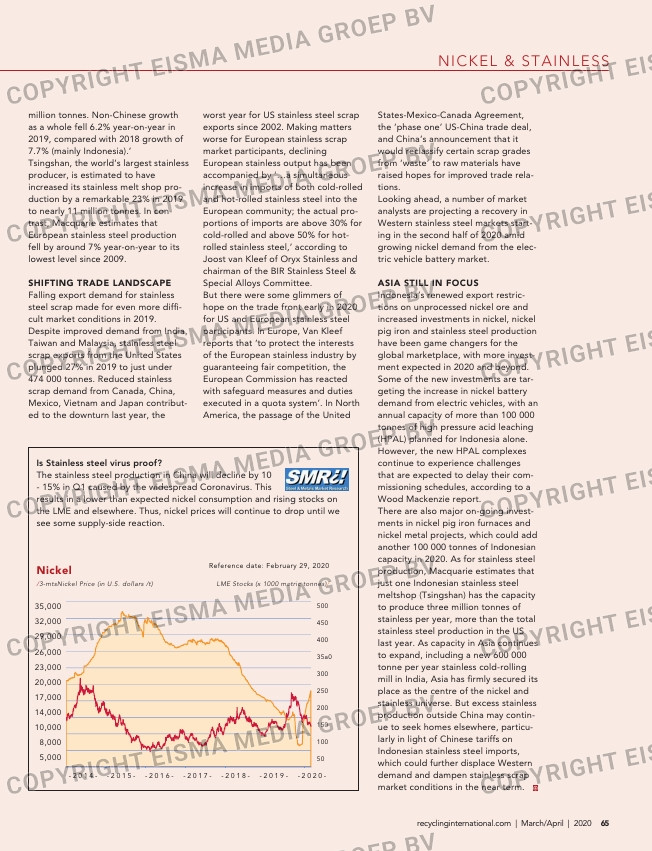 NICKEL & STAINLESS
Market off to negative
start in 2020
million tonnes. Non-Chinese growth
as a whole fell 6.2% year-on-year in
2019, compared with 2018 growth of
7.7% (mainly Indonesia).'
Tsingshan, the world's largest stainless
producer, is estimated to have
increased its stainless melt shop pro-
duction by a remarkable 23% in 2019
to nearly 11 million tonnes. In con-
trast, Macquarie estimates that
European stainless steel production
fell by around 7% year-on-year to its
lowest level since 2009.
SHIFTING TRADE LANDSCAPE
Falling export demand for stainless
steel scrap made for even more diffi-
cult market conditions in 2019.
Despite improved demand from India,
Taiwan and Malaysia, stainless steel
scrap exports from the United States
plunged 27% in 2019 to just under
474 000 tonnes. Reduced stainless
scrap demand from Canada, China,
Mexico, Vietnam and Japan contribut-
ed to the downturn last year, the
worst year for US stainless steel scrap
exports since 2002. Making matters
worse for European stainless scrap
market participants, declining
European stainless output has been
accompanied by '…a simultaneous
increase in imports of both cold-rolled
and hot-rolled stainless steel into the
European community; the actual pro-
portions of imports are above 30% for
cold-rolled and above 50% for hot-
rolled stainless steel,' according to
Joost van Kleef of Oryx Stainless and
chairman of the BIR Stainless Steel &
Special Alloys Committee.
But there were some glimmers of
hope on the trade front early in 2020
for US and European stainless steel
participants. In Europe, Van Kleef
reports that 'to protect the interests
of the European stainless industry by
guaranteeing fair competition, the
European Commission has reacted
with safeguard measures and duties
executed in a quota system'. In North
America, the passage of the United
65recyclinginternational.com | March/April | 2020
Is Stainless steel virus proof?
The stainless steel production in China will decline by 10
– 15% in Q1 caused by the widespread Coronavirus. This
results in a lower than expected nickel consumption and rising stocks on
the LME and elsewhere. Thus, nickel prices will continue to drop until we
see some supply-side reaction.
Nickel
/3-mtsNickel Price (in U.S. dollars /t) LME Stocks (x 1000 metric tonnes)/

– 2 0 1 4 – – 2 0 1 5 – – 2 0 1 6 – – 2 0 1 7 – – 2 0 1 8 – – 2 0 1 9 – – 2 0 2 0 –
Reference date: February 29, 2020
500
450
400
35a0
300
250
200
150
100
50
35,000
32,000
29,000
26,000
23,000
20,000
17,000
14,000
10,000
8,000
5,000
States-Mexico-Canada Agreement,
the 'phase one' US-China trade deal,
and China's announcement that it
would reclassify certain scrap grades
from 'waste' to raw materials have
raised hopes for improved trade rela-
tions.
Looking ahead, a number of market
analysts are projecting a recovery in
Western stainless steel markets start-
ing in the second half of 2020 amid
growing nickel demand from the elec-
tric vehicle battery market.
ASIA STILL IN FOCUS
Indonesia's renewed export restric-
tions on unprocessed nickel ore and
increased investments in nickel, nickel
pig iron and stainless steel production
have been game changers for the
global marketplace, with more invest-
ment expected in 2020 and beyond.
Some of the new investments are tar-
geting the increase in nickel battery
demand from electric vehicles, with an
annual capacity of more than 100 000
tonnes of high pressure acid leaching
(HPAL) planned for Indonesia alone.
However, the new HPAL complexes
continue to experience challenges
that are expected to delay their com-
missioning schedules, according to a
Wood Mackenzie report.
There are also major on-going invest-
ments in nickel pig iron furnaces and
nickel metal projects, which could add
another 100 000 tonnes of Indonesian
capacity in 2020. As for stainless steel
production, Macquarie estimates that
just one Indonesian stainless steel
meltshop (Tsingshan) has the capacity
to produce three million tonnes of
stainless per year, more than the total
stainless steel production in the US
last year. As capacity in Asia continues
to expand, including a new 600 000
tonne per year stainless cold-rolling
mill in India, Asia has firmly secured its
place as the centre of the nickel and
stainless universe. But excess stainless
production outside China may contin-
ue to seek homes elsewhere, particu-
larly in light of Chinese tariffs on
Indonesian stainless steel imports,
which could further displace Western
demand and dampen stainless scrap
market conditions in the near term.
Source: SMR GmbH
–

50

100

150

200

250

300

350

400

450

500

5,000

8,000

11,000

14,000

17,000

20,0

23,0

26,000

29,000

32,000

35,000

2014

3-mts Nickel Price (in U.S. dollars /t)/ LME Stocks (x 1000 metric tonnes) /
Nickel

2015 2016 2017 2018 2019 2020

64-65_manickelstainless.indd 65 05-03-20 12:32