Previous editions >>
Subscribe
Page 59 from: Previous editions >>
TRENDS & UPDATES 59recyclinginternational.com | March/April | 2020 +49 221–4984–153 www.steinertglobal.com/waste-recycling Your technology partner for NIR sensor-based sorting combined with magnet and eddy current separato...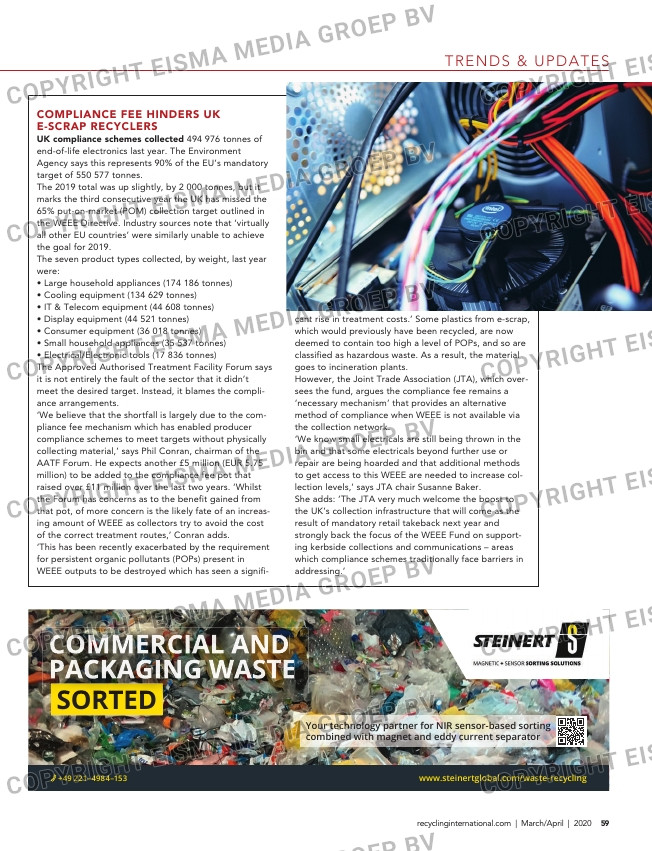 TRENDS & UPDATES
59recyclinginternational.com | March/April | 2020
+49 221–4984–153 www.steinertglobal.com/waste-recycling
Your technology partner for NIR sensor-based sorting
combined with magnet and eddy current separator
SORTED

COMMERCIAL AND
PACKAGING WASTE

COMPLIANCE FEE HINDERS UK
E-SCRAP RECYCLERS
UK compliance schemes collected 494 976 tonnes of
end-of-life electronics last year. The Environment
Agency says this represents 90% of the EU's mandatory
target of 550 577 tonnes.
The 2019 total was up slightly, by 2 000 tonnes, but it
marks the third consecutive year the UK has missed the
65% put-on-market (POM) collection target outlined in
the WEEE Directive. Industry sources note that 'virtually
all other EU countries' were similarly unable to achieve
the goal for 2019.
The seven product types collected, by weight, last year
were:
• Large household appliances (174 186 tonnes)
• Cooling equipment (134 629 tonnes)
• IT & Telecom equipment (44 608 tonnes)
• Display equipment (44 521 tonnes)
• Consumer equipment (36 018 tonnes)
• Small household appliances (35 537 tonnes)
• Electrical/Electronic tools (17 836 tonnes)
The Approved Authorised Treatment Facility Forum says
it is not entirely the fault of the sector that it didn't
meet the desired target. Instead, it blames the compli-
ance arrangements.
'We believe that the shortfall is largely due to the com-
pliance fee mechanism which has enabled producer
compliance schemes to meet targets without physically
collecting material,' says Phil Conran, chairman of the
AATF Forum. He expects another £5 million (EUR 5.75
million) to be added to the compliance fee pot that
raised over £11 million over the last two years. 'Whilst
the Forum has concerns as to the benefit gained from
that pot, of more concern is the likely fate of an increas-
ing amount of WEEE as collectors try to avoid the cost
of the correct treatment routes,' Conran adds.
'This has been recently exacerbated by the requirement
for persistent organic pollutants (POPs) present in
WEEE outputs to be destroyed which has seen a signifi-
cant rise in treatment costs.' Some plastics from e-scrap,
which would previously have been recycled, are now
deemed to contain too high a level of POPs, and so are
classified as hazardous waste. As a result, the material
goes to incineration plants.
However, the Joint Trade Association (JTA), which over-
sees the fund, argues the compliance fee remains a
'necessary mechanism' that provides an alternative
method of compliance when WEEE is not available via
the collection network.
'We know small electricals are still being thrown in the
bin and that some electricals beyond further use or
repair are being hoarded and that additional methods
to get access to this WEEE are needed to increase col-
lection levels,' says JTA chair Susanne Baker.
She adds: 'The JTA very much welcome the boost to
the UK's collection infrastructure that will come as the
result of mandatory retail takeback next year and
strongly back the focus of the WEEE Fund on support-
ing kerbside collections and communications – areas
which compliance schemes traditionally face barriers in
addressing.'
zontal lines so instead of having a net, you now have a large num-
ber of ropes, which can be isolated and reprocessed much more
easily,' says Brook, who leads the project.
The McMaster team is confident that the breakthrough has the
potential to make recycling tyres a lot easier and less costly. The
new method has limitations, though, because it remains too expen-
sive to be used on an industrial scale. The chemist concludes:
'We're working on it, but this is the first major step.'
STEADY GROWTH AHEAD FOR GLOBAL
WASTE MANAGEMENT SECTOR
The worldwide industrial waste management market
is projected to be worth over EUR 182 billion by 2025,
according to a new report. This is up from EUR 122 bil-
lion in 2018 and represents a compound annual growth
rate of 6%. The new report by Zion Market Research
gives an update on various segments of the evolving
waste management industry including machinery and
equipment, metallic minerals, electronics, plastic and
chemicals, and textiles.
At present, the e-scrap recycling industry is thriving.
Analysts point out that 'millions of dollars have been
poured into recycling companies over the past 12
months'. The increasing focus on issues such as resource
efficiency and sustainable product loops and are expect-
ed to fuel the growth of industrial waste management
market during the forecast timeline. This is especially
likely, says the report, when it comes to precious metals
like gold, silver, copper, platinum and palladium.
56-57-58-59_trendsupdates2.indd 59 05-03-20 12:30