Previous editions >>
Subscribe
Page 59 from: Previous editions >>
beck's Ten years on: first day observations At the start of a new decade, I find myself in a contemplate mood with a hangover. A coffee with whisky sends me on a trip down memory lane. It was the first day of the 2020s. I was ...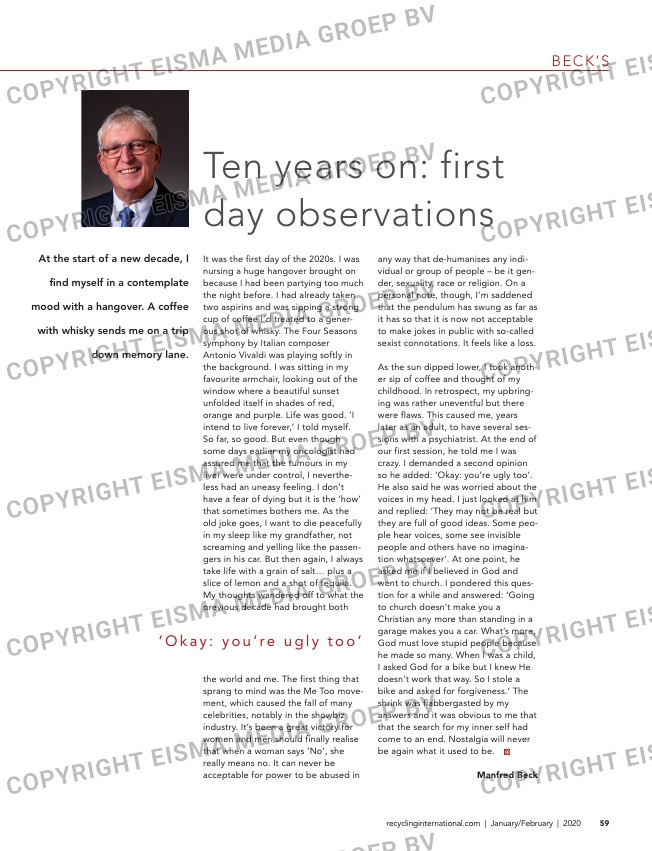 beck's
Ten years on: first
day observations
At the start of a new decade, I
find myself in a contemplate
mood with a hangover. A coffee
with whisky sends me on a trip
down memory lane.
It was the first day of the 2020s. I was
nursing a huge hangover brought on
because I had been partying too much
the night before. I had already taken
two aspirins and was sipping a strong
cup of coffee I'd treated to a gener-
ous shot of whisky. The Four Seasons
symphony by Italian composer
Antonio Vivaldi was playing softly in
the background. I was sitting in my
favourite armchair, looking out of the
window where a beautiful sunset
unfolded itself in shades of red,
orange and purple. Life was good. 'I
intend to live forever,' I told myself.
So far, so good. But even though
some days earlier my oncologist had
assured me that the tumours in my
liver were under control, I neverthe-
less had an uneasy feeling. I don't
have a fear of dying but it is the 'how'
that sometimes bothers me. As the
old joke goes, I want to die peacefully
in my sleep like my grandfather, not
screaming and yelling like the passen-
gers in his car. But then again, I always
take life with a grain of salt… plus a
slice of lemon and a shot of tequila.
My thoughts wandered off to what the
previous decade had brought both
the world and me. The first thing that
sprang to mind was the Me Too move-
ment, which caused the fall of many
celebrities, notably in the showbiz
industry. It's been a great victory for
women and men should finally realise
that when a woman says 'No', she
really means no. It can never be
acceptable for power to be abused in
any way that de-humanises any indi-
vidual or group of people – be it gen-
der, sexuality, race or religion. On a
personal note, though, I'm saddened
that the pendulum has swung as far as
it has so that it is now not acceptable
to make jokes in public with so-called
sexist connotations. It feels like a loss.
As the sun dipped lower, I took anoth-
er sip of coffee and thought of my
childhood. In retrospect, my upbring-
ing was rather uneventful but there
were flaws. This caused me, years
later as an adult, to have several ses-
sions with a psychiatrist. At the end of
our first session, he told me I was
crazy. I demanded a second opinion
so he added: 'Okay: you're ugly too'.
He also said he was worried about the
voices in my head. I just looked at him
and replied: 'They may not be real but
they are full of good ideas. Some peo-
ple hear voices, some see invisible
people and others have no imagina-
tion whatsoever'. At one point, he
asked me if I believed in God and
went to church. I pondered this ques-
tion for a while and answered: 'Going
to church doesn't make you a
Christian any more than standing in a
garage makes you a car. What's more,
God must love stupid people because
he made so many. When I was a child,
I asked God for a bike but I knew He
doesn't work that way. So I stole a
bike and asked for forgiveness.' The
shrink was flabbergasted by my
answers and it was obvious to me that
that the search for my inner self had
come to an end. Nostalgia will never
be again what it used to be.
Manfred Beck
' O k a y : y o u ' re u g l y t o o '
59recyclinginternational.com | January/February | 2020
59_becks.indd 59 15-01-20 14:38