Previous editions >>
Subscribe
Page 58 from: Previous editions >>
58 +49 221–4984–153 www.steinertglobal.com/waste-recycling Your technology partner for NIR sensor-based sorting combined with magnet and eddy current separator SORTED COMMERCIAL AND PACKAGING WASTE COMPLIANCE FEE HINDERS UK E...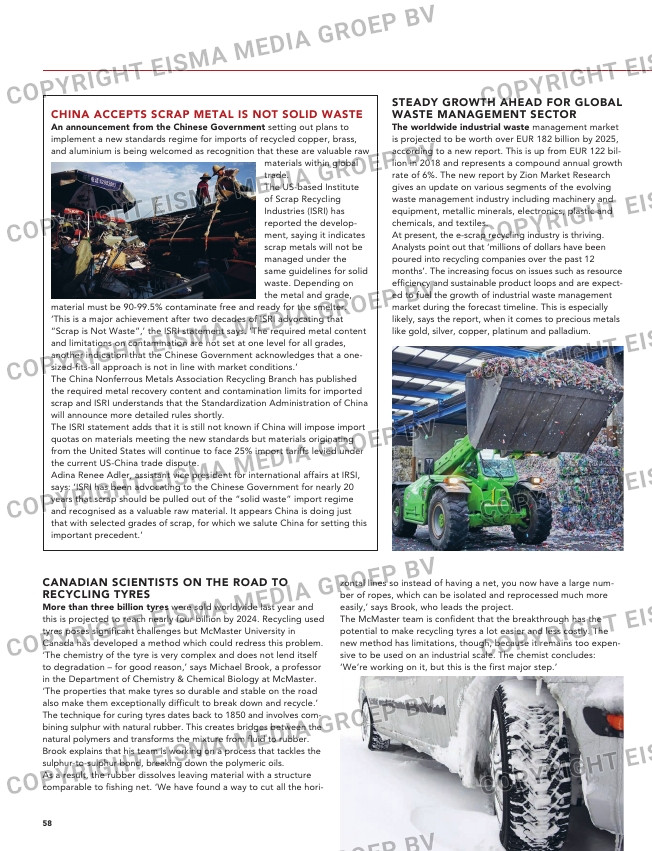 58
+49 221–4984–153 www.steinertglobal.com/waste-recycling
Your technology partner for NIR sensor-based sorting
combined with magnet and eddy current separator
SORTED

COMMERCIAL AND
PACKAGING WASTE

COMPLIANCE FEE HINDERS UK
E-SCRAP RECYCLERS
UK compliance schemes collected 494 976 tonnes of
end-of-life electronics last year. The Environment
Agency says this represents 90% of the EU's mandatory
target of 550 577 tonnes.
The 2019 total was up slightly, by 2 000 tonnes, but it
marks the third consecutive year the UK has missed the
65% put-on-market (POM) collection target outlined in
the WEEE Directive. Industry sources note that 'virtually
all other EU countries' were similarly unable to achieve
the goal for 2019.
The seven product types collected, by weight, last year
were:
• Large household appliances (174 186 tonnes)
• Cooling equipment (134 629 tonnes)
• IT & Telecom equipment (44 608 tonnes)
• Display equipment (44 521 tonnes)
• Consumer equipment (36 018 tonnes)
• Small household appliances (35 537 tonnes)
• Electrical/Electronic tools (17 836 tonnes)
The Approved Authorised Treatment Facility Forum says
it is not entirely the fault of the sector that it didn't
meet the desired target. Instead, it blames the compli-
ance arrangements.
'We believe that the shortfall is largely due to the com-
pliance fee mechanism which has enabled producer
compliance schemes to meet targets without physically
collecting material,' says Phil Conran, chairman of the
AATF Forum. He expects another £5 million (EUR 5.75
million) to be added to the compliance fee pot that
raised over £11 million over the last two years. 'Whilst
the Forum has concerns as to the benefit gained from
that pot, of more concern is the likely fate of an increas-
ing amount of WEEE as collectors try to avoid the cost
of the correct treatment routes,' Conran adds.
'This has been recently exacerbated by the requirement
for persistent organic pollutants (POPs) present in
WEEE outputs to be destroyed which has seen a signifi-
CANADIAN SCIENTISTS ON THE ROAD TO
RECYCLING TYRES
More than three billion tyres were sold worldwide last year and
this is projected to reach nearly four billion by 2024. Recycling used
tyres poses significant challenges but McMaster University in
Canada has developed a method which could redress this problem.
'The chemistry of the tyre is very complex and does not lend itself
to degradation – for good reason,' says Michael Brook, a professor
in the Department of Chemistry & Chemical Biology at McMaster.
'The properties that make tyres so durable and stable on the road
also make them exceptionally difficult to break down and recycle.'
The technique for curing tyres dates back to 1850 and involves com-
bining sulphur with natural rubber. This creates bridges between the
natural polymers and transforms the mixture from fluid to rubber.
Brook explains that his team is working on a process that tackles the
sulphur-to-sulphur bond, breaking down the polymeric oils.
As a result, the rubber dissolves leaving material with a structure
comparable to fishing net. 'We have found a way to cut all the hori-
zontal lines so instead of having a net, you now have a large num-
ber of ropes, which can be isolated and reprocessed much more
easily,' says Brook, who leads the project.
The McMaster team is confident that the breakthrough has the
potential to make recycling tyres a lot easier and less costly. The
new method has limitations, though, because it remains too expen-
sive to be used on an industrial scale. The chemist concludes:
'We're working on it, but this is the first major step.'
CHINA ACCEPTS SCRAP METAL IS NOT SOLID WASTE
An announcement from the Chinese Government setting out plans to
implement a new standards regime for imports of recycled copper, brass,
and aluminium is being welcomed as recognition that these are valuable raw
materials within global
trade.
The US-based Institute
of Scrap Recycling
Industries (ISRI) has
reported the develop-
ment, saying it indicates
scrap metals will not be
managed under the
same guidelines for solid
waste. Depending on
the metal and grade,
material must be 90-99.5% contaminate free and ready for the smelter.
'This is a major achievement after two decades of ISRI advocating that
"Scrap is Not Waste",' the ISRI statement says. 'The required metal content
and limitations on contamination are not set at one level for all grades,
another indication that the Chinese Government acknowledges that a one-
sized-fits-all approach is not in line with market conditions.'
The China Nonferrous Metals Association Recycling Branch has published
the required metal recovery content and contamination limits for imported
scrap and ISRI understands that the Standardization Administration of China
will announce more detailed rules shortly.
The ISRI statement adds that it is still not known if China will impose import
quotas on materials meeting the new standards but materials originating
from the United States will continue to face 25% import tariffs levied under
the current US-China trade dispute.
Adina Renee Adler, assistant vice president for international affairs at IRSI,
says: 'ISRI has been advocating to the Chinese Government for nearly 20
years that scrap should be pulled out of the "solid waste" import regime
and recognised as a valuable raw material. It appears China is doing just
that with selected grades of scrap, for which we salute China for setting this
important precedent.'
STEADY GROWTH AHEAD FOR GLOBAL
WASTE MANAGEMENT SECTOR
The worldwide industrial waste management market
is projected to be worth over EUR 182 billion by 2025,
according to a new report. This is up from EUR 122 bil-
lion in 2018 and represents a compound annual growth
rate of 6%. The new report by Zion Market Research
gives an update on various segments of the evolving
waste management industry including machinery and
equipment, metallic minerals, electronics, plastic and
chemicals, and textiles.
At present, the e-scrap recycling industry is thriving.
Analysts point out that 'millions of dollars have been
poured into recycling companies over the past 12
months'. The increasing focus on issues such as resource
efficiency and sustainable product loops and are expect-
ed to fuel the growth of industrial waste management
market during the forecast timeline. This is especially
likely, says the report, when it comes to precious metals
like gold, silver, copper, platinum and palladium.
56-57-58-59_trendsupdates2.indd 58 05-03-20 12:30