Previous editions >>
Subscribe
Page 57 from: Previous editions >>
57recyclinginternational.com | March/April | 2020 TRENDS & UPDATES Fotobijschrift KADERKOP ?? ANOTHER DANIELI PRE- SHREDDER FOR CHINA Shigang Steel Mill, part of the Hebei Steel Group, has placed an order with recycling equipm...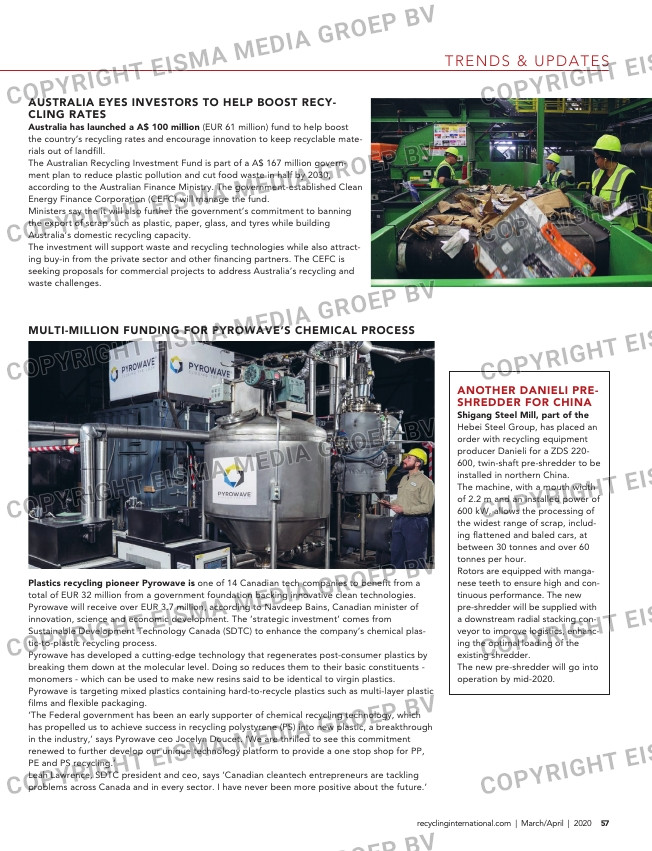 57recyclinginternational.com | March/April | 2020
TRENDS & UPDATES
Fotobijschrift
KADERKOP
??
ANOTHER DANIELI PRE-
SHREDDER FOR CHINA
Shigang Steel Mill, part of the
Hebei Steel Group, has placed an
order with recycling equipment
producer Danieli for a ZDS 220-
600, twin-shaft pre-shredder to be
installed in northern China.
The machine, with a mouth width
of 2.2 m and an installed power of
600 kW, allows the processing of
the widest range of scrap, includ-
ing flattened and baled cars, at
between 30 tonnes and over 60
tonnes per hour.
Rotors are equipped with manga-
nese teeth to ensure high and con-
tinuous performance. The new
pre-shredder will be supplied with
a downstream radial stacking con-
veyor to improve logistics, enhanc-
ing the optimal loading of the
existing shredder.
The new pre-shredder will go into
operation by mid-2020.
NEW SHREDDER TURNS FURNITURE SCRAP INTO BIO-
MASS
Recycling solutions provider Andritz has completed the start-up of a new
shredder at the Kinnarps furniture production plant in Kinnarp, south
Sweden. The Andritz Universal Shredder FRP type 2000P is capable of pro-
cessing up to four tonnes of wood waste per hour from the facility. The
material is then used as biomass to generate heating for the entire Kinnarp
area. The FRP2000P is a powerful single-shaft shredder with a large cutting
surface area and unique cutting geometry that enables the one-step pro-
cessing of waste as well as the removal of metal parts. The cutting system
consists of overlapping knives to ensure uniform breakdown of materials
and consistent particle sizes.
The FRP2000P replaces a pre-shredder and a hammer mill as the customer
was previously forced to shred the wood waste in a two-step process. The
scope of delivery also included supplying an input hopper and a discharge
screw conveyor.
Kinnarps is a major supplier of complete interior design solutions for offices,
schools and health care, with operations in 40 countries and a group turn-
over of EUR 400 million. The entire value chain is said to be notable for high
quality and low environmental impact – from raw materials to the finished
solutions. Kinnarps was founded in 1942 and is a wholly family-owned com-
pany with manufacturing facilities in Sweden.
AUSTRALIA EYES INVESTORS TO HELP BOOST RECY-
CLING RATES
Australia has launched a A$ 100 million (EUR 61 million) fund to help boost
the country's recycling rates and encourage innovation to keep recyclable mate-
rials out of landfill.
The Australian Recycling Investment Fund is part of a A$ 167 million govern-
ment plan to reduce plastic pollution and cut food waste in half by 2030,
according to the Australian Finance Ministry. The government-established Clean
Energy Finance Corporation (CEFC) will manage the fund.
Ministers say the it will also further the government's commitment to banning
the export of scrap such as plastic, paper, glass, and tyres while building
Australia's domestic recycling capacity.
The investment will support waste and recycling technologies while also attract-
ing buy-in from the private sector and other financing partners. The CEFC is
seeking proposals for commercial projects to address Australia's recycling and
waste challenges.
MULTI-MILLION FUNDING FOR PYROWAVE'S CHEMICAL PROCESS
Plastics recycling pioneer Pyrowave is one of 14 Canadian tech companies to benefit from a
total of EUR 32 million from a government foundation backing innovative clean technologies.
Pyrowave will receive over EUR 3.7 million, according to Navdeep Bains, Canadian minister of
innovation, science and economic development. The 'strategic investment' comes from
Sustainable Development Technology Canada (SDTC) to enhance the company's chemical plas-
tic-to-plastic recycling process.
Pyrowave has developed a cutting-edge technology that regenerates post-consumer plastics by
breaking them down at the molecular level. Doing so reduces them to their basic constituents –
monomers – which can be used to make new resins said to be identical to virgin plastics.
Pyrowave is targeting mixed plastics containing hard-to-recycle plastics such as multi-layer plastic
films and flexible packaging.
'The Federal government has been an early supporter of chemical recycling technology, which
has propelled us to achieve success in recycling polystyrene (PS) into new plastic, a breakthrough
in the industry,' says Pyrowave ceo Jocelyn Doucet. 'We are thrilled to see this commitment
renewed to further develop our unique technology platform to provide a one stop shop for PP,
PE and PS recycling.'
Leah Lawrence, SDTC president and ceo, says 'Canadian cleantech entrepreneurs are tackling
problems across Canada and in every sector. I have never been more positive about the future.'
56-57-58-59_trendsupdates2.indd 57 05-03-20 12:30