Previous editions >>
Subscribe
Page 55 from: Previous editions >>
PLASTICSMARKET ANALYSIS Low demand thwarts switch to European processing Import restrictions on plastic scrap in South East Asia has encour- aged greater recycling capacity in the EU but prevailing prices haven't helped. The demand...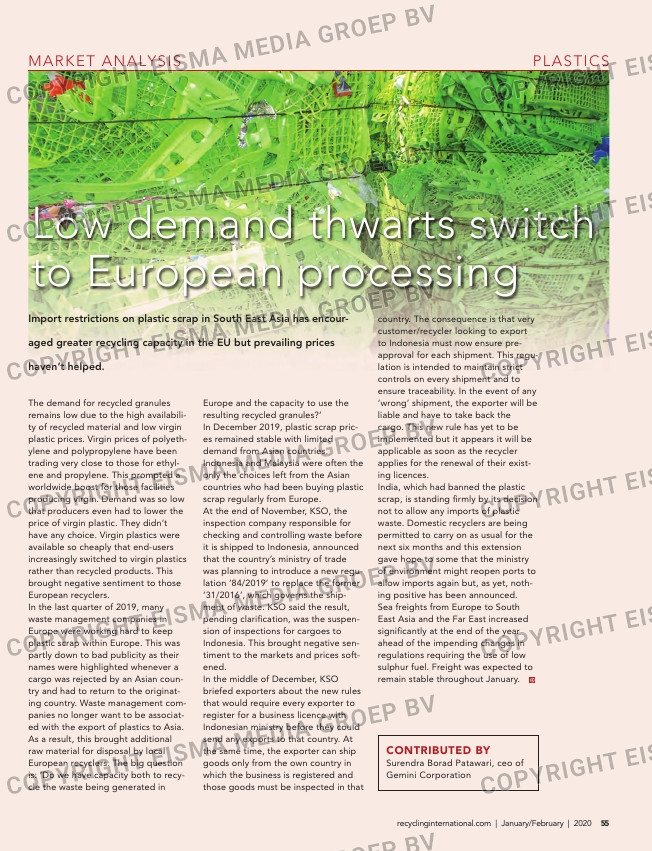 PLASTICSMARKET ANALYSIS
Low demand thwarts switch
to European processing
Import restrictions on plastic scrap in South East Asia has encour-
aged greater recycling capacity in the EU but prevailing prices
haven't helped.
The demand for recycled granules
remains low due to the high availabili-
ty of recycled material and low virgin
plastic prices. Virgin prices of polyeth-
ylene and polypropylene have been
trading very close to those for ethyl-
ene and propylene. This prompted a
worldwide boost for those facilities
producing virgin. Demand was so low
that producers even had to lower the
price of virgin plastic. They didn't
have any choice. Virgin plastics were
available so cheaply that end-users
increasingly switched to virgin plastics
rather than recycled products. This
brought negative sentiment to those
European recyclers.
In the last quarter of 2019, many
waste management companies in
Europe were working hard to keep
plastic scrap within Europe. This was
partly down to bad publicity as their
names were highlighted whenever a
cargo was rejected by an Asian coun-
try and had to return to the originat-
ing country. Waste management com-
panies no longer want to be associat-
ed with the export of plastics to Asia.
As a result, this brought additional
raw material for disposal by local
European recyclers. The big question
is: 'Do we have capacity both to recy-
cle the waste being generated in
CONTRIBUTED BY
Surendra Borad Patawari, ceo of
Gemini Corporation
Europe and the capacity to use the
resulting recycled granules?'
In December 2019, plastic scrap pric-
es remained stable with limited
demand from Asian countries.
Indonesia and Malaysia were often the
only the choices left from the Asian
countries who had been buying plastic
scrap regularly from Europe.
At the end of November, KSO, the
inspection company responsible for
checking and controlling waste before
it is shipped to Indonesia, announced
that the country's ministry of trade
was planning to introduce a new regu-
lation '84/2019' to replace the former
'31/2016', which governs the ship-
ment of waste. KSO said the result,
pending clarification, was the suspen-
sion of inspections for cargoes to
Indonesia. This brought negative sen-
timent to the markets and prices soft-
ened.
In the middle of December, KSO
briefed exporters about the new rules
that would require every exporter to
register for a business licence with
Indonesian ministry before they could
send any exports to that country. At
the same time, the exporter can ship
goods only from the own country in
which the business is registered and
those goods must be inspected in that
country. The consequence is that very
customer/recycler looking to export
to Indonesia must now ensure pre-
approval for each shipment. This regu-
lation is intended to maintain strict
controls on every shipment and to
ensure traceability. In the event of any
'wrong' shipment, the exporter will be
liable and have to take back the
cargo. This new rule has yet to be
implemented but it appears it will be
applicable as soon as the recycler
applies for the renewal of their exist-
ing licences.
India, which had banned the plastic
scrap, is standing firmly by its decision
not to allow any imports of plastic
waste. Domestic recyclers are being
permitted to carry on as usual for the
next six months and this extension
gave hope to some that the ministry
of environment might reopen ports to
allow imports again but, as yet, noth-
ing positive has been announced.
Sea freights from Europe to South
East Asia and the Far East increased
significantly at the end of the year
ahead of the impending changes in
regulations requiring the use of low
sulphur fuel. Freight was expected to
remain stable throughout January.
55recyclinginternational.com | January/February | 2020
55_ma-plastics.indd 55 15-01-20 14:37