Previous editions >>
Subscribe
Page 51 from: Previous editions >>
niCkel & stainless Continued market uncertainty across the sector The drop in European stainless steel production coincided with depressed manufacturing conditions in Europe's largest economies. The IHS Markit Eurozone Manufact...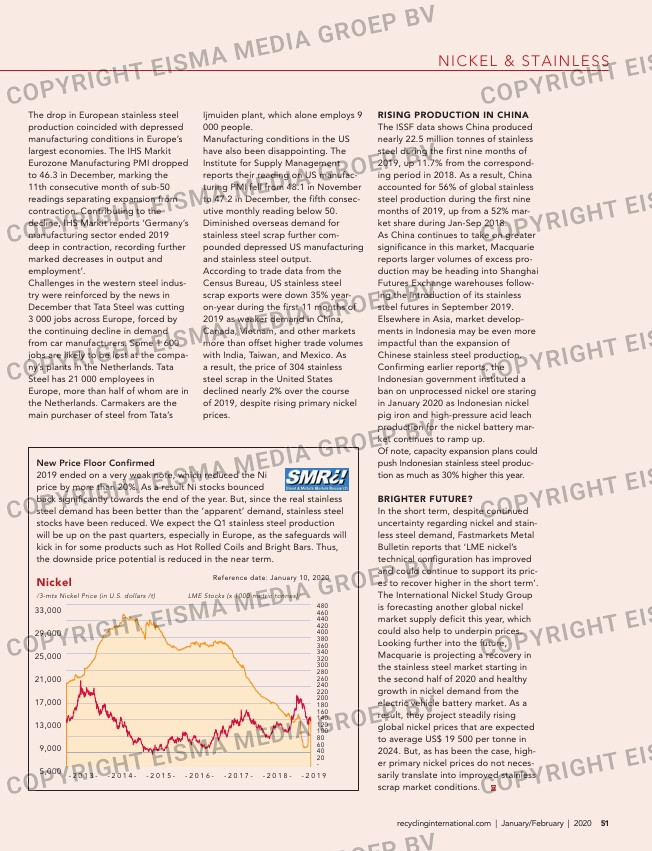 niCkel & stainless
Continued market uncertainty
across the sector
The drop in European stainless steel
production coincided with depressed
manufacturing conditions in Europe's
largest economies. The IHS Markit
Eurozone Manufacturing PMI dropped
to 46.3 in December, marking the
11th consecutive month of sub-50
readings separating expansion from
contraction. Contributing to the
decline, IHS Markit reports 'Germany's
manufacturing sector ended 2019
deep in contraction, recording further
marked decreases in output and
employment'.
Challenges in the western steel indus-
try were reinforced by the news in
December that Tata Steel was cutting
3 000 jobs across Europe, forced by
the continuing decline in demand
from car manufacturers. Some 1 600
jobs are likely to be lost at the compa-
ny's plants in the Netherlands. Tata
Steel has 21 000 employees in
Europe, more than half of whom are in
the Netherlands. Carmakers are the
main purchaser of steel from Tata's
Ijmuiden plant, which alone employs 9
000 people.
Manufacturing conditions in the US
have also been disappointing. The
Institute for Supply Management
reports their reading on US manufac-
turing PMI fell from 48.1 in November
to 47.2 in December, the fifth consec-
utive monthly reading below 50.
Diminished overseas demand for
stainless steel scrap further com-
pounded depressed US manufacturing
and stainless steel output.
According to trade data from the
Census Bureau, US stainless steel
scrap exports were down 35% year-
on-year during the first 11 months of
2019 as weaker demand in China,
Canada, Vietnam, and other markets
more than offset higher trade volumes
with India, Taiwan, and Mexico. As
a result, the price of 304 stainless
steel scrap in the United States
declined nearly 2% over the course
of 2019, despite rising primary nickel
prices.
51recyclinginternational.com | January/February | 2020
New Price Floor Confirmed
2019 ended on a very weak note, which reduced the Ni
price by more than 20%. As a result Ni stocks bounced
back significantly towards the end of the year. But, since the real stainless
steel demand has been better than the 'apparent' demand, stainless steel
stocks have been reduced. We expect the Q1 stainless steel production
will be up on the past quarters, especially in Europe, as the safeguards will
kick in for some products such as Hot Rolled Coils and Bright Bars. Thus,
the downside price potential is reduced in the near term.
Nickel
/3-mts Nickel Price (in U.S. dollars /t) LME Stocks (x 1000 metric tonnes)/

– 2 0 1 3 – – 2 0 1 4 – – 2 0 1 5 – – 2 0 1 6 – – 2 0 1 7 – – 2 0 1 8 – – 2 0 1 9
Reference date: January 10, 2020
480
460
440
420
400
380
360
340
320
300
280
260
240
220
200
180
160
140
120
100
80
60
40
20
–
33,000
29,000
25,000
21,000
17,000
13,000
9,000
5,000
RISING PRODUCTION IN CHINA
The ISSF data shows China produced
nearly 22.5 million tonnes of stainless
steel during the first nine months of
2019, up 11.7% from the correspond-
ing period in 2018. As a result, China
accounted for 56% of global stainless
steel production during the first nine
months of 2019, up from a 52% mar-
ket share during Jan-Sep 2018.
As China continues to take on greater
significance in this market, Macquarie
reports larger volumes of excess pro-
duction may be heading into Shanghai
Futures Exchange warehouses follow-
ing the introduction of its stainless
steel futures in September 2019.
Elsewhere in Asia, market develop-
ments in Indonesia may be even more
impactful than the expansion of
Chinese stainless steel production.
Confirming earlier reports, the
Indonesian government instituted a
ban on unprocessed nickel ore staring
in January 2020 as Indonesian nickel
pig iron and high-pressure acid leach
production for the nickel battery mar-
ket continues to ramp up.
Of note, capacity expansion plans could
push Indonesian stainless steel produc-
tion as much as 30% higher this year.
BRIGHTER FUTURE?
In the short term, despite continued
uncertainty regarding nickel and stain-
less steel demand, Fastmarkets Metal
Bulletin reports that 'LME nickel's
technical configuration has improved
and could continue to support its pric-
es to recover higher in the short term'.
The International Nickel Study Group
is forecasting another global nickel
market supply deficit this year, which
could also help to underpin prices.
Looking further into the future,
Macquarie is projecting a recovery in
the stainless steel market starting in
the second half of 2020 and healthy
growth in nickel demand from the
electric vehicle battery market. As a
result, they project steadily rising
global nickel prices that are expected
to average US$ 19 500 per tonne in
2024. But, as has been the case, high-
er primary nickel prices do not neces-
sarily translate into improved stainless
scrap market conditions.
50-51_manickelstainless.indd 51 15-01-20 14:36