Previous editions >>
Subscribe
Page 50 from: Previous editions >>
market analysis Continued market uncertainty across the sector China's growing production dominance and Indonesia's control on ore supplies are a market challenge. The drop in European stainless steel production coincided with ...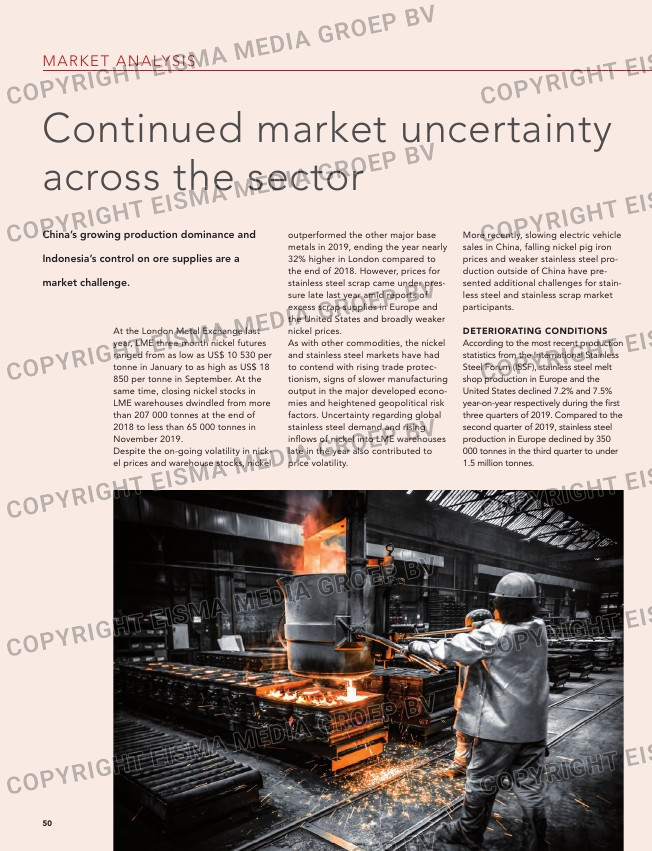 market analysis
Continued market uncertainty
across the sector
China's growing production dominance and
Indonesia's control on ore supplies are a
market challenge.
The drop in European stainless steel
production coincided with depressed
manufacturing conditions in Europe's
largest economies. The IHS Markit
Eurozone Manufacturing PMI dropped
to 46.3 in December, marking the
11th consecutive month of sub-50
readings separating expansion from
contraction. Contributing to the
decline, IHS Markit reports 'Germany's
manufacturing sector ended 2019
deep in contraction, recording further
marked decreases in output and
employment'.
Challenges in the western steel indus-
try were reinforced by the news in
December that Tata Steel was cutting
3 000 jobs across Europe, forced by
the continuing decline in demand
from car manufacturers. Some 1 600
jobs are likely to be lost at the compa-
ny's plants in the Netherlands. Tata
Steel has 21 000 employees in
Europe, more than half of whom are in
the Netherlands. Carmakers are the
main purchaser of steel from Tata's
More recently, slowing electric vehicle
sales in China, falling nickel pig iron
prices and weaker stainless steel pro-
duction outside of China have pre-
sented additional challenges for stain-
less steel and stainless scrap market
participants.
DETERIORATING CONDITIONS
According to the most recent production
statistics from the International Stainless
Steel Forum (ISSF), stainless steel melt
shop production in Europe and the
United States declined 7.2% and 7.5%
year-on-year respectively during the first
three quarters of 2019. Compared to the
second quarter of 2019, stainless steel
production in Europe declined by 350
000 tonnes in the third quarter to under
1.5 million tonnes.
50
At the London Metal Exchange last
year, LME three-month nickel futures
ranged from as low as US$ 10 530 per
tonne in January to as high as US$ 18
850 per tonne in September. At the
same time, closing nickel stocks in
LME warehouses dwindled from more
than 207 000 tonnes at the end of
2018 to less than 65 000 tonnes in
November 2019.
Despite the on-going volatility in nick-
el prices and warehouse stocks, nickel New Price Floor Confirmed
2019 ended on a very weak note, which reduced the Ni
price by more than 20%. As a result Ni stocks bounced
back significantly towards the end of the year. But, since the real stainless
steel demand has been better than the 'apparent' demand, stainless steel
stocks have been reduced. We expect the Q1 stainless steel production
will be up on the past quarters, especially in Europe, as the safeguards will
kick in for some products such as Hot Rolled Coils and Bright Bars. Thus,
the downside price potential is reduced in the near term.
33,000
29,000
25,000
21,000
17,000
13,000
9,000
5,000
outperformed the other major base
metals in 2019, ending the year nearly
32% higher in London compared to
the end of 2018. However, prices for
stainless steel scrap came under pres-
sure late last year amid reports of
excess scrap supplies in Europe and
the United States and broadly weaker
nickel prices.
As with other commodities, the nickel
and stainless steel markets have had
to contend with rising trade protec-
tionism, signs of slower manufacturing
output in the major developed econo-
mies and heightened geopolitical risk
factors. Uncertainty regarding global
stainless steel demand and rising
inflows of nickel into LME warehouses
late in the year also contributed to
price volatility.
50-51_manickelstainless.indd 50 15-01-20 14:36