Previous editions >>
Subscribe
Page 47 from: Previous editions >>
47recyclinginternational.com | March/April | 2020 NICHE MARKET Olympic and Paralympic Games is being made from donated, recycled textiles. This last initiative was made possible by installing more than 250 donation boxes at popul...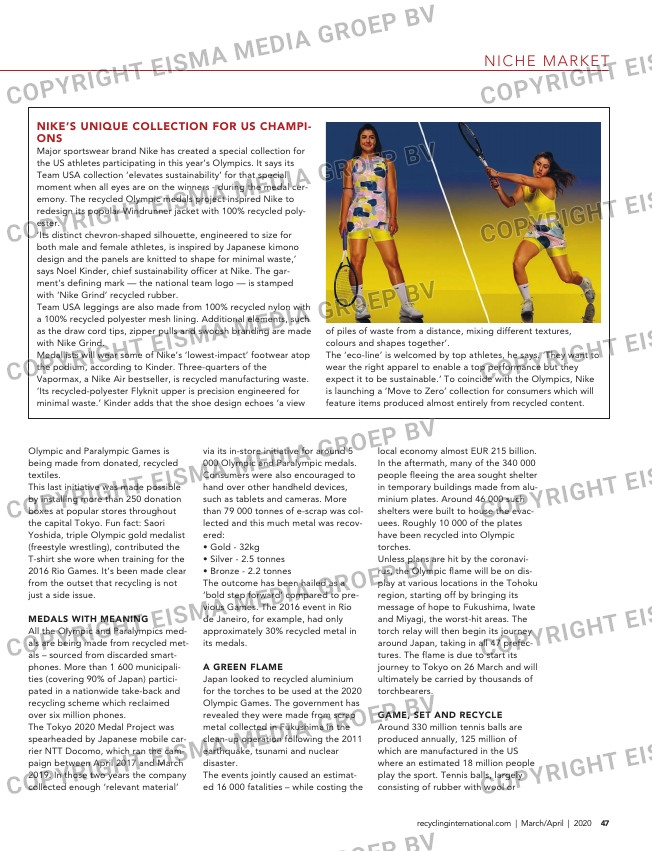 47recyclinginternational.com | March/April | 2020
NICHE MARKET
Olympic and Paralympic Games is
being made from donated, recycled
textiles.
This last initiative was made possible
by installing more than 250 donation
boxes at popular stores throughout
the capital Tokyo. Fun fact: Saori
Yoshida, triple Olympic gold medalist
(freestyle wrestling), contributed the
T-shirt she wore when training for the
2016 Rio Games. It's been made clear
from the outset that recycling is not
just a side issue.
MEDALS WITH MEANING
All the Olympic and Paralympics med-
als are being made from recycled met-
als – sourced from discarded smart-
phones. More than 1 600 municipali-
ties (covering 90% of Japan) partici-
pated in a nationwide take-back and
recycling scheme which reclaimed
over six million phones.
The Tokyo 2020 Medal Project was
spearheaded by Japanese mobile car-
rier NTT Docomo, which ran the cam-
paign between April 2017 and March
2019. In those two years the company
collected enough 'relevant material'
via its in-store initiative for around 5
000 Olympic and Paralympic medals.
Consumers were also encouraged to
hand over other handheld devices,
such as tablets and cameras. More
than 79 000 tonnes of e-scrap was col-
lected and this much metal was recov-
ered:
• Gold – 32kg
• Silver – 2.5 tonnes
• Bronze – 2.2 tonnes
The outcome has been hailed as a
'bold step forward' compared to pre-
vious Games. The 2016 event in Rio
de Janeiro, for example, had only
approximately 30% recycled metal in
its medals.
A GREEN FLAME
Japan looked to recycled aluminium
for the torches to be used at the 2020
Olympic Games. The government has
revealed they were made from scrap
metal collected in Fukushima in the
clean-up operation following the 2011
earthquake, tsunami and nuclear
disaster.
The events jointly caused an estimat-
ed 16 000 fatalities – while costing the
local economy almost EUR 215 billion.
In the aftermath, many of the 340 000
people fleeing the area sought shelter
in temporary buildings made from alu-
minium plates. Around 46 000 such
shelters were built to house the evac-
uees. Roughly 10 000 of the plates
have been recycled into Olympic
torches.
Unless plans are hit by the coronavi-
rus, the Olympic flame will be on dis-
play at various locations in the Tohoku
region, starting off by bringing its
message of hope to Fukushima, Iwate
and Miyagi, the worst-hit areas. The
torch relay will then begin its journey
around Japan, taking in all 47 prefec-
tures. The flame is due to start its
journey to Tokyo on 26 March and will
ultimately be carried by thousands of
torchbearers.
GAME, SET AND RECYCLE
Around 330 million tennis balls are
produced annually, 125 million of
which are manufactured in the US
where an estimated 18 million people
play the sport. Tennis balls, largely
consisting of rubber with wool or
Fotobijschrift
NIKE'S UNIQUE COLLECTION FOR US CHAMPI-
ONS
Major sportswear brand Nike has created a special collection for
the US athletes participating in this year's Olympics. It says its
Team USA collection 'elevates sustainability' for that special
moment when all eyes are on the winners – during the medal cer-
emony. The recycled Olympic medals project inspired Nike to
redesign its popular Windrunner jacket with 100% recycled poly-
ester.
'Its distinct chevron-shaped silhouette, engineered to size for
both male and female athletes, is inspired by Japanese kimono
design and the panels are knitted to shape for minimal waste,'
says Noel Kinder, chief sustainability officer at Nike. The gar-
ment's defining mark — the national team logo — is stamped
with 'Nike Grind' recycled rubber.
Team USA leggings are also made from 100% recycled nylon with
a 100% recycled polyester mesh lining. Additional elements, such
as the draw cord tips, zipper pulls and swoosh branding are made
with Nike Grind.
Medallists will wear some of Nike's 'lowest-impact' footwear atop
the podium, according to Kinder. Three-quarters of the
Vapormax, a Nike Air bestseller, is recycled manufacturing waste.
'Its recycled-polyester Flyknit upper is precision engineered for
minimal waste.' Kinder adds that the shoe design echoes 'a view
of piles of waste from a distance, mixing different textures,
colours and shapes together'.
The 'eco-line' is welcomed by top athletes, he says. 'They want to
wear the right apparel to enable a top performance but they
expect it to be sustainable.' To coincide with the Olympics, Nike
is launching a 'Move to Zero' collection for consumers which will
feature items produced almost entirely from recycled content.
46-47-48-49-50-51_recyclinginsports.indd 47 05-03-20 12:30